MSU Hancock Biological Station FIRST Link Page
Error processing SSI file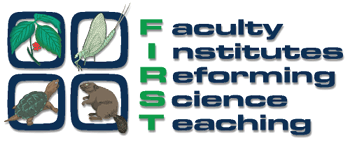 Left to Right: Jim Swartz, Christopher Lorentz, Siobhan Barone
Participants:
Biographies:
Christopher N. Lorentz, Ph.D.
I am an Assistant Professor in the Department of Biology at Thomas More College. I received my bachelor's in Biology from Columbia University in 1989 and my doctorate in Systematic and Evolutionary Ecology from Kent University in 1994 after which I began teaching at Thomas More. My primary course load consists of Genetics and Anatomy & Physiology. In addition, I teach several biology courses for non-majors, including General Biology, Aquatic Ecology and Environmental Science. I serve on the Freshmen Advising Team which is responsible for the academic advising of all freshmen throughout their first year. I also serve as advisor for the Biology Club, Ski Club, and Delta Epsilon Sigma, a national scholastic honor society. Currently I am involved with three teaching grants involving the development of distance learning and outreach programs for elementary and middle schools. One in particular, a PRISM T4 grant from the KY Science and Technology Council, involves the incorporation of inquiry-based strategies into a new science course for pre-service teachers. In addition to my teaching responsibilities, I serve as the Associate Director for the Center for Ohio River Research and Education at our Biology Field Station and serve as President of our local Sigma Xi Chapter, a national scientific research society. My initial research involved working with fish and conversation genetics. Lately, I have received funding in the area of bioassessment of aquatic ecosystems. These projects have provided numerous students to conduct research and present their work at various meetings.
Kathleen Barone
I am an Assistant Professor in the Department of Biology at Thomas More College in Crestview Hills, KY. Having completed my Ph.D. degree in Microbiology at Miami University (Oxford, Ohio), I assumed a post-doctoral fellowship position for three years at the University of Cincinnati Medical Center. For the past four years, I have taught Developmental Biology, Biochemistry, Immunology and General Biology I labs at Thomas More College. In addition, I am the premedical advisor and the faculty advisor for the Premedical Society. My primary research interest is in Immunology and I have performed research in this field for the past four summers at the University of Cincinnati Medical Center. A portion of this research was funded by two Kentucky NSF EPSCOR grants and resulted in presentations at two national American Association of Immunologists (AAI) meetings and the publication of a paper in the Journal of Immunology. I currently am an active member of the AAI and the local Sigma Xi Scientific Research Society.
James Swartz
I am a professor in the Department of Chemistry at Thomas More College. I have been with the College for 19 years. I received my Ph.D. in Inorganic Chemistry from the University of Pennsylvania in 1977. Presently I am teaching Basic Chemistry (a class for Nursing majors), Analytical Chemistry, Inorganic Chemistry, and Instrumental Analysis. I am actively involved with integrating computers and computer technology into courses and exploring the use of the Internet for distance learning. In 1986 I started a collaborative program with local high schools. The program allows students enrolled in either AP Chemistry or AP Biology to attend laboratory classes (for college credit) at Thomas More College. At present there are about 100 high schools students from 3 high schools who are participating in the program. In June, Dr. Lorentz (Biology Department) and I received a T4 PRISM Grant from the State of Kentucky to develop a course "An Inquiry in Environmental Science for Preservice Education Majors". This is a collaborative project focused on inquiry-based science. Each year I typically have one or two undergraduates conducting research in the area of bioinorganic chemistry. These students are encouraged to present their research at regional science meetings.
Back to Regional Teams Page
---
Date Modified February, 2006

Send mail to carl.woods@murraystate.edu with questions or comments about this web site