MSU Hancock Biological Station FIRST Link Page
<![CDATA[ //<![CDATA[ //]]]]><![CDATA[> ]]>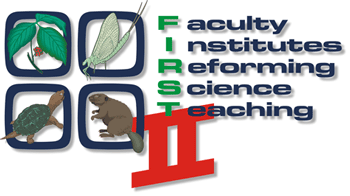 Participants:
Biographies:
Gail Johnston
I was born and raised in the Piney Hills of Mississippi. I got my B.S. in Fisheries Management from Mississippi State University at Starkville where I was the first female graduate in the Wildlife and Fisheries Department. I returned to Mississippi State to get my Master's in Zoology with a specialization in Herpetology and a minor in Wildlife Ecology. My Ph.D. in Zoology is from Southern Illinois University at Carbondale with a specialization in Herpetology and a minor in Botany. I taught for three years at Denison University in Granville, Ohio. Denison is a small liberal arts college. I taught several classes including Zoology, Comparative Anatomy, and Herpetology. I also had the opportunity to direct undergraduate research projects. I taught General Biology and Human Anatomy and Physiology in the University of Kentucky Community College System, both at Madisonville and Owensboro, for five years. During this time I got very involved in environmental education. The community college was in the process of constructing a Nature Area/Outdoor Classroom and planning its use in both formal and informal education. I also served on the Board of Directors of the Owensboro Area Museum of Science and History and was very involved with their educational programs. I also taught Human Anatomy and Physiology at Fontbonne College in St. Louis before joining the faculty at Saint Louis University. I teach Principles of Biology and serve as the Program Coordinator for the University's Field Stations--Reis Biological Station at Steeleville in the Ozarks and Lay Field Station at Louisiana in the Lincoln Hills north of St. Louis.
Joanchim Dorsch
Joachim Dorsch, a native of Germany, is currently an assistant professor at Saint Louis University, Department of Earth and Atmospheric Sciences. He received his Diploma from the Julius-Maximilians University in Worzburg, Germany and his Ph.D. in geological sciences from the University of Tennessee at Knoxville. Thereafter, he was a postdoctoral research associate at the Oak Ridge National Laboratory's Environmental Sciences Division. Dr. Dorsch's research interests encompass sedimentary geology and its relation to mountain building; in addition, he applies sedimentary geology to solve problems in environmental sciences. At Saint Louis University, Dr. Dorsch teaches a variety of courses ranging from the introductory to the graduate level in environmental and geological sciences. This includes courses such as Earth Systems 1, Geomorphology, Surface-Water Hydrology, Sedimentology & Stratigraphy, Projects in Environmental Sciences, and Advanced Sedimentary Geology. In addition to his teaching assignments and research, Dr. Dorsch is the faculty coordinator responsible for the Environmental Science Program at Saint Louis University.
Robert M. Wood
I am an Assistant Professor in the Department of Biology at Saint Louis University. I received my Ph.D. from the Department of Biology (Section of Systematics and Ecology) at The University of Alabama in 1993, and did post-doctoral work at Arizona State University. My particular research area is the systematics of fishes in the families Percidae and Cyprinidae. I utilize primarily molecular data sets for the reconstruction of phylogenetic relationships although I have used morphological and biochemical characters as well. At Saint Louis University I teach a variety of courses including graduate courses in systematic theory and population genetics as well as undergraduate courses in evolution and ichthyology. I have also taught aquatic ecology and ichthyology at the Saint Louis University Reis Biological Station in the Missouri Ozarks. These latter two courses are what have generated my interest in inquiry based learning and particularly how I can apply this methodology in my lecture based courses at the University.
Back to Regional Teams Page
---
Date Modified February, 2006
Send mail to carl.woods@murraystate.edu with questions or comments about this web site