MSU Hancock Biological Station FIRST Link Page
<![CDATA[ //<![CDATA[ //]]]]><![CDATA[> ]]>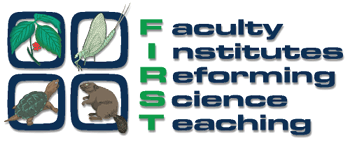 Left to Right: Sandra Landvyt, Terry Davin, Todd Bowdish
Participants:
Biographies:
Terry Davin
I am a biology instructor at Penn Valley Community College in Kansas City MO where I teach a number of biology courses including non-majors biology, zoology, genetics and ecology. All this without degrees that mention biology. I came to the biological sciences through an ecological route with degrees in Forest Science (Penn State) and Wildlife Management (Frostburg State University) and work toward a PhD in Zoology (Southern Illinois University). My teaching experience is just as varied. I have taught at all levels from junior high to graduate classes in both formal and informal settings. In addition some of my most valuable teaching experience has been as a volleyball coach at high school, college and club levels. One thing that these learning and coaching experiences have taught me is that learning takes place easier and lasts longer if the learning is hands-on and interesting.
In my 8 years at Penn Valley, I have developed an interest in educational and technology issues that make learning interesting. During the past several years, I have been reforming the way that I teach science. My courses have become more hands-on for the students with labs that, as close as possible, simulate actual research. Along with other faculty, I have been involved in writing internal grants for developing a biology tutoring center, updating classrooms for multimedia, writing more real-life labs for non-majors biology, redesigning labs for student research, and developing case based learning modules. I have also been actively involved in organizations that promote science education and science literacy in the community.
My interest in the FIRST project is twofold. I am interested in seeing what other faculty are doing to improve their courses, and I am very interested in having other faculty look at changes we have made in our courses.
Todd Bowdish
I am currently an adjunct professor at Penn Valley Community College. Penn Valley is one of the Metropolitan Community Colleges in Kansas City, MO. I have been with the MCC system for 2 years. I completed my Ph.D. in Biology at the University of South Horida, Tampa in 1996. My area of research involved the biotic and abiotic factors that influence population dynamics of salt-marsh planthoppers. My interest in salt-marshes also included an investigation of several state-restored marshes around the Tampa Bay area. While finishing my degree I realized that teaching had been much more rewarding on a personal level than the research. I am continually looking into new ways of engaging students in thinking about the concepts of science, especially in lecture. This is very important in the non-major General Biology courses that I teach at the present. I feel that these students that are going on to other disciplines require the same critical thinking skills and insights that science majors must develop.
Sandra Landuyt
This is a very informal and a bit unusual biography for a science professional, because I am a very informal and a bit unusual person. Like so many of my students, I left school after three semesters of college work, married, left for Germany with one small dog, returned four years later, with the same dog and two children (a daughter Julie and a son Kurt). We bought our first and only home in Liberty, Missouri, and had another child (our son Wm Ross). When Ross was two years old, I decided to return to college. Three years later (1980) I completed a B.A. degree in Chemistry and a B.S. degree in Biology; this was followed by my M.S. degree in Microbiology in 1983. By this time our children were all in school, and I decided to enter a Ph.D. program. It was an intercampus program, in Microbiology, offered by the University of Missouri system. I commuted to Columbia, Missouri for three semesters, before completing my studies in Kansas City in 1990. The emphasis of my Ph.D. was microbial physiology with a minor in food science. In 1997, one year after the death of my husband, Bob, I decided to round out my education by beginning a masters program in theology from Loyola University in New Orleans. I am currently in the fourth course, of twelve, and although working very hard, I am enjoying every minute.
I have been an instructor with the Metropolitan Community Colleges, working on the Penn Valley Campus for the last fourteen years. I have continued my research in the area of microbial conversions, but I have discovered that my three passions in life are my family (especially my three year old grandson, Michael Ross), my love of God and working with other people through the Church, and teaching non-traditional students, using unusual and innovative methods. If I can combine any of these passions with being outside enjoying nature, it is even greater.
Back to Regional Teams Page
---
Date Modified February, 2006
Send mail to carl.woods@murraystate.edu with questions or comments about this web site