MSU Hancock Biological Station FIRST Link Page
<![CDATA[ //<![CDATA[ //]]]]><![CDATA[> ]]>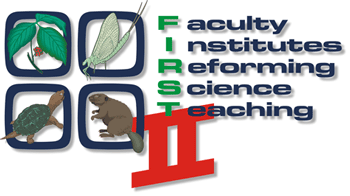 Participants:
Biographies:




Nancy C. Grim Hunter, Assistant Professor of Science Education and Chemistry
My role in life seems to be builder or bridges. Early in life, I tutored my siblings and classmates through middle and high school. My science fair projects on Biological Oxygen Demand and Thin Layer Chromatography earned a scholarship at Ohio University where I earned my B.S. Chemistry degree in 1993. During those years, I struggled with the idea of teaching versus lab science and whether or not I should change my major to Biology or Environmental Science. My senior research was in small-scale chemistry education laboratory development.
I moved to Miami University of Ohio and began my studies as the first graduate student in the chemistry education program. During those years, I worked towards a Ph. D. in Chemistry Education with joint emphasis in Chemistry Education, Analytical, and Physical Organic. I was technically ABD when I settled for a double masters in Chemistry and in Education in 1996. My thesis involved scenario-based investigations for first-year chemistry students. Teaching full-time, being a graduate student full-time, working on numerous NSF science education grants, and helping to nurse my mother until she died was too much.
Having settled in Chicago with my husband (Bob) in 1996, I taught high school and middle school science, all subjects, for a couple of years until I was invited to teach at Chicago State University for some science workshops. The relationship worked so well, I was invited to stay on as a lecturer of Chemistry and Physical Science. Nearly three years ago, I was asked to consider a joint tenure-track appointment in both Science Education and Chemistry. As part of that agreement, I have nearly completed a new doctoral program in Science Education at the University of Illinois at Chicago.
My role as a bridge builder works wonders here at Chicago State University. I teach courses in both colleges and both sets of faculty use me as the liaison to talk to the other. Currently, I am the Director of the Teacher Quality Enhancement Middle School Project at Chicago State. In that grant project, we are working to co-create best practices in the curriculum for all education majors, starting with the middle school teacher candidates. I envision that this FIRST II Project will help me personally in my middle school and elementary education methods courses. In addition, this project will give our team ideas to integrate meaningful content and experiences into the general education science courses for all students and for the teacher candidates of the future. We hope to build yet another bridge for our future students and their students.





Joyce J. Jones, Associate Professor of Biology
Chicago State University has a special place for me. I graduated from CSU with a B.S. in Biology with a minor in Education (1970). I worked on a M.S. in Biology (Cell & Dev) at the University of Illinois at Chicago, Chicago, IL (1974). I have taught all grade levels specializing as a Bilingual Science Teacher. I moved to the University of Missouri-Columbia, Columbia, MO where I earned a Ph.D. in Biology (Cell & Mol) in 1993. I then stayed at the University of Missouri-Columbia, Columbia, MO to work on a postdoctoral fellowship from 1993-1997 in Physiology (Cardiovascular).
During the years at the University of Missouri-Columbia, I began serving as a mentor to minority students. This led to serving as a mentor/facilitator for a number of programs involving high school through graduate school students in the sciences. My work later led to a position as a Research Assistant Professor in the Department of Physiology. Even then, my love for teaching has drawn me home to Chicago.
Currently as an Association Professor of Biology, I teach biology courses for preservice teacher candidates and for the secondary education biology teacher candidates. The FIRST II Project looks to help me redesign my Biology Concepts for Teachers class and my methods courses for the Biology Secondary Education majors. In addition, our team is redesigning the certification in science education courses. This project will give us great tools to integrate into the curriculum.


Marea Spentzos, Lecturer of Environmental Science and Middle/High School Teacher
I am a geologist who is now teaching ninth grade environmental, earth, and space science at John F. Kennedy School in Chicago and serving as lecturer/curriculum developer for general education science courses at Chicago State University. I have a particular interest in ecological systems. I can see how the experiences at the swamp will be considered "cool" for students who are city-bound.
My degrees include a B.A. Geology from the University of Montana (1997) and an MAT in Secondary Education from Chicago State University (2002). I am considering working towards a doctoral degree in either Science Education or in Environmental Science. Between degrees I have worked at the Science and Industry Museum as a docent in hands-on science exhibits. For me, I can no longer separate being a scientist from being a teacher.

Back to Regional Teams Page
---
Date Modified February, 2006

Send mail to carl.woods@murraystate.edu with questions or comments about this web site