Occupational Therapy
Program overview
Occupational therapy (OT) is a medically-based profession that focuses on promoting independence for clients to increase their successful performance with activities of daily living (ADL). Occupational therapists provide skilled services to individuals of all ages who may experience any combination of physical, developmental, cognitive, emotional, and social difficulties. Graduates of the occupational therapy program will be familiar with the processes and procedures necessary to tailor rehabilitation individually for each client, through evaluation and treatment, and to restore or improve function in occupational performance within the context of the client's life environments and relationships. If you are accepted into the OT program, you will develop and implement OT interventions including: restoration of performance abilities; instruction in compensatory techniques; adaptation of tasks, processes or environments; disability prevention techniques; and health promotion strategies.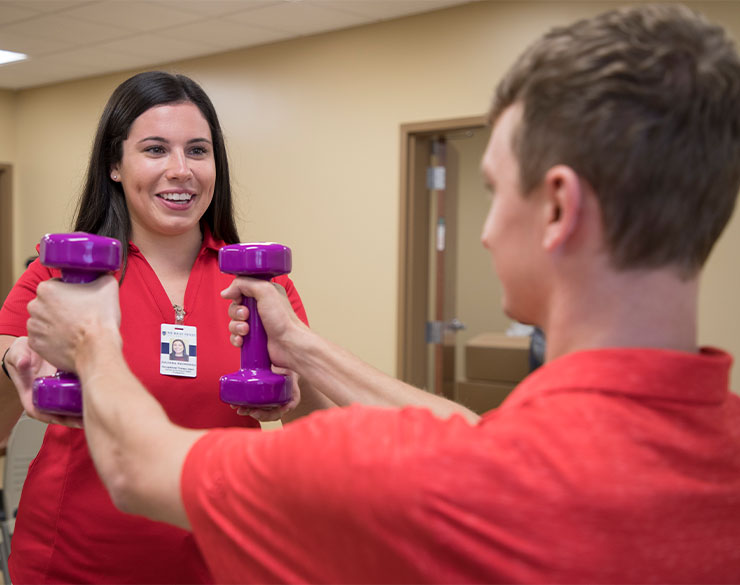 Study in Paducah, Kentucky
The Master of Science in Occupational Therapy (MSOT) degree is offered within the School of Nursing and Health Professions, located on the Paducah Regional campus (4430 Sunset Ave, Paducah KY 42001).
Murray State University offers a unique curriculum designed to introduce you to the profession of occupational therapy through current research, clinical experiences, and interprofessional collaboration with other health care professionals.
The MSOT program is a 24-month continuous, year-round curriculum that strengthens your critical inquiry, cultural competence, and patient care skills through didactic and clinical education. Level II Fieldwork is completed full-time, the last two semesters of the program. Upon completion of all curriculum requirements with a minimum GPA of 3.0, graduates of the program will be eligible to sit for the national certification examination for the occupational therapist administered by the National Board for Certification in Occupational Therapy (NBCOT).
For OT Program inquiries, please contact:
Dr. Sherri Powers, OT Program Director
spowers8@murraystate.edu
270.809.1687
Graduate Programs Tuition & Fees
Student and Program Outcomes
Perspectives of the 2nd OT cohort, graduating class of 2021 see pages 69-71
Cost of attendance 2020-2021*
OT Program
Fee
Additional Comments*
Tuition(Program is 72 credit hours)
Regional rate: $600 per credit hour; (~$43,200 total) Non-resident rate: $800 per credit hour; (~$57,600 total)
Graduate tuition rates are subject to change based on the annual review by the Murray State Board of Regents and CPE.
Fees
$25 course fees; $200 total
8 courses
Housing
Varies for private lease/ rentals
No campus housing available for graduate students at the Paducah Regional Campus.
Fieldwork
Varies for relocation, living expenses, food, travel, clinical clothing, health insurance, physical exams, etc
Professional Memberships
AOTA - $150 KOTA - $60 SOTA - $90
Supplies
Estimate $200 to $250
Including goniometers, gait belt, polos/khakis, splint kits, BP/stethoscope
Textbooks
Estimate $3,000 for program
Many textbooks are used in multiple courses
Statistics Program
$149
Given key codes to analyze research data 1 x purchase for 1 year access
Clinical Simulation Access
$99
Student Liability Insurance
Estimate $80 for program
CPR for Healthcare Provider
$100 for program
Data Management System (for immunization records)
$100
Test Prep Workshop for Boards
$300
NBCOT Certification Exam
Estimate $555
Apply to Murray State and OT Program
Estimate $200
Graduate school application, OTCAS
Other Incidentals
Estimate $400
Estimated Cost of Attendance for the 2 year program
Estimate $49,283
*