Jazz Ensemble presents "Swing into Spring"
Jazz Ensemble presents "Swing into Spring"
By Alex Pologruto | Apr 21, 2022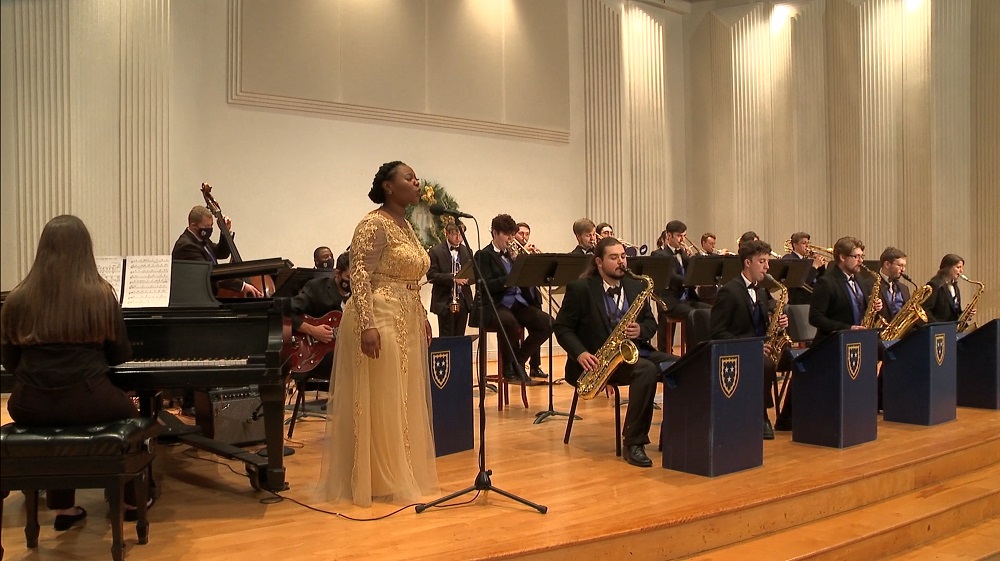 The annual concert will be held for the first time since 2019
MURRAY, Ky. — The Curris Center Ballroom will host the Murray State University Jazz Ensemble for "Swing into Spring 2022" at 7:30 p.m. on Tuesday, April 26. The concert is free and open to the public.
The Murray State Jazz Band will be returning to the stage for the first time since the fall semester of 2019.
"We were basically starting over following Covid," said Murray State professor of music and director of Jazz Studies, Dr. Todd E. Hill. "While we could manage recording projects in isolation, the time factors were too great to overcome for multiple jazz ensembles where playing together and reacting to soloists are such a huge part of the curriculum. The jazz band is primarily made up of our younger University students, many of whom missed the opportunity to play in a high school jazz band altogether. I am so proud of these students and their work ethic."
The Jazz Band will perform "The Days of Wine and Roses" by Henry Mancini and Johnny Mercer, "Here's that Rainy Day" by Johnny Burke and Jimmy VanHuesen, "How Insensitive" by Antonio Carlos Jobim and "Strike Up the Band" by George and Ira Gershwin. Additional selections will include "Song for my Father" by Horace Silver, "Waltz of the Prophets" by Dee Barton and Frankie Vallli's "Can't Take My Eyes off You."
The Jazz Band consists of 19 students including:
Saxophonists

Nicholas Mehne (Evansville, Indiana)

Eva Edwards (Norris City, Illinois)

Cooper Barnett (Evansville, Indiana)

Tyler Wright (Indian Mound, Tennessee)

Jake Davis (Boonville, Indiana)

Noah Baker (Mayfield, Kentucky)
Trumpets

Elizabeth Castro (Bowling Green, Kentucky)

Bek Schmidt (Memphis, Tennessee)

Maddie Beck (Mayfield, Kentucky)

Ben Sauls (Evansville, Indiana)
Trombones

Samuel Haley (Cedar Hill, Missouri)

Lisa Witzel (Greenville, Kentucky)

Will Hudson (Owensboro, Kentucky)

Jared Chance Martin (Hopkinsville, Kentucky)
The rhythm section

Piano, Amberly Tilford (Paducah, Kentucky)

Guitar, John Sowers (Lancaster, Kentucky)

Bass, Tim Lewis (Paducah, Kentucky)

Tuba, Micah Crouse (Murray, Kentucky)

Drums, James Hackett (Calhoun, Kentucky)
The Jazz Orchestra will perform Count Basie's "Wind Machine," Thelonious Monk's "Round Midnight," Henry Mancini's "Dreamsville" and vocalist Audri Hughes will perform "The Man I Love" by George and Ira Gershwin along with a world premier arrangement by Clay Barnard and Dr. Hill of "When Malindy Sings" based on the poem by Paul Lawrence Dunbar with music by Oscar Brown, Jr.
Other selections by the jazz orchestra will include "Meet the Flintstones," Dee Barton's arrangement of "MacArthur Park," written for the Stan Kenton Orchestra and they will close with Stevie Wonder's "I Wish."
The Jazz Orchestra consists of the following students:
Saxophonists

Liam Newman (Wildwood, Missouri)

Caleb Dries (Louisville, Kentucky)

Corey White (Hamilton, New Jersey)

Kendra Chaney (Bumpus Mills, Tennessee)

Devin Richards (Benton, Kentucky)
Trumpets

Nick McKenzie (Memphis, Tennessee)

Ryan Haygood (Alvin, Texas)

Adam Blake (Herrin, Illinois)

Max Welch (Evansville, Indiana)

Max Brueggeman (Belleville, Illinois)
Trombones

Joey Noble (Maryland Heights, Missouri)

Shelby Starks (Benton, Kentucky)

Noah Wright (Jasper, Indiana)

Dillon Smith (Murray, Kentucky)

Aaron Beach (Paducah, Kentucky)
Rhythm players

Piano, Emma Nelson (Brookport, Illinois)

Guitar, Tyler Fitzgerald (Cape Girardeau, Missouri)

Bass, Sean Shelton (Murray, Kentucky)

Drummer/Percussionists, Nelson Youngblood (Union City, Tennessee) and Evan Carlton (Madisonville, Kentucky)
Vocalist

Audri Hughes (Paducah, Kentucky)
The Jazz Combo will perform "Gingerbread Boy" by Jimmy Heath, "Jordu" by Duke Jordan, "Killer Joe" by Benny Golson, "On Green Dolphin Street" by Bronislav Kaper, "St. Thomas" by Sonny Rollins and "Lady Bird" by Tadd Dameron. The combo is a nonet that includes Jazz Band and Orchestra members McKenzie (trumpet), Noble (trombone), Dries (alto sax), Newman (tenor sax), Richards (baritone sax), Nelson (piano), Sowers (guitar), Youngblood (drums) and Dylan Freeman, bass (Calvert City).
The concert will be recorded and broadcasted at a later date on WKMS 91.3.