MSU announces establishment of the Steve and Sherry Burke scholarship endowment
By MSU Public Relations | Nov 3, 2023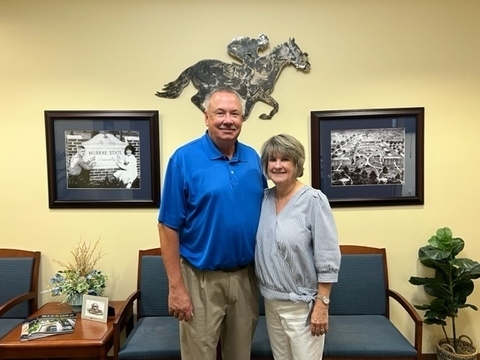 MURRAY, Ky. – Murray State University and the Murray State University Foundation are pleased to announce the establishment of the Steve and Sherry Burke scholarship endowment. Made possible with a generous gift from Murray State alumni Steve, '78, and Sherry, '76, '79, '81, Burke, this new fund will help juniors and seniors at Murray State with financial support to enable them to successfully complete their four-year degrees.
Steve and Sherry not only both graduated from Murray State, but they were also both the first in their families to attend college after graduating high school. Once they earned their degrees from Murray State, both went on to have long and successful careers in their chosen fields - Steve in agribusiness and Sherry in education. Their two children also graduated from Murray State. Always holding education as a top priority in life, the Burkes decided to build on this passion by creating a scholarship to help current and future Murray State students achieve their educational goals.
"It is a privilege to support Murray State's scholarship endowment program," said the Burkes. "Murray State played an important role in our lives by providing a strong academic foundation which enabled us to have rewarding, productive careers. We are excited to establish this scholarship to support academic opportunities for young men and women currently enrolled at Murray State. We are committed to investing in the future by helping students achieve their academic goals towards a career of their choice."
The scholarship will specifically support Murray State juniors and seniors who have already completed at least 60 credit hours towards their degree programs. Recognizing that many scholarships often support incoming freshmen, and that upperclassmen sometimes struggle when the scholarships they started school with end, the Burkes wanted to make a difference to help these older students successfully complete their degrees.
"The Steve and Sherry Burke Scholarship Endowment is a significant addition to the Murray State University Scholarship program," said Dr. Don Robertson, Murray State University Vice President for Student Affairs and Enrollment Management. "The ability to provide scholarship dollars to juniors and seniors to assist them in finishing their degree programs will aid many of the students in our 18-county service region. This endowment will positively impact student success and we are very appreciative of their generosity."
Contributions to the Steve and Sherry Burke Scholarship Endowment can be made by contacting the Murray State University Office of Development at 270-809-3001 or by making a secure gift online at murraystate.edu/giving. For more information, please contact Abby Hensley, Director of Development, at ahensley2@murraystate.edu.