College of Education and Human Services hosted the annual Harry M. Sparks Distinguished Lecture Series
By Alex Pologruto |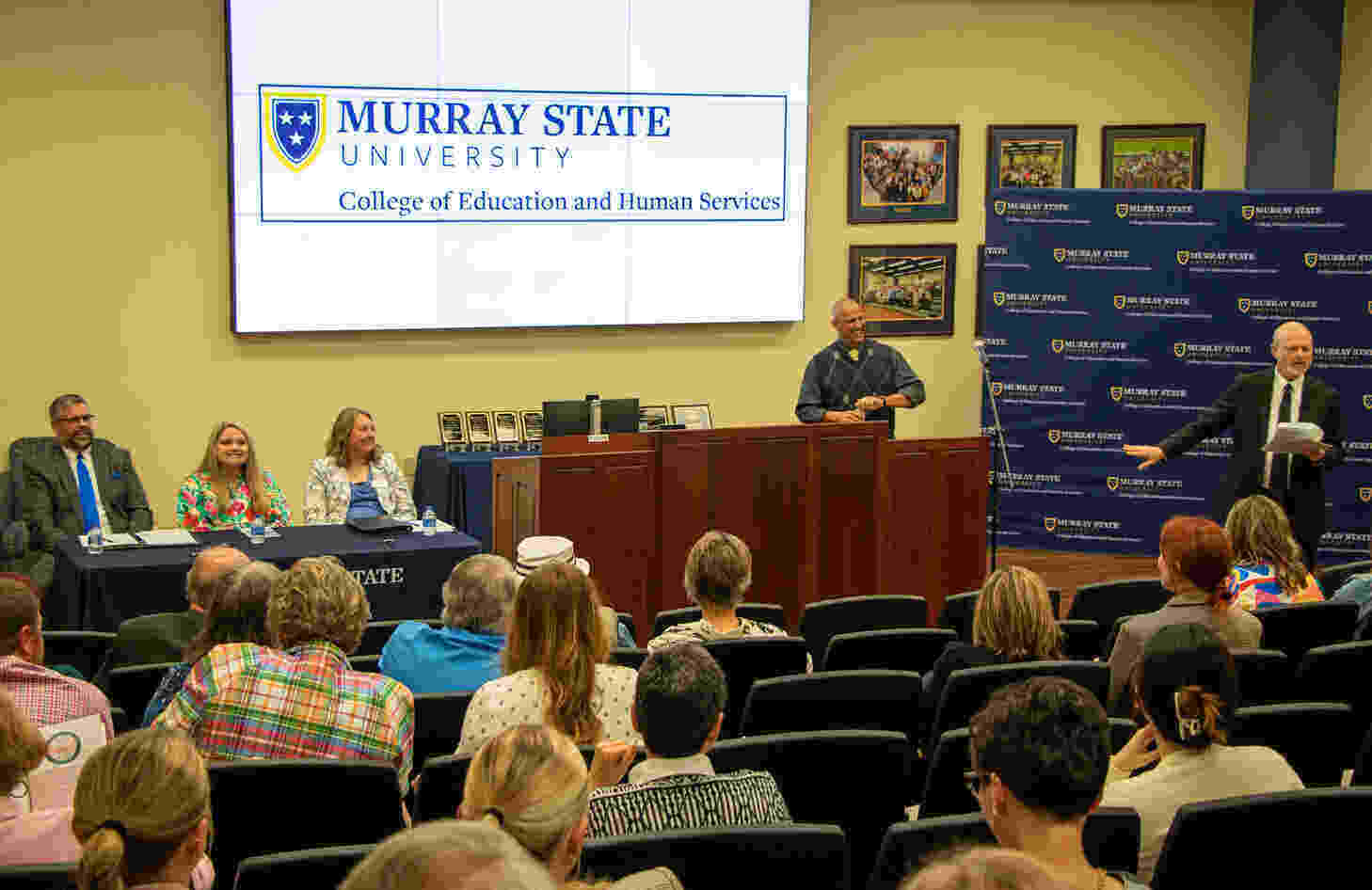 MURRAY, Ky. – The annual Harry M. Sparks Distinguished Lecture Series occurred on April 25 in the Alexander Hall Auditorium located on Murray State's campus. The theme for this year's free, community-wide event was "Survivor Voices: Elevate. Engage. Effect Change." as part of a larger discussion surrounding National Crime Victims' Rights Week (NCVRW).
Dr. Samir Patel, department chair for Educational Studies, Leadership and Counseling, moderated a panel of three Murray State alumni, all of whom have a background in survivor advocacy, serving as the evening's featured speakers:
Patricia Greer, Resource Center Director of the Kentucky Center for School Safety (KCSS) and former principal of Marshall County High School

Jessica Foust, Executive Director of CASA by the Lakes

Austin Guill, Director of Campus Police for McCracken County Public Schools and former Law Enforcement Officer with the Paducah Police Department
Following the panel, Dr. Katy Hancock, department chair for Community Leadership and Human Services, announced the following awards as Dr. David Whaley, dean of the College of Education and Human Services (COEHS), presented awardees their plaques:
Outstanding Early Childhood Educator: Kristina Bohannon, Fulton Independent Preschool/Head Start

Outstanding Elementary Educator: Noraa Ransey, North Calloway Elementary School

Outstanding Middle School Educator: Ernest Kenty, Paducah Middle School

Outstanding High School Educator: Abby Ranes, Webster County High School
This lecture series was established by the Murray State Board of Regents to honor Dr. Harry M. Sparks, who served as the fifth president of the University from January 1968 to September 1973. During his 43-year career in education, Sparks held the titles of teacher, basketball coach, school principal, district superintendent, university professor, president of the Kentucky Education Association and superintendent of public instruction for the Commonwealth of Kentucky.
"The Sparks Lecture Series is our annual signature event in the College," said Whaley. "It is a wonderful occasion that allows us to hear a great lecture, honor outstanding teachers and build relationships with one another."
Following the event, attendees and participants were able to speak with representatives from several COEHS organizations, including the National Student Speech Language Hearing Association, Kentucky Center for School Safety and Mu Sigma Chi, International Counseling Academic and Professional Honor Society. Finally, guests enjoyed a complimentary fish fry dinner in the Alexander Hall Atrium.
Find more information and photos from the event on the College of Education and Human Services' social media pages (@MurrayStCOEHS), and learn more about the COEHS at murraystate.edu/coehs.