Record freshman class highlights Murray State University's fall 2023 enrollment
By Shawn Touney | Sep 19, 2023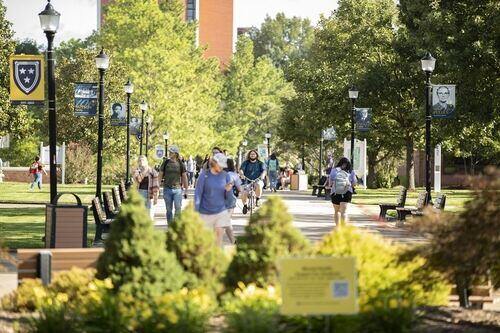 MURRAY, Ky. – Murray State University's enrollment in several key categories reflects historic growth with continued positive trends and momentum for the institution.
Murray State has welcomed the largest freshman class in the University's history, while this fall's overall enrollment is the largest since 2017.
Below is a snapshot of this fall's freshmen enrollment, as of Sept. 17, 2023:
A total of 1,660 freshmen are enrolled at Murray State - the largest in the institution's history.

Among the freshman class, 44 percent were ranked in the top quarter of their graduating class and 10 percent were valedictorians of their graduating classes.

This year's freshman class earned an average GPA of 3.57 as high school students.

This year's freshman class reflects a 17 percent increase in underrepresented minority students from last year's freshman class, and is the most diverse freshman class since prior to 2018.
Below is a snapshot of this fall's overall enrollment, as of Sept. 17, 2023:
This fall's total enrollment of 9,818 is the largest in the last five years and represents a nearly 4 percent increase over the previous year.

This is the second consecutive year with an increase in overall enrollment.

A total of 59 countries, 49 states and 111 counties in Kentucky are represented among the student body.

The University's six-year graduation rate of 62 percent is the highest percentage since recordkeeping of this data began in 1993.

The University's student first-to-second year retention rate of 76 percent is one of the highest among public, regional comprehensive universities in Kentucky.

International student enrollment reflects an 18 percent increase from the previous year, with a 50 percent increase in international graduate student enrollment from the previous year.

Enrollment in the University's Racer Academy dual credit program for high school students reflects a 13 percent increase from the previous year.
"We are very pleased by these enrollment figures in several categories, particularly our record freshman class this fall," Murray State President Dr. Bob Jackson said. "More and more students and their families are choosing Murray State University. We are proud to offer a nationally-recognized experience of quality and value while offering personalized support for our students from caring faculty and staff. We remain committed to preparing our students for success throughout their Racer journey and in their future endeavors following graduation."
The final 2023-2024 enrollment report will be completed in October.
Recognized nationally as one of America's best college values, Murray State has been named by U.S. News & World Report as one of the top universities in the country for 33 consecutive years. Murray State was also highlighted within the past year as a best value for students seeking a college degree by Washington Monthly in its "Best Bang for the Buck" rankings, as well as by Forbes, Money Magazine and the Wall Street Journal/Times Higher Education.
Admission for the 2024-25 academic year at Murray State University is open as future Racers can apply today at admissions.murraystate.edu. Students interested in joining the Racer family can also learn more as well as schedule a campus visit by calling the office of recruitment at 270-809-2896 or emailing msu.recruitment@murraystate.edu.