Racer Report: September 11-15
By Shawn Touney | Sep 13, 2023
MURRAY, Ky. – The latest Murray State University Racer Report includes student, faculty, staff and alumni accomplishments, announcements, upcoming campus events and more for the week of September 11-15.
**
Dr. David Whaley, dean of the College of Education and Human Services at Murray State University was recently part of a KET broadcast centered around early literacy. The college's undergraduate Reading and Writing Education program has been recognized by the National Council on Teacher Quality (NCTQ) for its rigorous preparation of future teachers in how to teach reading and earned an "A" grade in NCTQ's new report.
The program at Murray State is among just 23 percent nationwide to earn an "A" from NCTQ for meeting standards set by literacy experts for coverage of the most effective methods of reading instruction, often referred to as the "science of reading."
Individuals can view the KET broadcast at ket.org/program/ket-forums/early-literacy-a-ket-forum.
**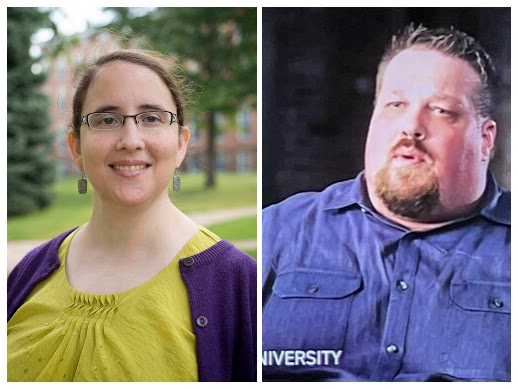 Two faculty members in the Murray State University history department were recently spotlighted. The History Channel's new series "Ancient Empires" includes Dr. Aaron Irvin, who shared some of his scholarly research and expertise. The seven-hour miniseries explores the foundations of some of the greatest empires of all time and stories of iconic rulers such as Alexander the Great, Julius Caesar and Cleopatra.
Additional information on the miniseries is available at history.com/shows/ancient-empires.
Dr. Tamara Feinstein recently wrote an electronic briefing book for the National Security Archive, in honor of the 20th anniversary of the Peruvian Truth and Reconciliation Commission's final report. Readers can learn more about the new revelations in the 22 declassified documents ranging from the start of Peru's civil war to the commission's final moments.
The electronic briefing book, which can be read at https://bit.ly/3r2X8sG, has gained international traction, including El Pais, a Spanish newspaper.
University of Notre Dame Press has also just released "The Fate of Peruvian Democracy: Political Violence, Human Rights, and the Legal Left," a new book by Feinstein.
The book investigates the bloody Shining Path conflict's effect on the legal Left in late-twentieth-century Peru, illustrating the catastrophic impact state and insurgent violence can have on the growth and resilience of democratic political actors during times of war.
Learn more about the book, which is available at undpress.nd.edu/9780268206222/the-fate-of-peruvian-democracy.
**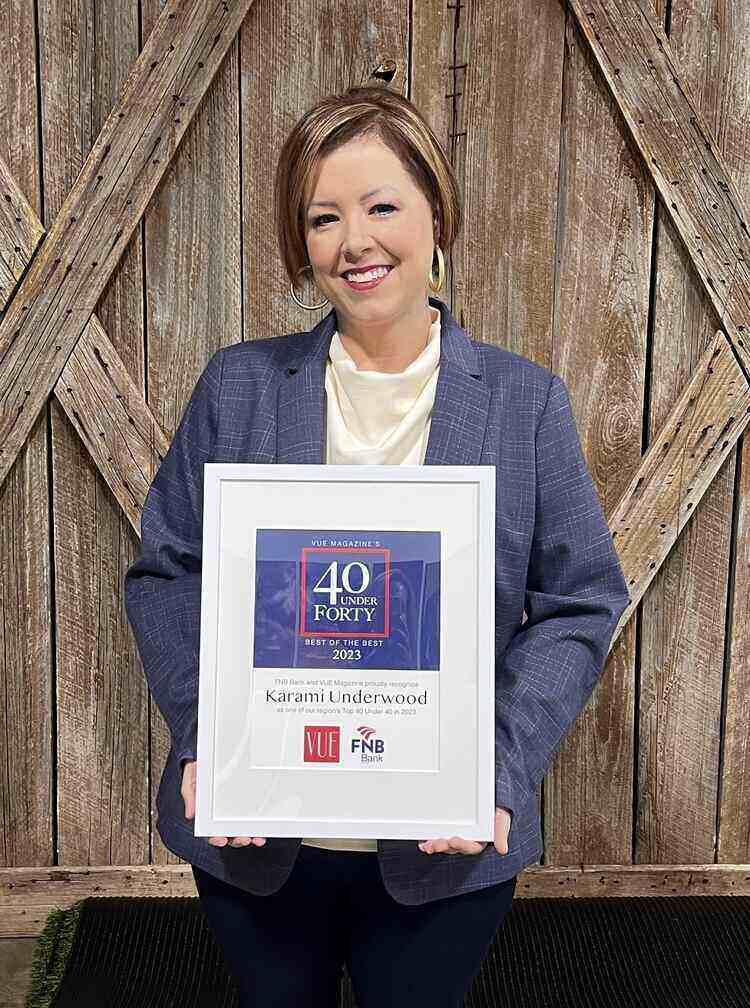 Karami Underwood, Murray State University's Paducah Regional Campus Director, has been named as one of Vue Magazine's 2023 Top 40 Professionals Under 40. This award is given to young professionals who are shaping industries and redefining what innovation means. These honorees are considered trailblazers and visionaries for the region, to create a brighter future for communities.
Underwood has been actively involved in several community organizations and committees including Paducah Professional Women, Paducah Area Chamber of Commerce Board, Leadership Paducah Class #37, Paducah/McCracken County Senior Center Board and Murray State University's Assessment Committee. Her leadership at Murray State's Paducah Regional Campus is invaluable, as she supports enrollment growth and extends continuing education opportunities to students throughout the Paducah and McCracken County area service region.
For more information about Murray State's Paducah Regional Campus, visit murraystate.edu/paducah.
**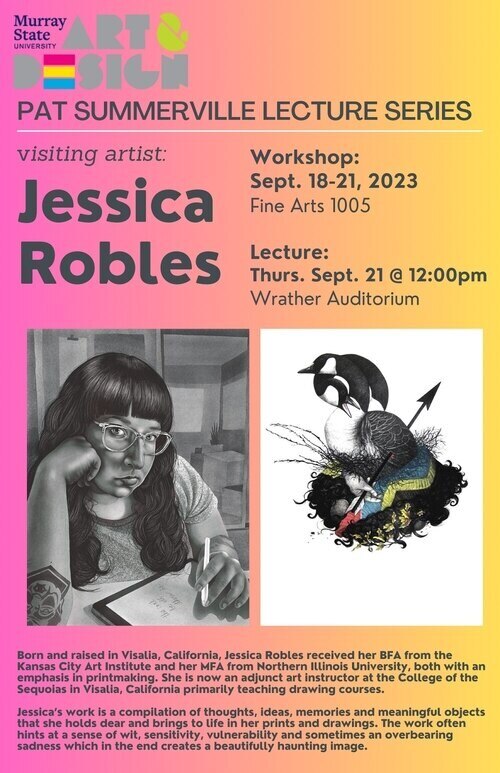 Jessica Robles will be the Patricia Summerville Lecture Series Artists at Murray State University on Sept. 18-21. She will produce a lithograph edition and present a public lecture on Thursday, Sept. 21 at Noon at Wrather Auditorium, which is a part of ENGAGE, the Department of Art & Design's recruitment event for area high schools.
The workshop will be Monday, Sept. 18 – Thursday, Sept. 21 in the Fine Arts building 1005 from 9 a.m. until 4 p.m. Robles will be editioning her work with the assistance of the printmaking classes.
Everyone is welcome to bring their classes to the workshop and lecture.
Born and raised in Visalia, California, Robles received her Bachelor of Fine Arts from the Kansas City Art Institute and her Master of Fine Arts from Northern Illinois University, both with an emphasis in printmaking. She is now an adjunct art instructor at the College of the Sequoias in Visalia, California primarily teaching drawing courses.
Her work is a compilation of thoughts, ideas, memories and meaningful objects that she holds dear and brings to life in her prints and drawings. The work often hints at a sense of wit, sensitivity, vulnerability and sometimes an overbearing sadness which in the end creates a beautifully haunting image.
Individuals can view her work at jessicaroblesstudio.com.
**
Boaz Burnett, a Murray State University student and electromechanical engineering and technology major from Murray, Kentucky has been chosen as a delegate to Camp 2030 by the Kentucky Commercialization Venture (KCV).
Camp 2030 brings together young leaders from around the world to come up with innovative solutions to the United Nations Sustainable Development Goals, which include zero hunger and no poverty.
The trip is all expenses paid and is part of a $5,000 grant Burnett has received from KCV to further his senior design project, which is a parking vision system designed to detect if parking spots are available in a given lot, done through the use of cameras and machine learning.
Learn more about Camp 2030 at unite2030.com/camp2030.
**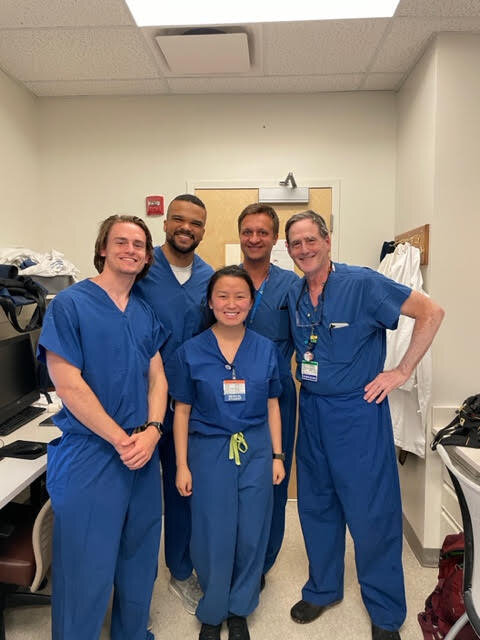 This past summer, Murray State University senior Andrew Windhorst, a biology/pre-med major and chemistry minor from Paducah, worked with Dr. Ed McFarland, who is an orthopedic surgeon at Johns Hopkins Hospital and an alumnus of Murray State University.
As part of his experience, Windhorst spent time in the clinic and the operating room, observing McFarland and his team of residents and fellows, gaining exposure to the necessity of great patient care.