Political science major presents research in Greece
Political science major presents research in Greece
By Alex Pologruto | Sep 6, 2022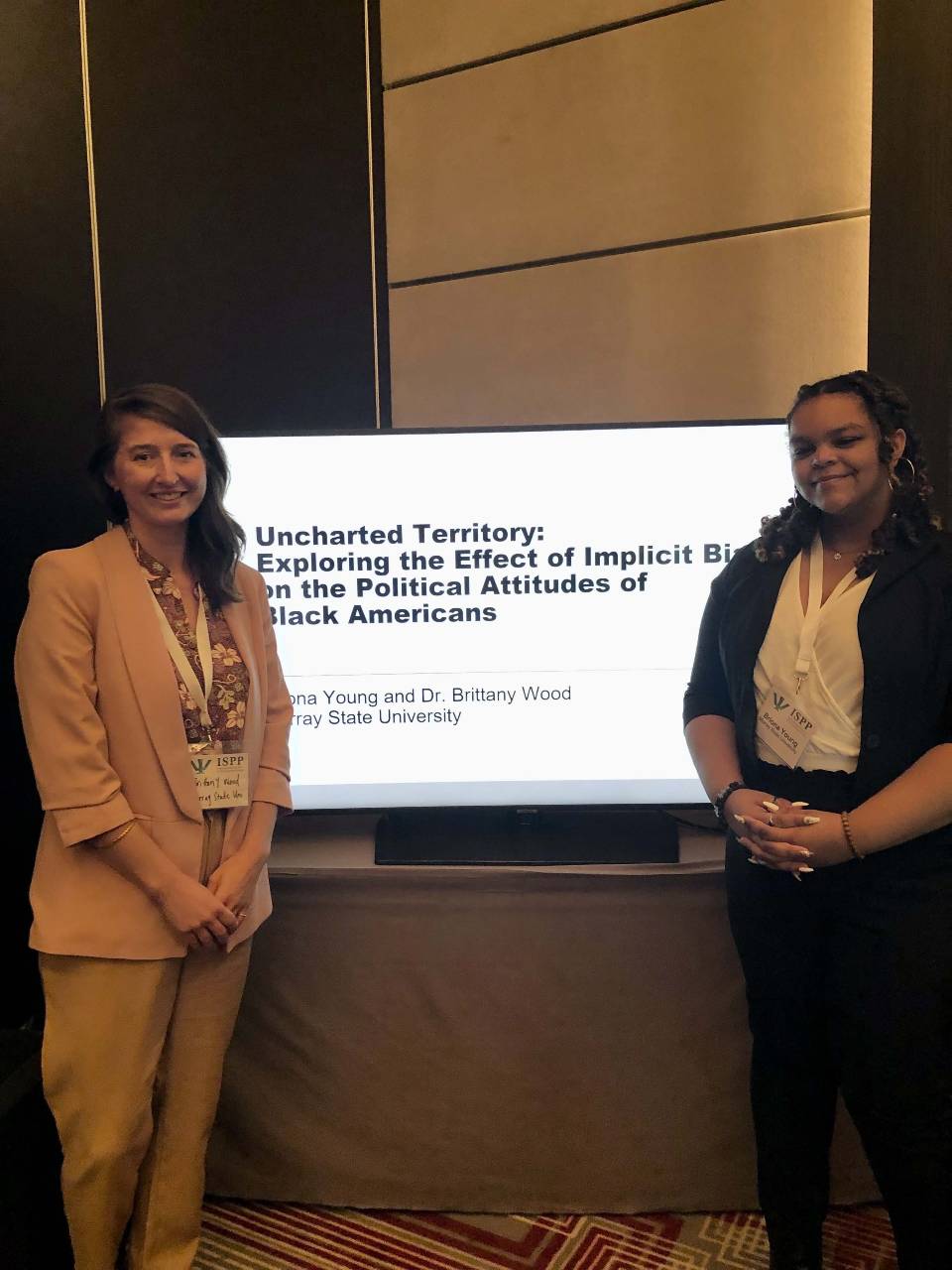 MURRAY, Ky. – Murray State University political science major, Briona Young, a junior from Louisville, Kentucky, received the opportunity to present her research project this past July in Athens, Greece. Young's research project focused on how implicit racial biases affect politics in the Black American community. Presidential Fellow mentor, Dr. Brittany Wood, assistant professor of political science at Murray State, has guided Young through the research process dating back to the start of it all in August 2021.
"Dr. Wood has allowed me to take the reins and develop my own project," said Young. "I eventually settled on (this topic) because of how underrepresented Black people are in implicit bias research. Dr. Wood and I developed a survey-style project to determine if Black Americans have implicit racial bias and whether or not that affects their political behaviors and attitudes."
In 2022, Young and Wood began attending conferences to present the project, currently titled Uncharted Territory: Exploring the Effect of Implicit Bias on the Political Attitudes of Black Americans, and to collect balanced feedback from a variety of sources. The first of these conferences was the Midwestern Political Science Association Conference in Chicago this past April. The second conference was the International Society of Political Psychology (ISPP) Academy held in Athens, Greece, this past July. The ISPP Academy is a three-day workshop that aims to train interested faculty and students from around the world in both foundational research and cutting-edge methodologies in the area of political psychology around the world.
"My favorite part of the conference was attending a panel discussion about Black politics and getting to talk with the discussants afterwards," said Young. "I learned so much about the role, though often unrecognized and excluded, of Black people in politics. Getting the chance to meet other Black scholars who are paving the way for Black-centered political science research was so incredible and inspiring."
Young and Wood have one more conference to attend this year: the American Society for Public Administration Conference in September. Not only have the conferences provided an opportunity for Young to share her research, but they are ultimately helping her toward her career goals.
"I chose my major for the same reason many of my fellow classmates chose the political science/legal studies track – to become a lawyer," said Young. "However, I also chose this major because politics has never been my strong suit. I never knew much about politics, why certain things happened, or how certain aspects of the American government worked, so I decided to major in politics to make myself more informed about the world around me."
"One of the biggest reasons I want to be a lawyer is so that I can help people, and I can't really do that without knowing much about the world we live in," added Young. "I am so thankful for the opportunity to not only attend the conference but present my own research and hear feedback from such a diverse group of people. Traveling and presenting research abroad has helped me to expand my knowledge about not only my research project but global issues as well, and I am excited to channel that knowledge into helping others."
While presenting her research abroad this past summer, Young got the opportunity to immerse herself in Greek culture, explore the Acropolis and enjoy breathtaking views. She is expected to graduate in May 2024, and will be working on the research project in some capacity throughout her last semester to get the project published.
To learn more about the Department of Political Science and Sociology at Murray State University please visit bit.ly/3CWk00z.