Murray State University Department of Art & Design hosts printmakers for the Patricia Summerville Lecture Series
Murray State University Department of Art & Design hosts printmakers for the Patricia Summerville Lecture Series
By Shawn Touney | Oct 14, 2021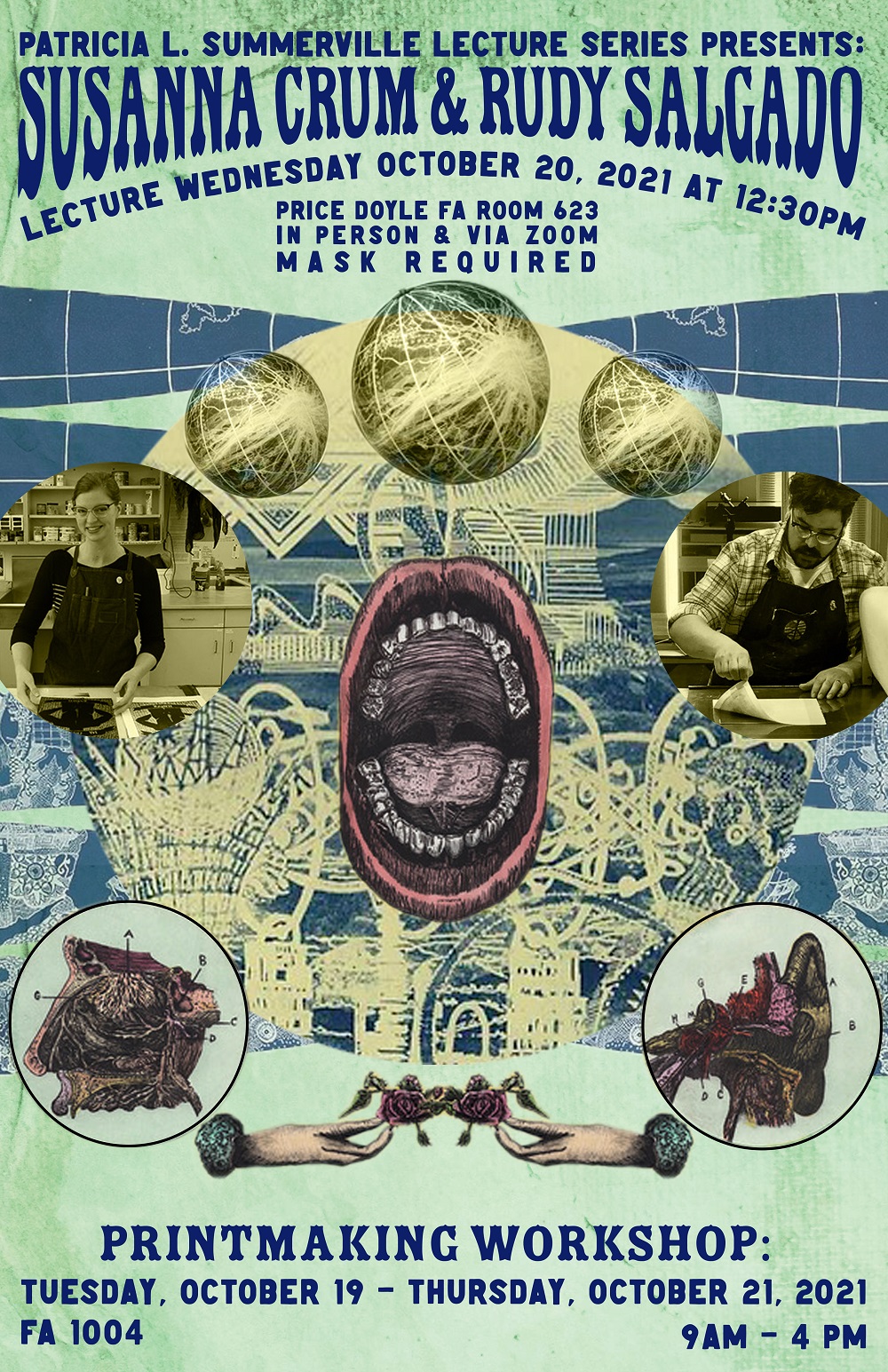 MURRAY, Ky. — The Department of Art & Design at Murray State University will host printmakers Susanna Crum and Rodolfo Salgado for the Patricia Summerville Lecture Series on October 19-21.
On Tuesday, October 19 and Thursday, October 21, the visiting artists will be editioning a collagraph and intaglio print in a collaborative workshop with Professor Nicole Hand's advanced printmaking students. The workshop will be held in Fine Arts 1004 from 9 a.m. – 4 p.m. and is open to the public.
On Wednesday, October 20 at 12:30 p.m. in room 623 of the Price Doyle Fine Arts Building, the artists will give a public lecture. The event is open to the public but can also be viewed on Zoom.
Crum and Salgado live in Louisville, Kentucky, where they run Calliope Arts Printmaking Studio and Gallery, work with artists within local and national communities, and care for chickens, a garden, and a live/work property built in 1885 in downtown Louisville. As River City Tintype, Salgado makes photographs on metal and glass with the 170-year-old method of wet plate collodion photography. Crum is Associate Professor of Fine Arts - Printmaking at Indiana University Southeast. Both have been recipients of the Great Meadows Foundation professional development grants and recent artist residencies at Kunstarhuset Messen, Ålvik, Norway; Edinburgh Printmakers, Edinburgh, Scotland; and Kala Art Institute, Berkeley, California. They met in 2009 while pursuing Master of Fine Arts degrees in printmaking at the University of Iowa, and moved to Kentucky after receiving their degrees in 2012.
The Patricia L. Summerville Lecture Series is an endowment to the Department of Art & Design. Patricia L. Summerville graduated in three years from Murray State in 1972 with a Bachelor of Science in Education. She then earned three additional degrees, including a Master of Science in Education with a major in Supervision in 1976 from the University of Akron; a Master of Health Administration with a major in Hospital Administration in 1982 from Xavier University; and the Juris Doctor from Chase College of Law at Northern Kentucky University in 1994. She was admitted to the bar the following year. Summerville's career included teaching art for six years, serving as an administrator for hospitals and healthcare facilities for 20 years and practicing law for five years before retiring in 2003.

For more information on the events, contact Nicole Hand in the Department of Art & Design at 270-809-6387 or nhandbryant@murraystate.edu.