NLS program presents Fundraising Plan Award
Murray State University nonprofit leadership studies program presents Fundraising Plan Award to Lotus Children's Advocacy and Sexual Violence Resource Center
Apr 23, 2020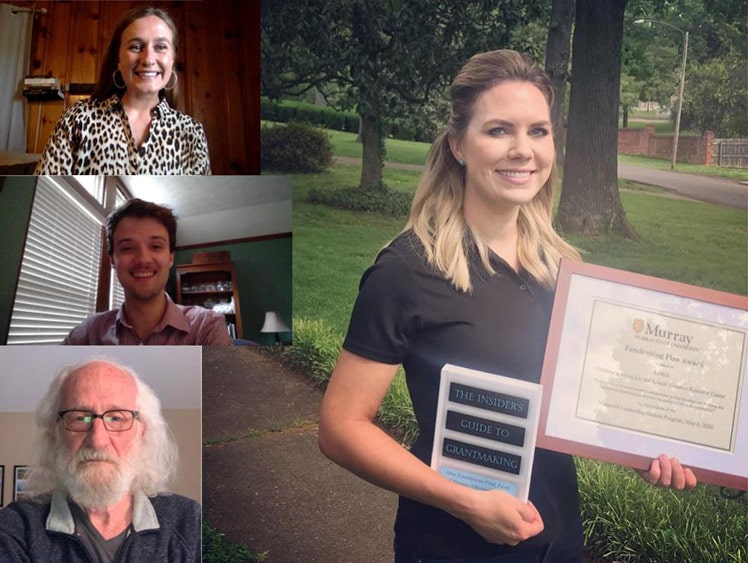 Student-presented award recognizes organization's fundraising strategy
MURRAY, Ky. — The Murray State University Nonprofit Leadership Studies Program is pleased to announce the presentation of the Fundraising Plan Award to Lotus Children's Advocacy and Sexual Violence Resource Center, serving west Kentucky.
The award was created by the students in the University's financial management and development course.
Twenty-two students, representing six different programs of study across Murray State, designed the award as a service learning project to apply the principles of effective fund development that they have been exploring this semester.
The students and faculty used the guiding principles of the Indiana University Fundraising School to invite applications from nonprofits that have demonstrated effective fundraising practice. The following criteria were used to guide the applications and the award selection process:
Goals – monetary and intended uses

Case for funding needs

Board involvement and contributions

Fundraising Committee roles and responsibilities

Formal written plan with timeline

List of fundraising methods being used

Donor relations activities and communications

Evaluation plans
Deliberating applicants' qualifications served as an opportunity for students to put the principles and practices they have been studying to use in the review of the real-world fundraising strategies and plans. The review process allowed students to rate each application on the award criteria and to present questions and comments to support the final selection.
"Considering that they have already raised 78 percent of their capital campaign through a variety of funding sources and they have 100 percent board funding support, I feel that the Lotus fundraising plan is very feasible," said Cody Rogers, a senior from Murray, Kentucky, majoring in nonprofit leadership and outdoor recreation. "They aren't relying on a single event for funding. Everything I read on their application shows that they are thoughtful about how they fundraise."
The final decision was significantly informed by the extent to which the applications demonstrated creativity in the fundraising plan design and implementation.
"Lotus has creative means of communicating with their donors and keeping them engaged and updated," said senior Amy Land, a nonprofit leadership studies major from Metropolis, Illinois. "They have the right sequence of donor engagements that build sustainable connections. The board is vital to bringing in potential new donors and they are aware that it is part of their responsibilities. By having different levels of fundraising individuals all being educated, Lotus has demonstrated that fundraising is not a one-person job."
The students praised Lotus for its commitment to comprehensive strategies and continuous learning and improvement.
"Lotus appears to be implementing creativity with professionalism to raise awareness and funds," said Carley Alexander, a junior from Murray, Kentucky, majoring in Spanish and nonprofit leadership studies. "Their application has color and attachments that help to better communicate their cause, beyond just the logo. They have adequately answered the criteria with programs and evaluations that are in use. This application stands out for its thoroughness."
"They have a well-developed fundraising team that sustains the organization and present how they would use the award funds to continue to improve their development team strategies and increase their fundraising activity," added Annie Argenbright, a junior from Lebanon Junction, Kentucky, majoring in nonprofit leadership studies.
The award was presented to Lotus Children's Advocacy and Sexual Violence Resource Center on May 5. This included a framed certificate, signed and inscribed copy of Dr. Joel Orosz's "The Insider's Guide to Grantmaking" and a $1,000 check from the Murray State University Foundation Nonprofit Resource Fund. The resources that support the award are the result of a private donation intended to help advance the organization's continuing fundraising success.
"The Lotus leadership team works really hard to make sure that our vision, mission and values guide all that we do and that it is reflected throughout our fundraising plan," said Lotus Development Director Amberly Haverstock. "We make sure that everything we do is tied to goals and objectives that help realize our mission. Preparing the award application was a time for us to reflect on our plan and prepare for the next steps in our development work, seeking to be even more strategic about how we align fundraising and the intended impacts of our mission. We are honored to receive the award and the recognition that comes with it. We are delighted to add the lessons in Dr. Orosz's book to our continuing learning journey. Thank you to the students for the Fundraising Plan Award."
"The Nonprofit Leadership Studies Program depends on the dedicated support of community organizations across the region as they provide exciting opportunities for our students to engage in their creative and challenging work. A special thanks goes out to the four nonprofit organizations that submitted applications for the award, through which they presented comprehensive fundraising plans," said Visiting Distinguished Professor of Nonprofit Leadership Dr. Bob Long. "The students worked really hard in comparing the applications to the standards of quality fundraising practice that they have studied this semester. They leave the experience ready to improve any fundraising efforts they engage in the future."