Music faculty highlight lesser known composers and unique arrangements in joint recital
Music faculty highlight lesser known composers and unique arrangements in joint recital
By Carrie Jerrell | Mar 14, 2023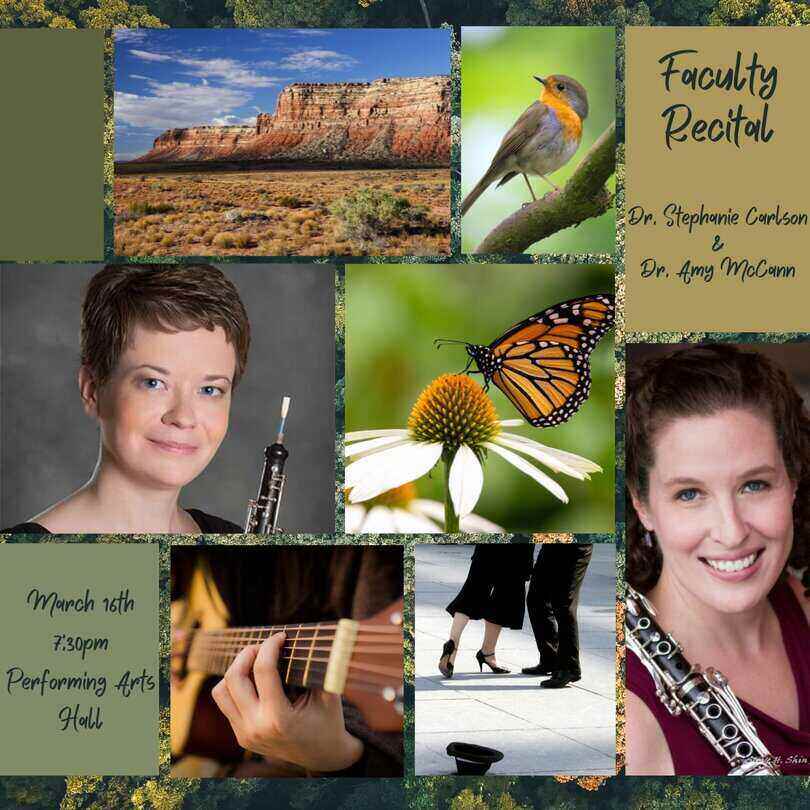 MURRAY, Ky. – Dr. Stephanie Carlson and Dr. Amy McCann of Murray State University's Department of Music will perform a joint faculty recital on Thursday, March 16 at 7:30 p.m. in the Performing Arts Hall of the Price Doyle Fine Arts Building on Murray State University's campus. The recital is free and open to the public.
Carlson's selections include "Piper of Dreams, op. 12b" by Ruth Gipps (1921-1999), an English oboist, composer, conductor, teacher, pianist and impresario whose work was largely unknown in the U.S. until recently, when Carlson and others began to bring more attention to it.
"I'm excited to see the trend changing," said Carlson. "I've been studying and performing her music since about 2017. 'Piper of Dreams' will be included on my recording project, which I hope to complete this year. It is for unaccompanied oboe and was first performed in 1941 by Ruth's friend and collaborator, Marion Brough."
Carlson will also perform Phillip Bimstein's "Half Moon at Checkerboard Mesa: A Fantasy for Oboe, Frogs, Crickets and Coyotes," a piece for oboe and fixed media, which Carlson explained is a unique recorded back track that Bimstein created using actual sounds that he himself recorded at Checkerboard Mesa in Zion National Park in Utah.
Her last individual selection will be Russell Brown's "Disco Ball," which Carlson said "features some fun funk lines for the bassoon that I hope might inspire some high school students to switch to this instrument."
McCann's selections include "L'histoire du tango" by Astor Piazolla, which she will perform with Brent Webster, instructor of guitar at Murray State. Though the piece was originally written for flute and guitar, McCann and Webster will play the clarinet and guitar version.
McCann will also play an unaccompanied E-flat clarinet piece by Jorge Montilla called "Registro de Pajarillo," which loosely translates to the "voice of the little bird."
"The E-flat clarinet gets a bad rap as the 'screamy sarcastic' member of the clarinet family," said McCann of the diminutive instrument, "but this piece shows off some of the versatility of the instrument. While this little bird can certainly pack a punch, it doesn't always have to."
Together, Carlson and McCann will also premiere "Chasing Monarchs," an oboe and clarinet duet that Carlson commissioned from by Kincaid Rabb, a friend and composer.
"The piece is simply meant to capture the peaceful and playful innocence of a summer's day spent outdoors in a park or other similar setting chasing monarch butterflies," said Carlson. "I have always admired Kincaid's masterful storytelling capabilities and this piece showcases all that I love about their music."
Dr. Stephanie Carlson is an assistant professor of Music at Murray State and teaches applied oboe, bassoon, classical saxophone, reed-making and woodwind methods. Dr. Carlson is currently the second oboist and English hornist with the Fargo-Moorhead Symphony and has also performed with the Paducah Symphony, Augusta Symphony, Charleston Symphony and the Greater Anderson Musical Arts Consortium Chamber Orchestra, among others. She is a frequent recitalist at conferences of the International Double Reed Society. She holds a Doctor of Musical Arts and Master of Music degrees from the University of Georgia, and a Bachelor of Music degree from the Baldwin Wallace Conservatory of Music in Berea, Ohio.
Dr. Amy McCann, assistant professor of Music, is a former military musician and active freelance performer and teacher. She has played with the United States Air Force Heritage of America Band, La Crosse Symphony Orchestra, Wheeling Symphony, Johnstown Symphony and the West Virginia Symphony. Dr. McCann has also studied reed-making techniques with both Dr. John Weigand at West Virginia University and Mr. Keith Hill, an instrument builder who has done extensive studies on the physical vibrating properties of wood and cane. Dr. McCann is a Sponsored Artist and Reed Making Specialist with Precision Reed Products, the maker of the Reedual single reed machine. Dr. McCann holds degrees from West Virginia University and Indiana University.
For more information about Murray State University's Department of Music, visit murraystate.edu/music.