Murray State University receives gift of handmade violin
By Jennifer Cline | Oct 27, 2023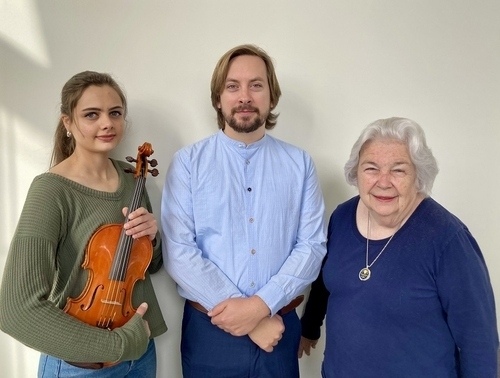 MURRAY, Ky. – The Murray State University Department of Music is proud to announce the acquisition of a handmade violin thanks to the generosity of 1964 alumna Donna Herndon. The gift was given in memory of Roger Herndon (1970-1991), the son of Donna and the late Woody Herndon.
The violin is the first instrument crafted by luthier Dr. Roger Graves, a 2015 graduate of Murray State who then received his Master of Music from Ball State and his Doctor of Musical Arts degree from the University of Texas. Graves began his training in the field of instrument repair with former Murray State instrument technician Scott Thile. A bassist and euphonist, Graves maintained his interest in instrument-making and instrument repair while obtaining instrumental performance degrees at the master's and doctoral levels. In 2022-2023, he trained with a fourth-generation luthier at the Academia Cremonensis, a prestigious violin-making school in Cremona, Italy. The violin received by the Department of Music is the product of his time at that institution.
The interim chair of the Department of Music, Dr. Mike D'Ambrosio, said the violin will make a tremendous difference for the department.
"This is an incredibly generous gift of a beautiful instrument, and it is made even more special by the fact that the instrument maker is a Murray State alumnus," said D'Ambrosio. "Roger Graves was in several of my classes and was a wonderful student. It is always amazing to see what students will make of themselves after they leave here, but Roger's case is particularly special. Now our current students will benefit greatly from both Roger's craftsmanship and Donna's generosity."
Lydia Sahawneh, a senior at Murray State, will be the first to play the violin in its public debut.
"I am very grateful for the opportunity to play an instrument that speaks so much more beautifully than my own. This is my seventh year as a violinist in the music department at Murray State, and I am excited to play the new violin in future concerts," said Sahawneh.
The violin can be heard for the first time at the Nov. 15 University Orchestra Concert. Conducted by Dr. Frank Lakatos, the concert will begin at 7:30 p.m. in historic Lovett Auditorium on Murray State's main campus. Admission to the concert is free, and the public is invited to attend.
For more information about studying music at Murray State University, contact the Department of Music at (270) 809-4288. To learn more about ways to support the department and its students, contact Kala Allen-Dunn, director of development for the College of Humanities and Fine Arts, at kallendunn@murraystate.edu.