Murray State University earns 2023-2024 Military Friendly® School designation
Murray State University earns 2023-2024 Military Friendly® School designation
By Jennifer Cline | Mar 8, 2023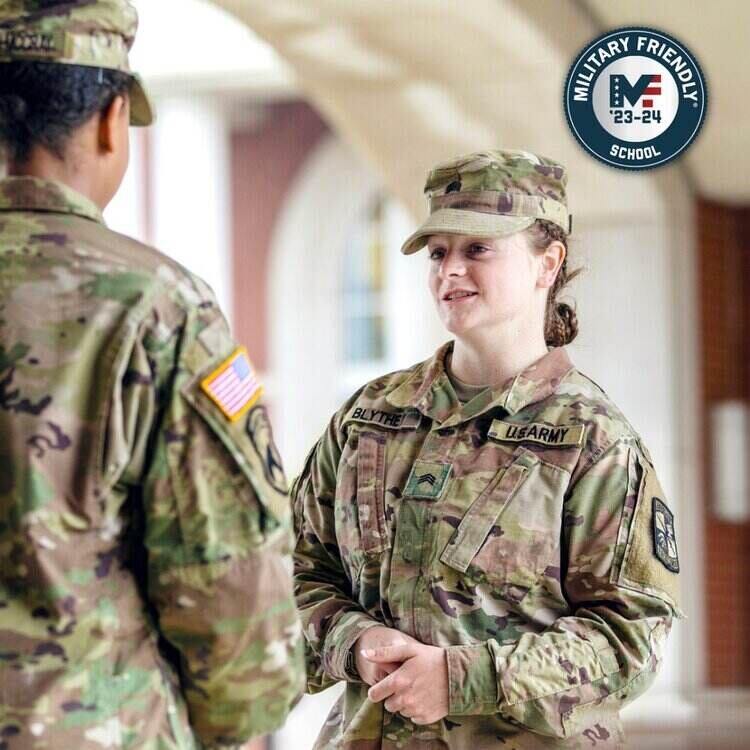 MURRAY, Ky. – Along with several other recent rankings that Murray State University has received, Military Friendly® has awarded the University with the 2023-2024 Military Friendly® School designation. Institutions earning the Military Friendly® School designation were evaluated using both public data sources and responses from a proprietary survey. Over 1,800 schools participated in the 2023-2024 survey with 530 earning the designation.
"Murray State University's recognition as a Military Friendly® School for 2023-2024 highlights a long tradition of supporting and listening to our military connected students. We strive to not only maintain but improve services and benefits provided to our military connected students," said Dr. Don Robertson, vice president of student affairs and enrollment management.
Murray State offers resources for military connected students such as personalized advising, career planning and placement, flexible online and weekend schedules for those who serve on active duty, disability services, free counseling services, free limited student health services and a psychological center.
The University also offers military tuition discounts for military service members using Federal Tuition Assistance. These benefits can include tuition assistance and Veterans Affairs education benefits, college credit for military training, waived fees for courses, online classes, free graduation cords for veterans, textbook and fee discounts, free admission applications as well as waived tuition costs not covered by the Department of Defense Tuition Assistance Program.
"The fear of the unknown is one of the greatest challenges anyone can face. A military connected student must not only face this fear but overcome the challenges of a non-traditional student. Murray State University strives to create a seamless transition and provide continuous support to our military connected students. These efforts are highlighted by the University's continued recognition as a Military Friendly® School for 2023-2024," said Robertson.
The 2023-2024 Military Friendly® Schools list will be published in the May issue of G.I. Jobs magazine and can be found at militaryfriendly.com. Methodology, criteria, and weightings were determined by Viqtory with input from the Military Friendly® Advisory Council of independent leaders in the higher education and military recruitment community.
"Military Friendly® is committed to transparency and providing consistent data driven standards in our designation process. This creates a competitive atmosphere that encourages colleges to consistently evolve and invest in their programs. Schools who achieve designation show true commitment and dedication in their efforts," said Kayla Lopez, Military Friendly® national director of military partnership. "Our standards assist schools by providing a benchmark that promotes positive educational outcomes, resources, and support services that better the educational landscape and provide opportunity for the military community."
For more information about Murray State University's student veteran and military success programs, visit murraystate.edu/veterans.