Murray State graduate sets the standard for special education
By Emily Hannan | Feb 8, 2016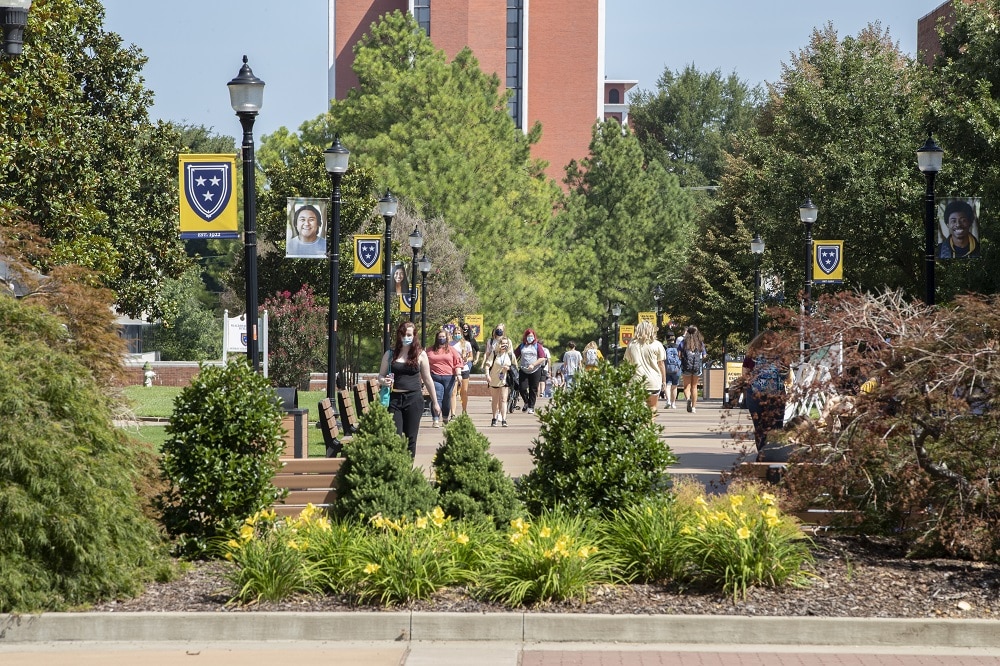 MURRAY, Ky. — Kelly Teague received her bachelor's degree in May of 2009 from Murray State University. She is certified to teach elementary education grades K-5, and Special Education grades K-12. She began teaching in August of 2009 at Muhlenberg North Middle School where she teaches today. In her seventh year of teaching, she was honored as Kentucky's Special Education Teacher of the Year.
Each year, the Kentucky Council for Exceptional Children (CEC) and Kentucky Department of Education (KDE) come together to present the Special Education Teacher of the Year Awards.
Applicants for the award have to be nominated by their district director of special education before the CEC and KDE staff score applications based on rubric criteria, and the applicants with the top three highest scores are selected as finalists. CEC and KDE staff then conduct onsite visit assessments at the teachers' schools and select the final winner.
The Kentucky Special Education Teacher of the Year receives a $500 monetary award and a gift basket.
"Being selected has been such a tremendous honor," said Teague. "When my Special Education Director, Julie Pendley, informed me that she wanted to nominate me, I was deeply touched and also very humbled. Although my name is on this award, it would never have been possible without the support from my administrators, the exceptional teachers I have the honor to work alongside, and the students who teach me so much about overcoming obstacles to success."
For Teague, every day provides new challenges. She has good days and bad days, and not all of her strategies result in success. Her students and the relationships she develops with each of them are what drive her to be an exceptional teacher.
"Every student deserves my best. If I am unable to motivate my students to learn and give 100 percent, the best and most proven research based strategies would fail. My greatest gift to my students will always be the understanding of who they are and what they need. When a student has a bad night, I know. If one of them is hungry, I know. Developing those relationships is also what keeps me, the teacher, motivated as well," said Teague.
At a special education conference in Louisville, Kentucky, Teague encountered yet another piece of motivation for the great things she does as a teacher. Ray Chumbler, who was in attendance at the
conference accepting a service award, talked in his acceptance speech about eradicating the stigma of Autism.
He conveyed his gratitude for his support system and discussed his struggles in school with forming relationships with peers. He described how he finally began to understand the need to connect and make lasting friendships with the help of a mentor who helped him recognize social norms while attending Murray State University.
"Coincidentally, I had recently been discussing the possibility of creating a scholarship for students with disabilities with a former student's mother, and I had mentioned the idea to my Special Education Director. So, it was extremely fortuitous to hear Ray's story," said Teague. "It has since become a great passion of mine to help promote his cause through the scholarship he has created."
When Teague is asked where she received her education, she proudly tells everyone she attended Murray State University. While working toward her degree, her instructors were also teaching in local elementary, middle and high schools. "I cannot place a value upon the depth of knowledge they shared with me from simply living the life of a teacher themselves, and at the very same time, helping me acquire the skills I needed to become a teacher," said Teague.
"I would also like to thank Dr. Susan Edington for being such a wonderful encourager, mentor, and one of the greatest educators I have ever met. Her example has always motivated me to work hard and believe every child can learn. I received such a wonderful education through Murray State University, and I am so proud to be a Racer!"