Western Kentucky Area Kappa Delta Alumnae Chapter establishes new scholarship
By Office of Development | Nov 2, 2023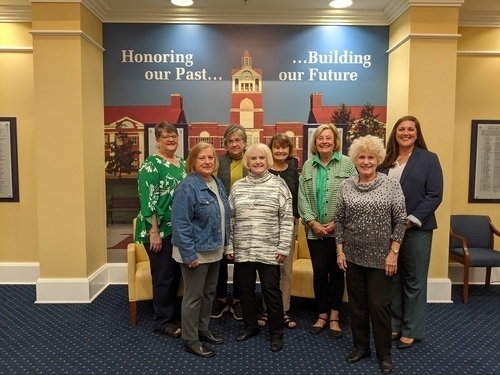 MURRAY, Ky. – Members of the Western Kentucky Area Kappa Delta Alumnae Chapter visited Murray State University the week of Oct. 23-29 to sign documents establishing a new endowed scholarship that will assist members of Murray State's Delta Iota Chapter of Kappa Delta women's social sorority to attain their educational goals.
Mrs. Jan Yonts, '71, '74, who earned both her undergraduate and graduate degrees in elementary education from Murray State and was a Kappa Delta sorority member as a student, recognized an opportunity for the Alumnae Chapter to give back to their alma mater and specifically to the young women of Kappa Delta. Yonts brought this idea to the Alumnae Chapter, spearheading the effort that has culminated in the establishment of the Western Kentucky Area Kappa Delta Alumnae Chapter Scholarship Endowment.
"I am so elated that the Western Kentucky Area Kappa Delta Alumnae Chapter Endowed Scholarship will have the opportunity to play a small part in helping a member of Kappa Delta sorority with continuing her education at Murray State University," said Yonts. "A scholarship is a gift that keeps on giving!"
The Murray State chapter currently has a membership of 86 women who will now have the chance to apply and benefit from this new scholarship.
Murray State's Kappa Delta Chapter President Savannah Darnell said, "This scholarship will be so impactful for our chapter. Our alumni and active members are such confident women, and it is so inspiring to see that the members of the past are still working to make our chapter better and stronger. I am thankful to be part of an organization that is invested in our future, and I know that my sisters feel the same way."
Until now, Murray State Kappa Delta members could apply for scholarships offered to members on a national level, but they would be in a pool of applicants from colleges and universities throughout the country. Members of the Western Kentucky Area Kappa Delta Alumnae Chapter said they were excited to be able to offer this scholarship specifically designated for the young women at Murray State.
Kappa Delta Sorority was founded in 1897 at State Female Normal School, now Longwood University, in Farmville, Virginia. Since then, it has grown to an organization of 168 active collegiate chapters across the country and over 200 alumnae chapters. Kappa Delta Sorority's mission is to be a national organization for women committed to: encouraging members to live with integrity and honor in the bonds of lifelong friendship; building confidence in members to excel in college and throughout their lives; inspiring members to be active leaders, responsible citizens and engaged members of the community; and providing opportunities and experiences that foster personal and professional growth for a lifetime.
Contributions to the Western Kentucky Area Kappa Delta Alumnae Chapter Scholarship Endowment can be made by contacting the Murray State University Office of Development at 270-809-3001 or by making a secure gift online at murraystate.edu/giving. For more information, please contact Abby Hensley, Director of Development, at ahensley2@murraystate.edu.