Murray State University introduces Glen & Judy Grogan Baseball Endowment
Mar 9, 2022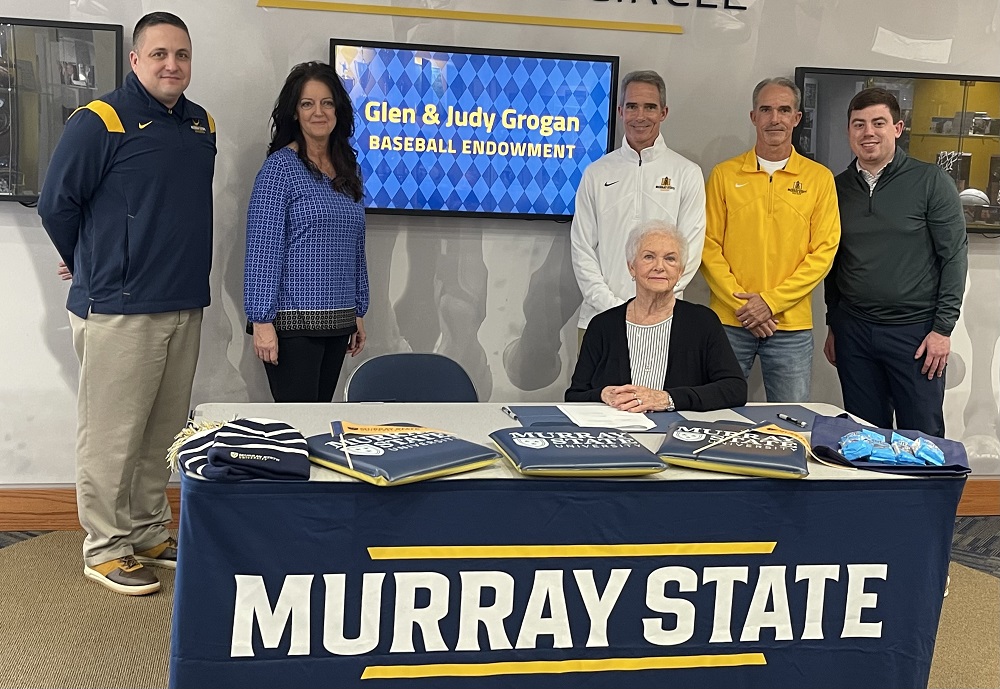 MURRAY, Ky. — Murray State Athletics has announced the establishment of the Glen & Judy Grogan Baseball Endowment at Murray State University. The newly-endowed fund was established by the Grogan family as a way to assist baseball student-athletes at Murray State University in obtaining an education while also supporting Racer Baseball as a whole.
Glen and Judy Grogan enjoyed the positive impact Racer Athletics and Murray State University has had on their family. Their daughter, Leslee, had a positive experience working in the athletics office as a Murray State student. Later, their twin sons, Rick and Mitch, both walked on to play baseball for the Racers (Breds at that time). Rick and Mitch were both pitchers and started playing under the legendary Coach Johnny Reagan beginning in 1985.
The Grogan family recalls the tremendous impact Coach Reagan had on their sons – remembering fondly not only the on-field moments but also the times spent working for Coach Reagan during the off-seasons and visiting with him and former teammates after graduation – or the stories Rick and Mitch would tell about team road trips when it seemed Coach Reagan would always somehow seem to find a Ponderosa Steakhouse for the team to eat at. The Grogan's are also grateful for the scholarship support their sons received as ballplayers at Murray State. It is this gratitude that inspired them to generously give back and establish this fund.
"Murray State University and the baseball program have provided a great education and a lifetime of memories for our family," said Judy Grogan. "These are the things that Glen and I considered when we began discussing this opportunity and when Glen's health began to deteriorate, we decided to move forward with this endowment. I am very pleased with the results, and I know that he would be, as well. Our family hopes that this fund will provide the same opportunities for baseball student-athletes for generations to come."
This fund will specifically support current and former baseball student-athletes who are completing classwork during the summer semester or pursuing their degree once their athletic eligibility has been exhausted. Additionally, funds will support unique player development initiatives and team bonding experiences.
"We are very thankful for the Grogan Family's support of our baseball program," said Dan Skirka, Murray State head baseball coach. "Their generous investment will positively impact the whole-person development of countless young men for years to come."
To make a gift supporting the Glen & Judy Grogan Baseball Endowment, visit murraystate.edu/givenow or send a check made payable to the Murray State University Foundation to the Murray State Office of Development, 200 Heritage Hall, Murray, KY 42071.