Fall Fanfare Concert presented by the Department of Music
By Jennifer Cline | Sep 12, 2023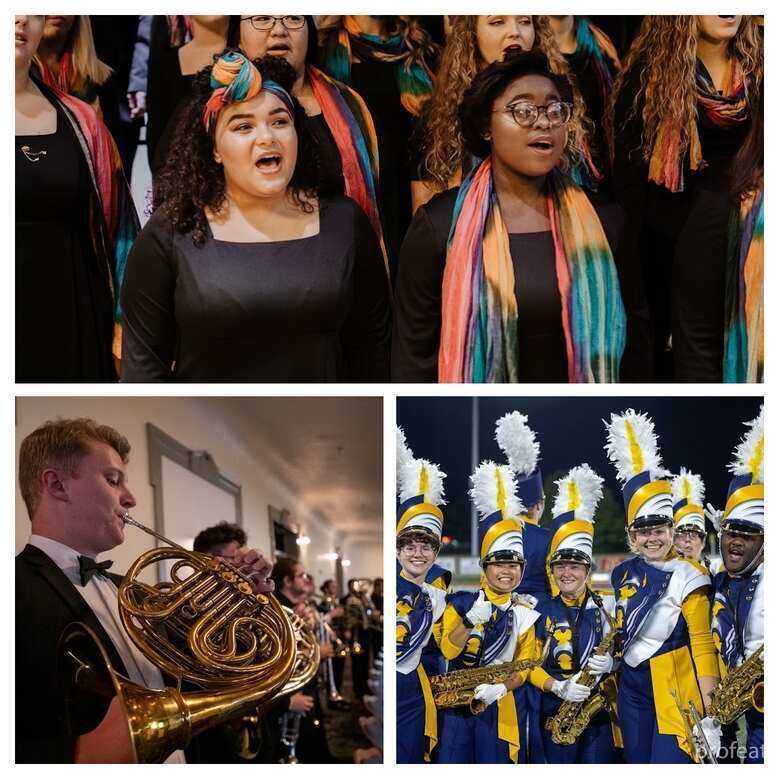 MURRAY, Ky. – The Murray State University Department of Music invites the public to attend its annual Fall Fanfare Concert on Saturday, Sept. 30, at 2 p.m. in Lovett Auditorium. This exciting, fast-paced concert is filled with a wide variety of small and large ensembles and is designed to showcase the department's talented music students.
The Wind Ensemble, Concert Choir, Commercial Music Ensemble and others will perform brief entertaining selections that will appeal to audience members of all ages. To conclude the concert, Racer Band members will fill the auditorium to send everyone off with the Murray State Alma Mater and Fight Song.
Tickets are $10 (children under 5 are free) and can be purchased as part of the Family Weekend Registration at murraystate.edu/familyweekend, or at the door. All proceeds support music student scholarships.
In addition to attending the concert, parents and community members can also support Murray State music students by making a gift to the Department of Music. Online gifts can be made by visiting www.bit.ly/fall-fanfare. Please make checks payable to "MSU Foundation" with "Department of Music" in the memo line and mail to the Murray State Office of Development, 200 Heritage Hall, Murray, KY 42071. For more information about stock gifts, DAF gifts, estate gifts, or other ways to make a difference, contact Kala Allen-Dunn, director of development for the College of Humanities and Fine Arts at kallendunn@murraystate.edu or 270-809-3940.
Murray State University will welcome students and their families to campus Sept. 29, Sept. 30 and Oct. 1 for Family Weekend 2023, an annual tradition that encourages students to share their college experience with their loved ones.
Throughout the weekend, the University will host a variety of fun events and activities for students and their families, including the Mr. MSU Pageant, Racer 5k, Fall Fanfare Concert and more.
Please visit murraystate.edu/familyweekend to register and view a complete Family Weekend itinerary. Families are encouraged to register early as the online registration will remain open until Sept. 26 at 11:59 p.m.