Mirielle Erpelding named fall 2022 Outstanding Senior
By Shawn Touney | Nov 18, 2022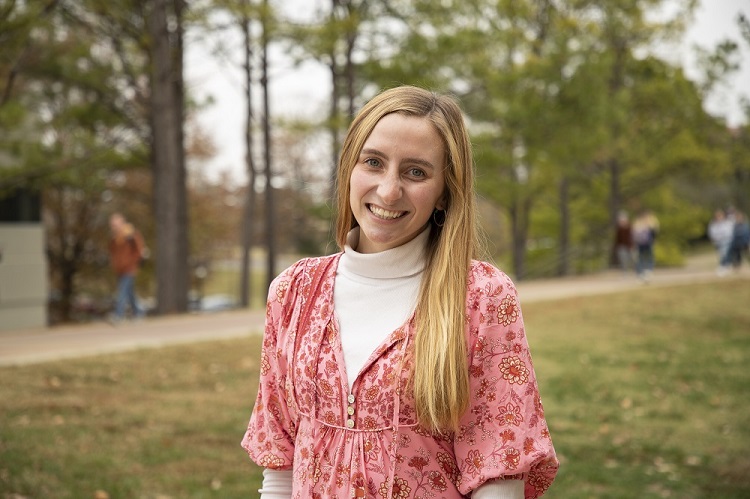 MURRAY, Ky. — Murray State University has named Mirielle Erpelding as the recipient of the fall 2022 Outstanding Senior recognition. Students recognized with this honor are known for their academic excellence and professionalism.
Erpelding is the daughter of Marissa Lima and Paul Erpelding of Collierville, Tennessee. She will receive her Bachelor of Arts in Psychology with a minor in Family and Consumer Studies in December, holds a 4.0 overall GPA and is an Honors student.
After graduation, she plans to spend the spring semester traveling, volunteering and working in her hometown. She will begin graduate school for School Psychology in Florida during the fall of 2023.
Erpelding has been actively involved throughout her time at Murray State. She has served as Secretary and Family Coordinator with the Alpha Sigma Alpha sorority, is a member of Murray State's Honors College, a member of the Order of Omega Honor Society, as well as the Alpha Lambda Delta Honor Society and has tutored English as a Second Language (ESL) students from Mayfield High School. She spent many semesters as an active member of the Best Buddies program, is very passionate about her local church and was on the Racer Girls Dance Team her freshman year. Currently, as a student trainee for Murray State's Center for Autism Spectrum Disorders, Erpelding assists with client care and weekly assessments while volunteering regularly. She also has spent her summers completing an internship at Youth Villages, a nonprofit organization dedicated to helping children with emotional and behavioral problems, and working at Sky Ranch, a summer camp in Texas.
Through her Honors Thesis, Erpelding is researching sleep knowledge, habits and sociocultural predictors of sleep hygiene in college students. She has spent two semesters researching and gathering information to better understand and help improve the sleep habits of students at Murray.
"Murray State University is the finest and friendliest place I know," Erpelding said. "This university has given me more opportunities than I knew possible and that I will never forget. The intentionality and kindness that thrives within this community is so special and I am fortunate to have been a part of it. Murray State will always be near and dear to my heart. Shoes Up and Go Racers!"
Erpelding was recognized at the Senior Breakfast on Nov. 15 at the Curris Center. The fall 2022 commencement ceremony will take place on Saturday, Dec. 10 at 10 a.m. at the CFSB Center. Please visit murraystate.edu/commencement for additional information.