Fall 2022 data highlights increase in enrollment
Fall 2022 data highlights increase in enrollment
By Shawn Touney | Nov 10, 2022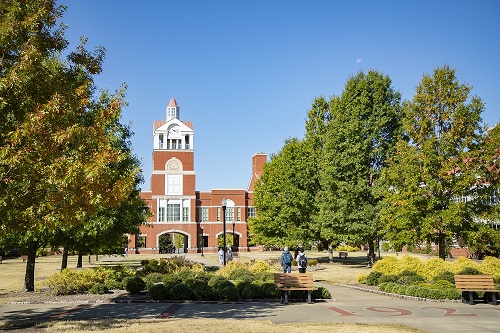 MURRAY, Ky. — Murray State University's fall 2022 enrollment indicates many positive trends including overall enrollment growth, an increase in student retention and progression toward graduation and its largest enrollment of graduate students since 2015.
Below is a snapshot of this fall's enrollment:
- Total headcount for this fall is 9,489 students, which is nearly a 1 percent increase over the past year.
- Murray State students come from 48 states, 50 countries and 112 counties in Kentucky.
- Total graduate student enrollment is the largest since 2015 and reflects a 2.5 percent increase over last year.
- Total international student enrollment reflects a 41 percent increase from two years ago.
- Dual-credit students, comprised of enrolled Murray State students who, through high school dual-credit courses have earned credit toward a postsecondary degree, has increased by 24 percent. Through the University's Racer Academy dual-credit program, Murray State continues to develop pathways for students to transition directly into its academic programs.
- Based on its most recent data, Murray State's first-to-second year retention rate of baccalaureate-degree seeking students is 77 percent, an increase of 2 percent over last year and the highest retention rate among all public comprehensive universities in Kentucky.
- Based on its most recent data, Murray State is tied for first among public comprehensive universities in the state for fastest progression with the least time to earn a college degree. The University's graduation rate is the second-highest among all public comprehensive universities in Kentucky.
- Approximately 44 percent of Murray State students are first-generation students, defined as students whose parents have not completed a four-year degree.
- This year's freshman class represents 29 states, with 12 percent of the class having been named high school valedictorians and 64 percent of the class entering the University with earned credit hours toward graduation.
- This year's freshman class grew by nearly 4 percent in underrepresented minority students from last year.
"The quality, value, access and affordability of a Murray State University education continues to be at the forefront of our efforts to recruit, retain and graduate our students while providing them with a transformative college experience," said Murray State President Dr. Bob Jackson. "Despite enrollment headwinds nationally, I am greatly appreciative of our staff, faculty, students, alumni and all others who are actively involved with supporting this vitally important work of our University."
Recognized nationally as one of America's best college values, Murray State has been named by U.S. News & World Report as one of the top schools in the country for 32 consecutive years. In the publication's most recent rankings earlier this fall, Murray State was named a top 10 regional university in both quality and value.
Murray State was also highlighted earlier this year as a best value for students seeking a college degree by Washington Monthly in its "Best Bang for the Buck" rankings, as well as by Forbes, Money Magazine and the Wall Street Journal/Times Higher Education.
Offering 148 academic programs and more than 170 student organizations, Murray State has expanded its regional tuition rate to now include a total of 15 states across the country. These states include Alabama, Arkansas, Florida, Georgia, Illinois, Indiana, Louisiana, Mississippi, Missouri, North Carolina, Ohio, South Carolina, Tennessee, Virginia and West Virginia. Murray State has also enhanced its academic achievement scholarships to emphasize GPA for entering freshmen students in fall 2023.
Based on the University's most recent annual reports, $115 million is awarded in financial aid and scholarships, with 99 percent of first-year students receiving financial aid or scholarships.
The 2023-24 application for admission is open as prospective students can visit admissions.murraystate.edu to learn more, schedule a campus or virtual visit and apply for admission.