Transformational gift made to Murray State University to support women in engineering
By Shawn Touney | Jun 4, 2022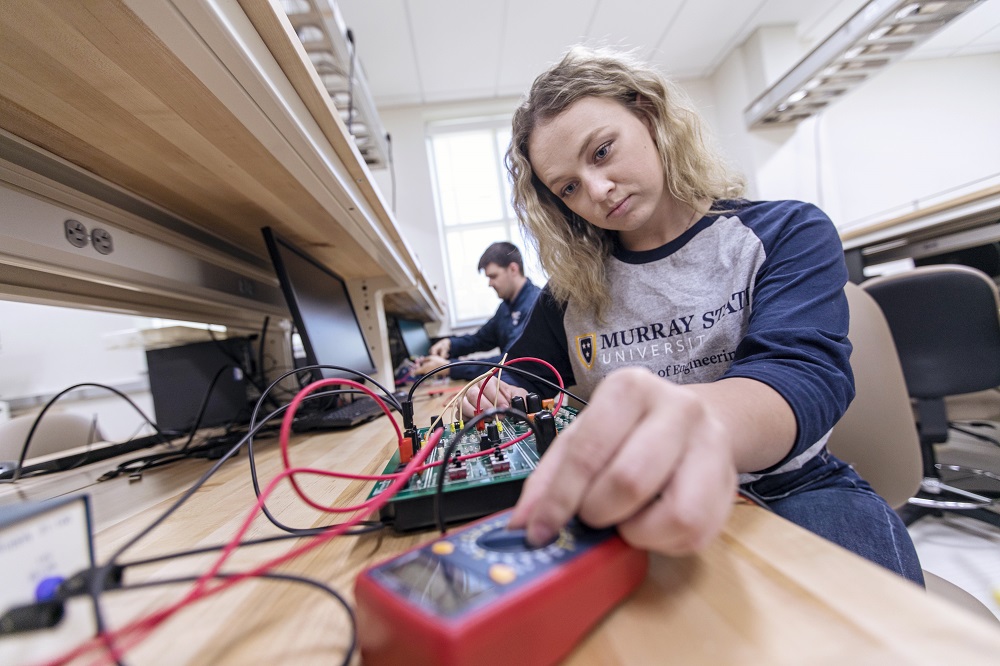 Murray State alumna funds full-ride scholarships
MURRAY, Ky. — Murray State University alumna Karen Jones Squires and her husband, Jim Squires, have made a transformational gift to the Jesse D. Jones College of Science, Engineering and Technology designated for full-ride scholarships, preferably female students, pursuing degrees in engineering, engineering technology, industrial technology or cybersecurity and network management.
In 2015, Jones Squires established the Robert "Bob" W. and Caroline "Carol" T. Jones Internship/Academic Scholarship of Excellence as an endowment to memorialize her parents, Bob and Carol Jones. Bob Jones was a professor at Murray State from 1959–1984. This new gift to the fund will significantly increase annual awards to full-ride scholarships which can be renewed each year so long as the recipients continue to meet the required GPA and major area of study within the college.
Dr. Bob Jackson, President of Murray State University emphasized the importance of this significant gift.
"We are extremely grateful for this transformational and generous gift from MSU Foundation Trustee, Karen Jones Squires and her husband, Jim Squires," said Jackson. "Not only is this an institution-changing gift which will greatly benefit our students, but it will advance our science, technology, engineering and mathematics (STEM) programs to a new level. In addition, this gift will endow scholarships with an emphasis on women in engineering and related fields and is our largest gift ever received to advance this important area."
"This generous gift from Karen Jones Squires and Jim Squires will help our engineering, technology and cybersecurity students achieve their dreams," said Jesse D. Jones College of Science, Engineering and Technology Dean Dr. Claire Fuller. "Moreover, it will help level the playing field for women in engineering-related fields, where they make up few of the graduates nationwide. I am thrilled that our students will benefit from these new scholarships."
Sarah Boyd, a recent Murray State graduate and former recipient of the Jones' scholarship shared, "I really wouldn't have been able to finish my degree without their assistance and I am thankful every day that they were able to help me! It helped me achieve one of my long-standing goals as I was the first in my family to graduate from college. Sometimes the smallest acts of kindness mean the world to the person you are helping. In my case, it was my world to finish my degree. I will forever be grateful!"
"Jim and I are thrilled to make this gift to my parents' scholarship fund. It is so special that we can do this and it means so much to us," said Karen Jones Squires, '78, and current member of the Murray State University Foundation Board of Trustees. Jones Squires earned degrees in French and political science at Murray State and has served on several boards, including the Norfolk School Board in Norfolk, Virginia. Jim Squires is recently retired from Norfolk Southern Railway where he served as the chief executive officer. The couple now resides in northern New England.
"Jim and Karen Jones Squires are very special and generous donors. To have them support our students in this big way during our centennial year speaks to their commitment to our students and our University. We are so very grateful," said Dr. Tina Bernot, executive director of development at Murray State.
Total alumni giving has been on a steady increase over the last several years at Murray State University, especially in the area of scholarship support. Since 2018, more than $33.8 million in private giving has been raised to benefit students and programs at Murray State University.