Psychology professor recognized nationally by Research.com
By Shawn Touney | Sep 11, 2023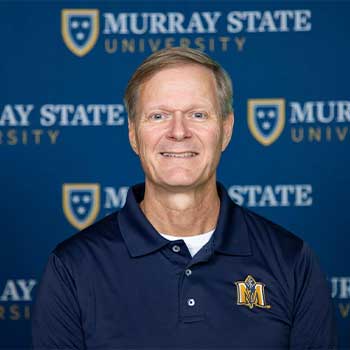 MURRAY, Ky. – Murray State University psychology professor Dr. Dan Wann was recently noted in the 2023 edition of the ranking of top scientists in the field of psychology by Research.com.
The report contains the list of leading scholars and is intended to offer the academic community more visibility and exposure to the influential research contributions made by those at the forefront of psychology.
An individual's position in the rankings is based on a scholar's publication record as well as the number of times the individual's work has been cited.
Wann is ranked 3,447th in the world and 1,987th in the United States. The rankings include all persons from the history of psychology, including those who are no longer active or deceased; thus, it is a ranking for the history of the discipline, including individuals such as Sigmund Freud, Abraham Maslow and B.F. Skinner, among many others.
The ranking makes Murray State University one of the top colleges for research in psychology.
Wann, a nationally-recognized sports psychology expert, has been interviewed by numerous news organizations throughout the world including ESPN, The New York Times, The Huffington Post, HBO's Real Sports news magazine and others.
Wann has been teaching at Murray State since 1991, after receiving his doctorate in social psychology from the University of Kansas. Prior to earning his doctorate, Wann earned his master's degree in experimental psychology from Emporia State University in 1987 and his bachelor's degree in psychology from Baker University in 1985.
Said Wann: "I was truly honored to receive this recognition from Research.com. However, I have always viewed research as a team sport, and without the help and collaborations from many people, this recognition would not have been possible. During my time at Murray State University, I have enjoyed the support of numerous Department Chairs, Dean, Provosts and University Presidents. Without their support, financial and otherwise, my research program could never have achieved this level of productivity. Additionally, I have been fortunate to work with many talented colleagues and outstanding students. I am fully aware that, without their collaborative efforts, much of this work would not have been possible. Given this, I share this recognition with all of those who have supported and assisted my research endeavors."
"One thing that I find especially rewarding about this recognition is that, unlike probably 99% of the others on the list, I have been teaching 4-5 classes a semester ever since I arrived at MSU in 1991. The vast majority of others receiving this recognition work at R1 research institutions and, as such, only teach a class or two each semester. It's nice to show people that you can have a productive research career while also making teaching a top priority. It's also nice to get Murray State's name on a list with universities such as Stanford, Princeton, Ohio State, Kansas and other large research-focused schools."