College of Humanities and Fine Arts music professor's compositions performed in New York City and beyond
College of Humanities and Fine Arts music professor's compositions performed in New York City and beyond
By Alex Pologruto | Mar 8, 2023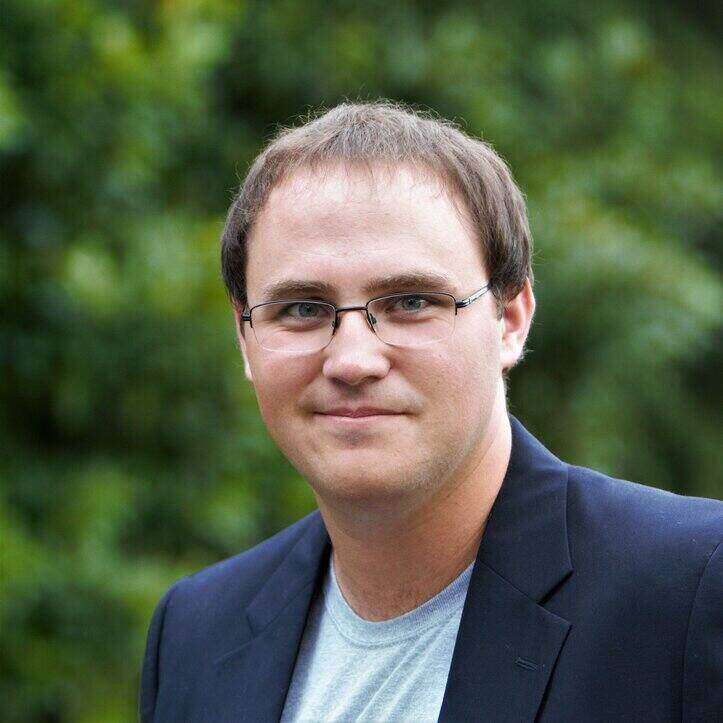 MURRAY, Ky. – The New York City-based Riverside Symphony recently performed Over the Wing, a piece for string orchestra composed by Dr. Ash Stemke, assistant professor of music at Murray State University, as part of its concert series. The piece was performed alongside works by Igor Stravinsky, Antonio Vivaldi and Gustav Holst. Stemke traveled to New York to attend the rehearsals and performance.
"While I always enjoy hearing my music performed live, this experience was particularly exciting because the orchestra's artistic director, Anthony Korf, contacted me in summer 2022 and specifically asked to have Over the Wing performed in this regular season concert," said Stemke. "I also appreciated being able to discuss my work with audience members at the conclusion of the performance."
Widely acclaimed for bringing a unique musical perspective to New York City audiences, Riverside Symphony's innovative programs combine lesser-known gems both old and new with beloved masterpieces. Drawing on the legendary breadth and depth of New York City's freelance musical community, conductor George Rothman and composer Anthony Korf, who co-founded the orchestra in 1981, have forged a team of accomplished instrumentalists, comfortable with music in a wide range of styles and periods.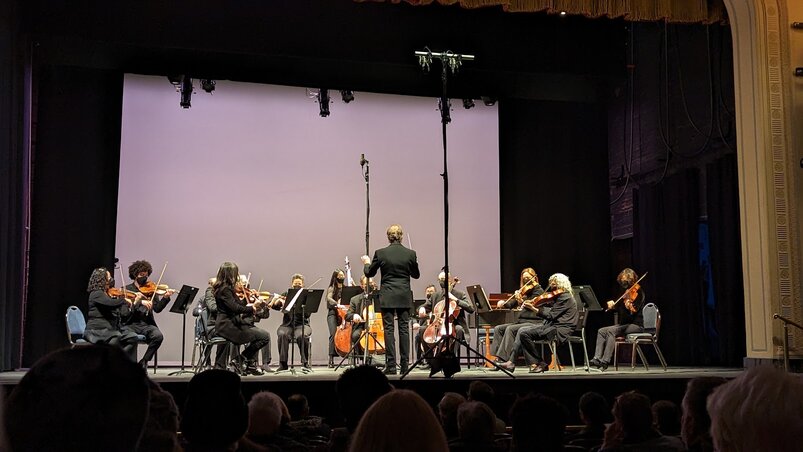 Stemke's first collaboration with Riverside Symphony was in January 2020, when his composition Emergent was one of five works selected as winners from over 100 submissions to the symphony's National Composer Reading Competition. Overall, Stemke has been very impressed by the symphony's professionalism.
"In both 2020 and 2023, I enjoyed working with Riverside due to the ability of the performers to capture the essence and spirit of my works," said Stemke. "Over the Wing's musical character requires performing with a certain lightheartedness that the ensemble captured with grace and poise. The ensemble's production team (Anthony Korf, artistic director; George Rothman, music director; and Morgan Sapp, Matt Malone and Claire Satchwell, administrators) were helpful, kind and welcoming throughout the whole process."
Stemke received a Doctor of Music from Florida State University (FSU), a Master of Music in Composition and a Post-Baccalaureate Certificate in Music Theory from the University of North Carolina at Greensboro, and a Bachelor of Music with Highest Honors from the University of North Carolina at Chapel Hill. He won first prize in the San Francisco Choral Artists' New Voices Project and was honorably mentioned by the MidCities Chamber Singers and the Uproar Duo. His music has been featured at events such as New Music on the Bayou, the TUTTI Festival, the FSU Festival of New Music, numerous SCI conferences and the Schoenberg Academy in Vienna, Austria.
"My music explores elements of symmetry, teleology and text-music relationships," said Stemke. "I enjoy researching patterns and structures from both within and beyond music, and then implementing them in my creative work. In this way, my works demonstrate and embody what I have learned and are a way that I can share these connections with others."
While Stemke's work has been performed on national and international stages, it will reach new heights later this year as part of the MoonArk project from Carnegie Mellon University. Lunar logistics company Astrobotic plans to launch a rover, Peregrine Lander 1, to the moon in 2023, and that rover will be carrying Carnegie Mellon University's device called the MoonArk — a compact capsule designed to include data, images and physical evidence of art, architecture, design, music, ballet, poetry and drama that hopefully will remain operational over millions or even billions of years as it projects its message using deep space radio-wave transmissions.
"The device will become the first museum on the moon, similar to a time capsule," said Stemke. "Several years ago, I wrote music to accompany Georges Méliès' 1902 silent film A Trip to the Moon. A representation of that soundtrack's recording, alongside creative work from hundreds of collaborators, has been packaged in the MoonArk."
No matter where his audience might be, Stemke says he aims to write music that listeners find rewarding upon their initial encounter of it, as well as upon multiple listens.
"I regularly challenge myself to write music that is approachable enough to be enjoyable on a first listen yet intricate enough to warrant extensive close analysis," said Stemke. "I believe that the larger ideas embedded in my work can gradually reveal themselves through repeated listens and that the compositional challenge of employing these structures is part of what makes composing fun and enjoyable."
To find out more about Stemke's work please visit his website at ashstemke.com. To learn more about Murray State University's Department of Music please visit murraystate.edu/music.