Department of Global Languages and Theatre Arts to present production of "Pirates! Theodore Thud and the Quest for Weird Beard"
By R. Wayne Shields | Sep 18, 2023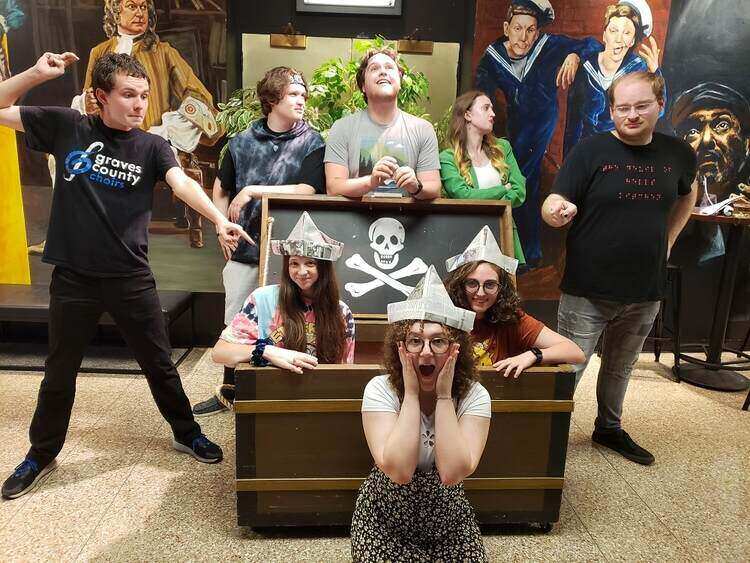 MURRAY, Ky. – Murray State University's Department of Global Languages and Theatre Arts is presenting the children's production "Pirates! Theodore Thud and the Quest for Weird Beard." This production is geared for preschool through elementary grades.
The show will be presented Sept. 23 at 2:30 p.m. in the Robert E. Johnson Theatre, located on the first floor of the Price Doyle Fine Arts Building at Murray State. The cost is $3 per ticket and all seating is general admission. Tickets can be purchased by calling 270-809-4421 or on the day of the performance.
A friendly game of pirates becomes all too real when overzealous Theodore accidentally falls into a giant sinkhole and wakes up to find himself amongst real high sea swashbucklers. Before getting back to the real world, he is forced on an epic journey with his companion Harriet the Ghost in a quest to find the notorious pirate Weird Beard and foil the mutinous Mr. Clunky Bones. Will Theodore be able to save Captain Cramp Hand's ship from falling into evil clutches and return to his friends in time for ice cream?
For more information about the upcoming production of "Pirates! Theodore Thud and the Quest for Weird Beard" or other performances in the 2023-2024 season, please call 270-809-4421.