Murray State University shares accomplishments and upcoming events from department of music
By Shawn Touney | Jan 29, 2018
MURRAY, Ky. — As the spring 2018 semester continues, the department of music at Murray State University has a number of exciting accomplishments to relect on and events to anticipate. Below is information regarding recent news and upcoming events from the department of music at Murray State.
The Music City Trombone Duo, featuring Nashville-based musicians, will be in residence at Murray State on Friday, Feb. 2, to host a master class and lecture at 4 p.m. in Farrell Recital Hall and to present a guest artist recital at 7:30 p.m. in the Performing Arts Hall.
The Music City Trombone Duo was founded by Jeremy Wilson and Brian Entwistle based on a shared desire to make meaningful and communicative music, to expand the repertoire for two trombones and to achieve new heights of technique, passion and musicality in brass chamber music. The duo has performed at the International Trombone Festival, the American Trombone Festival, the Pokorny Low Brass Seminar and at universities across the United States. Both musicians are also committed to community engagement and outreach, performing often in local and regional middle and high schools. Altogether, the Music City Trombone Duo has added considerably to the trombone repertoire with many commissions to prominent American composers.
Wilson is acclaimed for the versatility and lyricism of his playing as well as his insight and commitment as a teacher. During his irst-ever audition attempt at age 25, Wilson won a prestigious position with the Vienna Philharmonic in Austria and its sister organization, the Vienna State Opera Orchestra. He is also the winner of numerous solo competitions. Originally from Tennessee, Wilson returned to his home state to fulill a long-time passion for teaching solo and chamber music
performance and devoting more time to his young family. He is currently an associate professor of trombone in Vanderbilt University's School of Music.
Entwistle is a freelance bass trombonist and teacher in Nashville. His experiences and skills extend all across the musical world, including solo performances, orchestral performances, jazz and commercial playing and teaching. As a freelancer, Entwistle is a recording artist in the Nashville studios for all types of music, including many video game and ilm scores.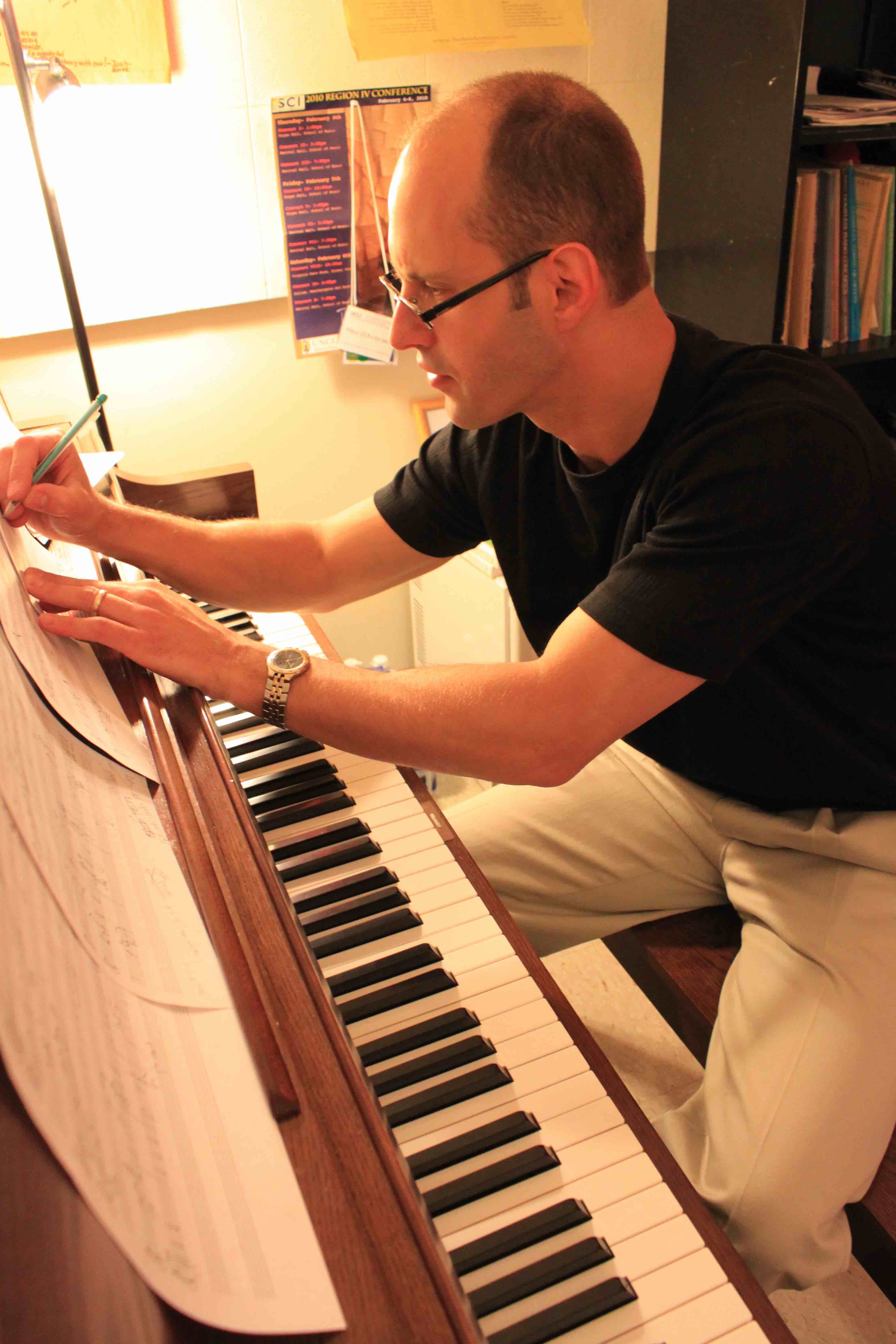 Mike D'Ambrosio, a composition professor in the department of music at Murray State, was recently awarded the top prize in the chorus category of the RED NOTE Music Festival Composition Competition for his composition "Wind on the Island."
D'Ambrosio's category consisted of 107 anonymous works submitted from around the world to be judged by members of the music composition faculty at Illinois State University. In addition to receiving a cash prize for his win, D'Ambrosio's winning composition will be performed March 26 by the Illinois State University Concert Choir during the opening concert of the RED NOTE New Music Festival, a week-long annual event in Normal, Illinois.
A concert and celebration sponsored by the department of music — The Golden Horn: Celebrating 50 Years of Playing and Teaching at Murray State — will take place Saturday, Feb. 17, at 7:30 p.m. in the Price Doyle Fine Art Center's Performing Arts Hall. The concert is free and open to the public.
Golden Horn features all Murray State French horn faculty from the past 50 years, including Ashley Cumming, John Dressler, Skip Snead, Eldon Matlick and David Elliot. The concert will feature several selections for the quintet as well as premieres by Michael D'Ambrosio and Amir Zaheri, composition
professors at, respectively, Murray State and the University of Alabama. There will also be performances by the University's horn ensemble and a mass horn choir inale for alumni, faculty and students.
Murray State alumni from the horn program interested in attending or participating in the reunion are encouraged to visit murraystate.edu/goldenhorn for more information.