Art & Design professor recognized for artistic excellence
Art & Design professor recognized for artistic excellence
By Alex Pologruto | Mar 18, 2022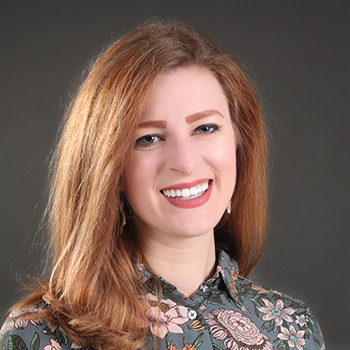 MURRAY, Ky. — The Southeast Missouri State University (SEMO) River Campus Arts Annex and Complex in Cape Girardeau, Missouri, is currently featuring a solo show of paintings by Danielle Mužina, assistant professor of Art & Design at Murray State University. The exhibit, titled "the skies are full of them," is on view through March 23.
The SEMO show marks the first exhibit of 2022 for Mužina, who experienced a prolific 2021, participating in 14 regional and national shows and receiving an Artistic Excellence Award from SECAC (formerly the Southeastern College Art Conference), a non-profit organization that promotes the study and practice of the visual arts in higher education on a national basis. The SECAC Artistic Excellence Award is given to recognize, encourage and reward individuals who have been particularly successful in their creative work as demonstrated through regional, national or international exhibitions or presentations.
"When I received news of the award, I was shocked," said Mužina, "but the recognition actually made me feel really seen and validated for the hard work and commitment I've put into this project and my creative work in general."
The works featured in "the skies are full of them" and her 2021 exhibitions are part of a series of paintings Mužina has titled Pink Apocalypse. The figurative paintings focus on the intersection of gender performance and domestic spaces. Women in the paintings convene on porches, lawns or other domestic frontiers and interact in the spaces, preparing for or reacting to an apocalyptic turn of events, which is often suggested by the sky's unnatural shade of pink. Recurring motifs, characters and visual elements appear within the series, such as diamond forms, the color pink, a six-foot trough big enough for a body and a villain-heroine self-portrait of Mužina in a Peter Pan collar dress.
"The imagery in Pink Apocalypse was born from intuition and urgency, and the narrative in the series isn't linear," Mužina said. "For me, building a world and story that is temporally open like this offers a broad range in mood, suggestive uncertainty about my characters and their intentions, and room for my audience's imagination."
For Mužina, the greatest challenge of working in a series is avoiding redundancy while also maintaining unity.
"I'm in a weird space where I'm shifting my attention within the work, and so there's of course the question of, 'Is this still related to the broader series, or is it becoming its own thing?' But I'm grateful for those questions, because they are productive and motivating," said Mužina.
Mužina traces her love of painting back to her grandfather, who was an artist and illustrator before fleeing his home in Krk, Croatia due to political reasons when it was a part of former Yugoslavia. Mužina's grandfather and grandmother who met at a displaced persons camp in Italy, eventually settled in the United States, and subsequently helped Mužina's young parents raise her.
"At that time, my grandfather had a job as a delivery person for a local pharmacy. When he would come home on his lunch breaks, we'd draw together. He had one customer who worked at Sherwin Williams, so he would bring me a bunch of paint swatches that I would collage with - that was my favorite, and arguably the most painterly," said Mužina. "As I grew up, I think there was something in me that needed painting as a visual language. Coming from a bilingual household but going to school in English, I slowly lost my Croatian, and I had this persistent feeling like words were not enough. I think that element of loss motivated me to chase after some other form of expression. Through painting I discovered I had the power to represent the recognizable world in such a way that it was embedded with not only my way of seeing, but also my way of feeling, and gave me space to make that be seen."
As an educator, Mužina impresses upon her students the important role that artists play in recording, interpreting and shaping history.
"Making art in any format can be an act of agency and awareness building, resistance and empowerment; artwork itself is an important historical document and culturally significant, meaningful artifact that has power to impact makers and viewers alike, whether in the present or the future." said Muzina. "Artists are important witnesses of lived history from multiple viewpoints and can make valuable contributions towards expanding the ways we as humans can see and access their environments."
For more information on Mužina's work, visit her website daniellemuzina.com. To learn more at Murray State's Department of Art & Design please visit murraystate.edu/art.