Cybersecurity and Network Management hosts successful meeting with high school teachers throughout region
By Dr. Michael Ramage | Sep 19, 2023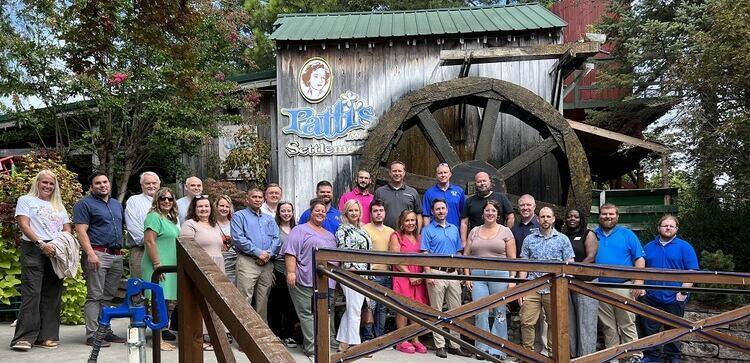 MURRAY, Ky. – Murray State University's statewide Program of Distinction in Cybersecurity and Network Management (CNM) recently hosted a meeting with Information Technology teachers from high schools across the region.
The goal of the meeting was to increase collaboration with teachers from across the region while finding ways that the University's CNM program can better support the teachers and their students. Future meetings are being planned between the University and teachers. Murray State hosted the teachers in collaboration with the West Kentucky Education Cooperative, and participating teachers ranged from Bowling Green to Fulton as well as representation in Tennessee.
The meeting covered topics such as addressing specific needs within the teachers' classrooms, visits to their classrooms by speakers in the industry, increased support for the high schools, popular field trip activities, as well as sharing research. This ongoing connectivity is underscored by the growing workforce needs in information technology and cybersecurity.
As of June 2023, the United States had over 663,000 unfilled cybersecurity jobs, with 4,200 cybersecurity job vacancies in the Commonwealth. The workforce deficit highlights the importance of working together among educators of all levels to grow the talent pipeline.
CyberSupply, a collaboration among Dark Enterprises, various universities, and the National Cryptologic Foundation, conducted research to better understand the workforce challenge across the United States. Supporting the research in Kentucky, Murray State University CNM students and faculty facilitated the research across the Commonwealth of Kentucky. Murray State students included John Vanover (Owensboro, Kentucky); Ethan Hyde (Paducah, Kentucky); Liliana Bazzell (Tyler, Texas); Eli Skipworth (Franklin, Kentucky) and Cain Bynum (Paris, Tennessee), as well as Drs. Michael Ramage and Randall Joyce.
Research focused on the availability of computer and cybersecurity courses at the high school level, improving access, and opportunities to leverage student interest in computer science into cybersecurity. According to the research shared, fewer than 3,800 Kentucky high school students, or 2% of students, have access to a cybersecurity course. Furthermore, 44% of high schools in Kentucky teach courses that provide the prerequisite knowledge necessary for cybersecurity.
"For years, we have hosted field trips, visited schools and classrooms, helped teachers with curriculum and even hosted a regional IT competition called Tech Mania, but we want to do more, particularly as we analyze the research which reveals increased collaboration and support of our high schools is critical," said Dr. Michael Ramage, director of Murray State's Cyber Education and Research Center.
As noted, the recent meeting among regional IT teachers is the first of many opportunities. All schools and teachers are encouraged to join and can get involved by emailing Dr. Michael Ramage at msu.cyber@murraystate.edu or calling 270-809-3987.
In 1997, Kentucky House Bill 1 created Programs of Distinction through the Kentucky Council on Postsecondary Education at public postsecondary institutions, including Murray State University's cybersecurity program. Murray State offers a bachelor's degree in Cybersecurity and Network Management, along with an accelerated master's degree (available online) in Cybersecurity Management that can be completed in 12-18 months and certificates at both the undergraduate and graduate levels.
Murray State has a Cyber Education and Research Center that provides education, research, development and outreach support for the University's cyber-related programs.
Additional information is available at murraystate.edu/cyber.