Cyber Center hosts annual security conference
Cyber Center hosts annual security conference
By Alex Pologruto | May 11, 2022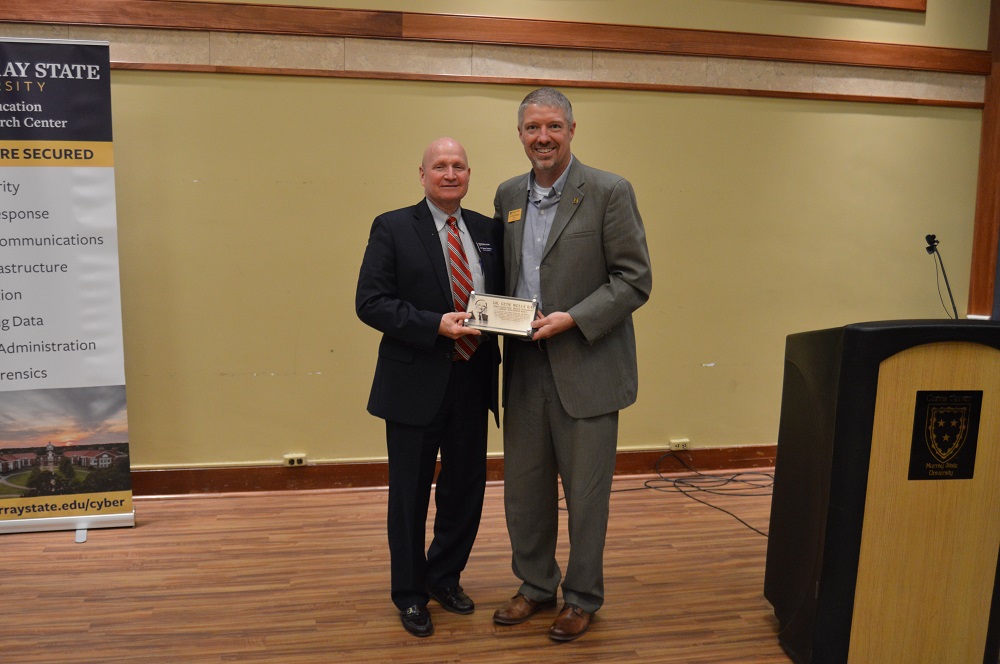 MURRAY, Ky. — The annual Patterns of Distinction – Security Matters Conference took place on April 21 in the Curris Center at Murray State University, with more than 225 industry leaders, students, faculty and staff in attendance. After two years of hosting the conference virtually, Murray State's Program of Distinction in Cybersecurity and Network Management (CNM) and Community Financial Services Bank (CFSB) co-hosted the conference in person, the largest annual security conference in the region.
At the conference, keynote speakers discussed responding to disasters, business identity theft, ransomware and cybersecurity protections for small businesses. The speakers included Andrew Murrell, senior vice president/chief information officer at CFSB; Lauren Proehl, manager of global cyber defense at Marsh McLennan; Jacob Abbott, WW Partner Practice Lead, Security at Amazon Web Services; Wes Spencer, Cybersecurity Co-Founder and Serial Entrepreneur at Murray State; and Dr. Michael Ramage, director of the Cyber Education and Research Center (Cyber Center) at Murray State.
"It was great to be back on campus for Security Matters to have the opportunity to again network with regional cybersecurity leaders, alumni and students," said Ramage. "Everyone was ready to be back in person, so we saw more participation than we have seen in several years, and I can't wait to get back together again next year."
The conference included the 15th annual Cyber Awards Luncheon, hosted by the Murray State Cyber Education and Research Center. The luncheon featured the Nathan B. Stubblefield Distinguished Lecture Series Award recipient Wes Spencer, who shared his journey of being a member of the Murray State faculty to becoming a cybersecurity leader, entrepreneur and YouTube sensation. Spencer shared why he risked it all, the lessons he has learned and why anyone should think about becoming an entrepreneur.
Ramage, with the help of several Murray State CNM students, presented awards to industry professionals, Murray State alumni and faculty members who have made an impact in the field of technology and cybersecurity at Murray State within the region and across the country.
Award winners recognized during the event included:
Dr. Gene Wells Ray Lifetime Achievement Award: Dr. Danny Claiborne, director of the School of Engineering at Murray State University

Dick Anderson Leadership Award: John Truitt, founder/CEO of Relentless Contenders

John Williams Entrepreneurship Award: Scott Waldrop, president of United Systems, Inc.

Gary Brockway Faculty/Staff Excellence Award: Brandon Dixon, instructor for Cybersecurity and Network Management of the School of Engineering at Murray State University

Cyber Distinguished Alumni Award: Wes Kerr, senior manager of technical services at Connected Nation, Inc. and Chris Royse, dean of business for Southcentral Kentucky Community and Technical College

Lana Garner Porter Women in Technology Award: Kim Skipworth, director of software development at Computer Services, Inc.

Nathan B. Stubblefield Distinguished Lecture Series Award: Wes Spencer, cybersecurity leader and entrepreneur
The conference and luncheon recordings can be viewed on the Cyber Center YouTube channel at youtube.com/MurrayStateCyber.
In addition to the Security Matters Conference, the Murray State Cyber Center will host its annual IT Matters Conference at the Murray State University Paducah Regional Campus in September 2022, and once again host its annual Security Matters conference in April 2023 at the CFSB Center.
The Cyber Center and the Cybersecurity and Network Management program are part of the award-winning Program of Distinction at Murray State University. The program provides degree tracks in cybersecurity, wireless communications and network, and systems administration. Cybersecurity and Network Management focuses on cybersecurity and network infrastructure in the rapidly growing technology industry. It is an interdisciplinary program that provides students with a solid foundation in cybersecurity technologies and applying those technologies in a business environment.
For more information please visit the Cyber Center website at murraystate.edu/cyber.