Program of Distinction in Cybersecurity and Network Management reports record freshmen enrollment
By Shawn Touney | Sep 13, 2023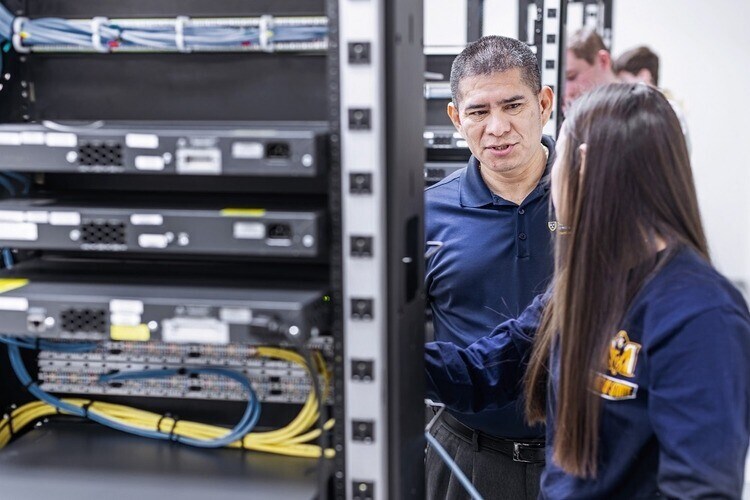 MURRAY, Ky. – Murray State University's statewide Program of Distinction in Cybersecurity and Network Management (CNM) has welcomed its largest freshman class in program history and reports a 30% increase in overall program enrollment from last fall.
"We are thrilled to witness record freshmen enrollment in our CNM program," said Dr. Michael Ramage, director of Murray State's Cyber Education and Research Center. "The surge in interest is a testament to the growing importance of cybersecurity in our digital age, and it reflects our commitment to providing top-notch education in this critical field. We proudly empower the next generation of cyber professionals with the knowledge, skills, and hands-on experiences they need to secure our digital future."
"As a first-year student in the Cybersecurity and Network Management program at Murray State University, I'm excited to be part of the record freshmen enrollment in this program," said Clayton Cope of Benton, Kentucky. "It goes to show how well the reputation not only the course has, but Murray State as well. I'm excited to learn and grow from my experience here. It is great to be able to work with others to help each other in our studies."
In 1997, Kentucky House Bill 1 created Programs of Distinction through the Kentucky Council on Postsecondary Education at public postsecondary institutions, including Murray State University's cybersecurity program. Murray State offers a bachelor's degree in Cybersecurity and Network Management, along with an accelerated master's degree (available online) in Cybersecurity Management that can be completed in 12-18 months and certificates at both the undergraduate and graduate levels.
Murray State has a Cyber Education and Research Center that provides education, research, development and outreach support for the University's cyber-related programs.
Generous private support of the CNM program from alumni, community partners and friends continues to be seen. As part of the Be Bold: Forever Blue and Gold comprehensive centennial campaign, funds are currently being raised to renovate two adjacent labs in the Collins Industry and Technology building, which currently serves as the hub for teaching and learning for the CNM program. This $1.5 million dollar project is part of the campaign's pillar to strategically modernize campus facilities. Please contact the Office of Development at 270-809-3001 for information on how individuals can support this important program.
In 2019, Murray State was designated a Center for Academic Excellence in Cyber Defense Education (CAE-CD) by the National Security Agency and Department of Homeland Security. Additionally, Murray State CNM has been certified through the Quality Assurance Commons with the Essential Employability Qualities Certification, and has won multiple national awards over the years through ITERA including Program of the Year.
Graduates join a global network of alumni who are employed at Google, Microsoft and Amazon Web Services, among others.
Additional information is available at murraystate.edu/cyber.