Murray State University scholar and athlete awarded the NCAA Postgraduate Scholarship
Murray State University scholar and athlete awarded the NCAA Postgraduate Scholarship
By Kaitlyn Black | Apr 8, 2021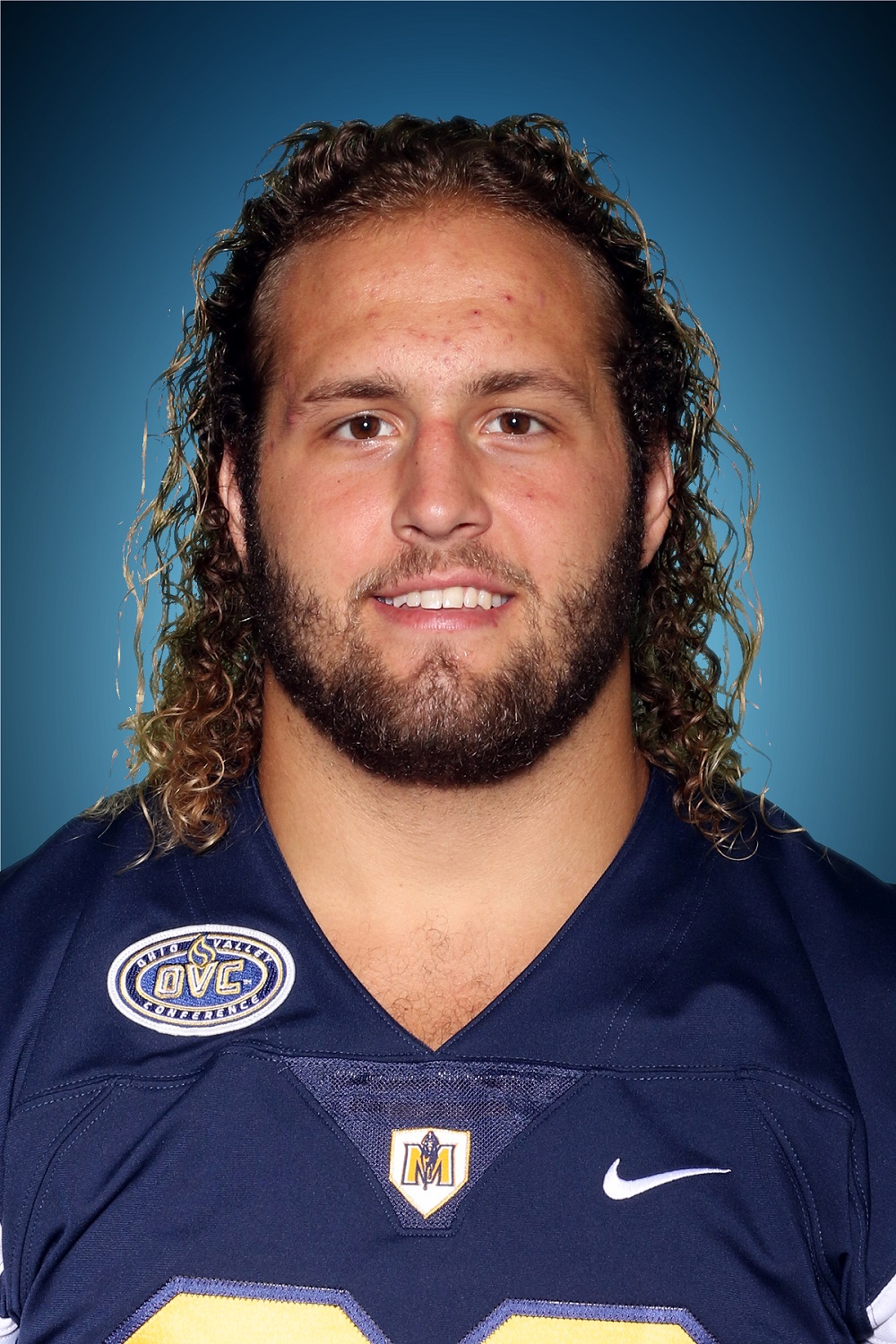 Christopher Stahl receives a $10,000 scholarship for his talents on and off the field
MURRAY, Ky. — Christopher Stahl, a senior defensive lineman for the Murray State football team, has been named one of 126 annual winners for the NCAA Postgraduate Scholarship award. This award is given to various student-athletes who go above and beyond in their undergraduate studies and in their sport. Stahl is a double major in psychology and biology who currently has a 3.49 GPA.
Stahl joins current Vice Chair of the Murray State Board of Regents and All-American Eric Crigler, '90, as Racer football student-athletes who have earned the award.
Stahl's dreams and aspirations consist of becoming a physician. He's still deciding on if he wants to become an orthopedic surgeon or a pediatrician. Stahl mentions how he loves working with children so becoming a pediatric oncologist might be a pursuit of his. He also mentions how he has been blessed with a background that would suit him well in working with injured athletes as an orthopedic surgeon. With this route, he could help injured athletes recover and get back into competition.
With the $10,000 scholarship awarded to Stahl he will continue to excel academically. The NCAA Postgraduate Scholarship is a one-time, non-renewable award that is given annually. The NCAA awards, within each season, 21 scholarships for men and women for use in an accredited graduate program.
"I am very thankful for the people of Murray State that have supported me on this long journey of mine. It is a bittersweet feeling approaching the end of my time here in Murray. This University has been such a large part of my life, and I will always be a Racer at heart," said Stahl. "Murray has received me so well here, and I hope I can inspire other athletes that wish to pursue difficult career paths while participating in their respective sport. 'Pray as if everything depended on God and work as if everything depended on you.' - St. Ignatius of Loyola."
When questions were asked about Stahl's accomplishments at Murray State, here's what he had to say:
How did you feel when you were named one of the athletes for the prestigious NCAA Postgraduate Scholarship?
I was honestly glad that when I asked the athletic department if I could apply for this scholarship, they said they would be happy to help me. So just to be an applicant was an honor for me. Being selected by the committee to receive this scholarship threw me through a whole different level of emotions. I was surprised that I was selected, but I was super grateful that I had received it. The time I spent applying for this scholarship was a very valuable time to me because I was preparing to take the MCAT. So to take time away from studying in the weeks preceding that very important exam was quite expensive in my eyes. That brings me a much deeper joy knowing that my sacrifice of time was not in vain.
Who has helped you along the way?
First of all, none of this would be possible without God's continued blessings keeping me on track and moving forward. I have quite a hectic schedule that I willingly signed up for, but He has brought me so much peace and made the yoke easy and the burden light. Also, I am very thankful for my family that have supported me on and off the field and believed in me up until this point. And I am also very thankful to the athletic department for being my family here in Murray. I really appreciate how they've believed in me and challenged me to be the best I can. I have taken on several roles the past few years, and it is due to their trust in me that I was granted the privilege in serving in many of those positions. I also appreciate the support I have received from various professors and classmates that have been very supportive during rough points in the semester.
What made you choose Murray State?
When I was recruited out of high school for football, Murray State was a school that really pursued me. I felt like not only did they treat me like family, but they just really wanted me to come here and play for them. I think this was the perfect school for me because it was close enough for my mom and siblings to make it to just about every game. I was able to earn a spot in the defensive line rotation early on and I have been developing ever since.
Who do you have to thank for, for your success at Murray State?
As I stated earlier, none of this would be possible without my Heavenly Father. He has blessed me with many great gifts that have allowed me to make it to where I am today. I don't deserve it, but He has put some wonderful and loving people in my life that have not only encouraged me but also made personal sacrifices so that I can be here today. I am thankful to the first coaching staff for giving me a chance to play here, and the new coaching staff for deciding to keep me here. I am thankful for my family's ongoing support of my journey on and off the field. I know they are proud of me and will be there for me in success and in failure. I also am very thankful for all of the kind and admirable people who wrote letters of recommendation for me on this application. I don't know if I am allowed to state their names, but I just want them to know I appreciate them taking the time to help this washed-up football player out!
What would you say to someone who might look up to you?
I would encourage them and say that with God, all things are possible. I certainly would not be where I am without my relationship with Jesus, and I know that I would be laboring restlessly if it weren't for the purpose He has given me. I also think there is a stigma about pursuing difficult degrees or career paths while being an athlete. I don't want anyone to count themselves out, because of this lie that is passed around. You can really do it if you believe in your abilities. You just have to believe and be willing to put the work in to achieve it. Know that it will not be the prettiest or the most perfect journey, but at the end of that journey, you're still standing on top of the difficulties you overcame.
How does it feel to balance academics and athletics as well as you do?
This is an interesting question that I get quite often and I honestly don't always know the answer. I feel a certain level of accomplishment, but I think I still surprise myself at times when I have a crazy week in the semester and I am able to meet all the deadlines. I guess the best answer I can give is just that I feel thankful that I am able to balance them. I know that there is definitely some divine intervention at work, especially during some of those really busy weeks of the semester when it seems like every teacher waited on the same week to have an exam or paper or project due, and when sleep seems like a luxury you can't yet afford.
What do you enjoy the most about Murray State?
I really enjoy the people that make this place home. Like I said, I felt like family when I was recruited to play here. I know God brought me here so I can learn to follow Him more closely and bring others to do the same. I know I am receiving an awesome education here with teachers that really care about my education and well-being. I love the community of Newman House Catholic Campus Ministry and St. Leo Catholic Church. They have offered so much support for me when I feel pretty worn out. Their love and prayers have sustained me when I had some pretty late nights and early mornings working. I know some awesome people at Winslow that have been family to me each day when I come in to eat. I feel like those relationships that I have been making for the past five years there have been pretty solid, and I am thankful for the way they make me feel at home. I really will miss the tradition of Murray State. I have grown to love living each day absolutely bought in on being a Murray State Racer. If Murray State had a medical school, there's no doubt I would be applying there. I have had awesome roommates every year here, and the brotherhood I have with them will last forever. I also will miss the Kentucky sunsets, the night sky and just the landscape and nature here in general. Murray has such a beautiful campus, and I try not to take that for granted.
How will you use this opportunity to further your path?
I think receiving this scholarship will not only help me financially, but I think it will also set me further apart from other applicants. I think having the prestige of receiving this award will definitely enhance my application and give me a little boost when it comes to applying to medical schools.