Murray State University Theatre Arts program performs "The Importance of Being Earnest"
Murray State University Theatre Arts program performs "The Importance of Being Earnest"
By Shawn Touney | Nov 1, 2021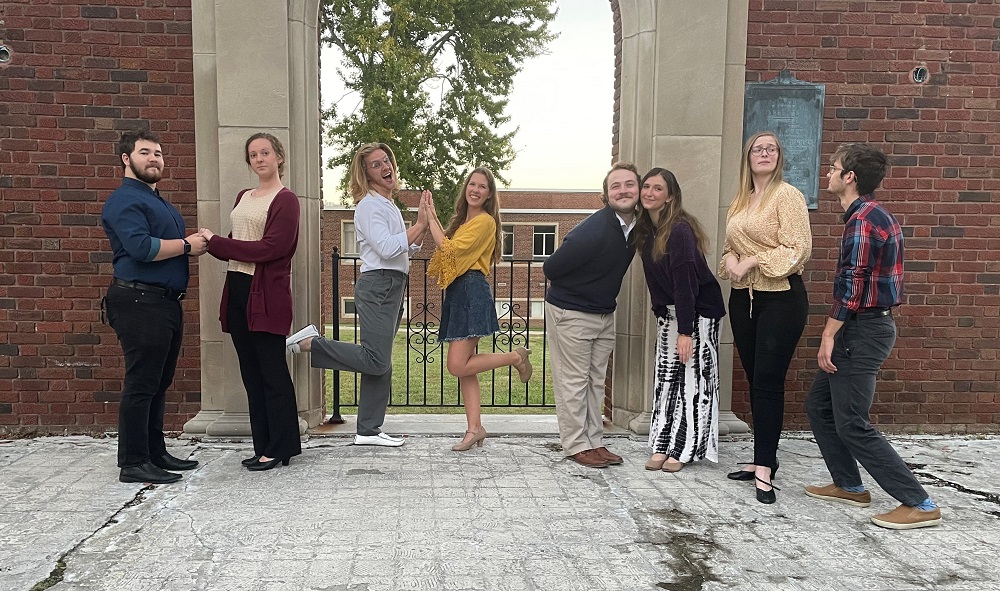 MURRAY, Ky. — The Murray State University Theatre Arts program is proud to present Oliver Wilde's classic play, "The Importance of Being Earnest" on Thursday-Saturday, November 4-6, at 7:30 p.m. and on Sunday, November 7 at 2:30 p.m. in the Robert E. Johnson Theatre on Murray State's campus.
In one of Wilde's most renowned comedies, two bachelors get caught in the creation of alter egos, both named Earnest, in an attempt to escape their mundane lives. The pair struggle to keep up with their own deceptions as they try to win the hearts of two women, creating a tangled tale of disguise and misadventure.
Daryl Phillipy, associate professor of theatre, is directing the play and decided to set the show in the 1960's instead of its original late-1800's setting.
"(The show) is hilarious. It is filled with frivolity, triviality and silliness," said Phillipy. "I think audiences will enjoy the more modern approach that we are taking in telling the story of this 125-year-old play. It is going to be 'groovy, baby.' "
Anna McGreevy, a freshman communications disorders major from Prospect, Kentucky, thinks audiences will most enjoy the story and comedy of the production, as well as the dialogue between characters and incredible production design.
"I think the audience will love stepping away from the outside world for a moment to be transported into a different time period and place," said McGreevy, who enjoys the sense of community that flourishes in the Murray State theatre arts program.
"What I love most about the experience has been getting the chance to meet and work with so many other talented people. I'm really grateful to be a part of it. Also, I enjoy learning something each time I come into rehearsal, whether that means gaining insight into my character, understanding different aspects of the dialect we're using, or discovering a new aspect of theatre itself."
Jack Cardew, one of the play's main characters, is played by Forest Calhoun Clark, a senior theatre major and entrepreneurship minor from Owensboro, Kentucky. Says Clark, "Jack is a very good-natured person who really just wants what's best for those he loves. He is not blessed with the best luck and frequently is the subject of misfortune despite his kind nature. I really enjoy playing Jack because playing someone so consistently befuddled is a blast. I think audiences will enjoy how witty the show is for sure."
Clark also appreciates the sense of community among the casts and crews of theatre productions, as well as the consistent growth he's experienced through each show. Said Clark, "The directors here are terrific and always push me to be a better actor than I was before."
The full cast includes Abigail Ankrom (Troy, Illinois) as Lady Bracknell, Andrew Bittenbender (Floyds Knobs, Indiana) as Algernon Moncrief, Forest Calhoun Clark (Owensboro, Kentucky) as Jack Cardew, Holden Mast (O'Fallon, Illinois) as Dr. Chausable, Anna McGreevy (Prospect, Kentucky) as Gwendolyn Bracknell, Abigail Meadows (Paducah, Kentucky) as Cecily Cardew, Tessa Northcutt (Calvert City, Kentucky) as Miss Prism and Trey Smith (Chicago, Illinois) as Lane/Merrimack. The show is directed by Daryl Phillipy, associate professor of theatre.
General admission tickets are $16 and can be purchased at the box office or at https://murraystatetickets.universitytickets.com. Questions should be directed to Wayne Shields Hogue at rhoguejr@murraystate.edu or (270) 809-4450.