Murray State University's rodeo team continues with preparations for successful season
By Shawn Touney | Sep 3, 2021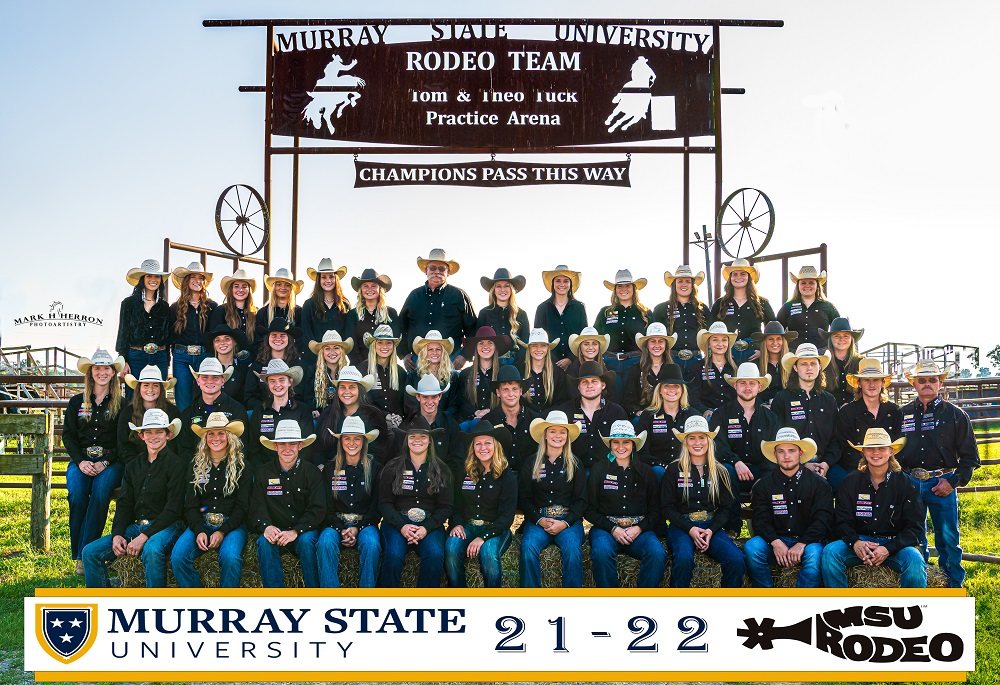 MURRAY, Ky. — The Murray State University rodeo team continues with preparations for a successful season and building momentum for the program, coupled with support from University administration, the Hutson School of Agriculture, as well as generous alumni and supporters.
Through a strategic planning process which began earlier this year, many enhancements are underway that encompass facilities, scholarships, student success, and community involvement. Several enhancements were announced publicly in a formal rodeo team kickoff and update meeting held on August 16, where more than 80 members, alumni and supporters gathered. The kickoff meeting was also hosted via Facebook Live.
With additional support from administration and new and continual supporters, the rodeo team has added four new scholarships for this year to be gifted to four rodeo athletes. In addition, four $2,000 scholarships will be added each year for the next four years to reach a total of 16 scholarships. Students are eligible to keep a scholarship for all four years depending on academic standing and performance. These new Excellence in Rodeo scholarships are in addition to the current Wilcox and Tuck Rodeo Scholarships. This brings the total number of different scholarships offered this academic year to 36.
Recruiting is the lifeblood of any program and, in addition to new scholarships, Murray State Rodeo has added some enhanced recruitment efforts and coordination. Coach J.D. Van Hooser spent the summer on the road at the High School Finals, the Little Britches finals and the International Finals Youth Rodeo. An exciting addition to the program is a new volunteer recruiter, Mr. Lee James, a Murray State Rodeo alumni and agriculture teacher at Central Hopkins High School. Mr. James was introduced at the kickoff event and challenged the students to "go after it and give it all you got".
Murray State Rodeo facilities continue to be enhanced, with renovations underway at the William "Bill" Cherry Exposition Center, where the rodeo team practices and competes. In the spring of 2021, the Heathcott Rodeo Barn was updated with refurbished doors, installation of outlets and lights for each stall, tack rooms were enclosed and a loft added for extra hay storage. LED lights were installed in both outdoor practice arenas to provide better lighting for night practices. In addition, the Cherry Exposition Center had a thorough cleaning, with plans for a new roof to be installed within the academic year. Several other maintenance projects will take effect at the Cherry Exposition Center as well.

Rodeo athletes will gain more professional perspective with the addition of Logan Corbett, Murray State Rodeo alumnus and recent professional cowboy. Corbett will serve as the Allegro Training and Development Coordinator, funded by supporter John Fuqua, Allegro and the Betsy Ross Wilcox Foundation. Another addition to the team will be a temporary assistant rodeo coach. Applications are currently being accepted for this position at murraystatejobs.com.
The newly-established Friends of Racer Rodeo (FORR) includes alumni and supporters of the rodeo team. This group will support the team at practices and events while providing financial assistance and sponsorships. Additionally, community clinicians are encouraged to apply to work with the team. The FORR will also help bring established rodeo professionals to host clinics in all events for team members. To become a member or apply as a clinician, please email ahensley2@murraystate.edu or msu.rodeoteam@murraystate.edu.
This year, the team is hosting several different community events. These include jackpot barrel races and roping competitions. The first jackpot barrel race will be held on September 7 at the Cherry Exposition Center. For those that enjoy country music, the team will be hosting Dean Dillon, Scotty Emerick and Janelle Arthur for a concert in October at the Expo Center. Lastly, the Murray State University Racer Roundup Rodeo will be held November 18-20.
The Murray State University Rodeo Team began in 1976 and hosts the oldest rodeo in Kentucky. The mission of the men's and women's rodeo teams is to provide the opportunity for students to earn a college degree while pursuing the sport of college rodeo.
Coached by J.D. Van Hooser while being supported by Murray State's Hutson School of Agriculture, the team competes in the Ozark Region of the National Intercollegiate Rodeo Association (NIRA). The NIRA hosts an annual College National Finals Rodeo in Casper, Wyoming. NIRA consists of 11 different regions throughout the United States.
Murray State competes against other college teams from Missouri, Arkansas, Tennessee, Kentucky, Mississippi and Texas. There are 15 other teams in the Ozark Region that Murray State athletes compete against during the season.
Events include saddle bronc riding, bareback riding, bull riding, tie-down roping, steer wrestling, team roping, barrel racing, breakaway roping and goat tying. At the August kickoff event, Coach Van Hooser addressed the team and supporters with updates and challenges while concluding with, "We work from where we are and we find a win each day, then build up from that."
The Rodeo team has the support of the entire University Administration. Murray State Provost Dr. Tim Todd was on the committee and recalled a saying from Bo Prosser, who was a religious leader in Raleigh, North Carolina, when Todd was in graduate studies at N.C. State.
"He said, 'People go where they know they will be prepared for and cared for'," Todd said, then talking to the members. "There's been a lot of activity ahead of this new season of rodeo here at Murray State and I think, as we go forward, you're going to be pleased."
Dr. Tony Brannon, Dean of the Hutson School of Agriculture and Dr. Brian Parr, Assistant Dean, coordinated the kickoff meeting and alternated presentations on the program updates and plans.
"The Rodeo program is a really integral part of the University and it has provided an avenue for a great number of students to get an education instead of just a degree," Brannon said. "We knew the size of our team coming in and we encouraged them to attend, of course, but we also invited all of the members of that strategic planning committee that's been working for the past six months to a year as well as any interested alumni. We were very pleased with the turnout and support and look forward to the continuing progress of our Rodeo Team. As the tagline says...We are forward-moving. We are rodeo. We are Racers."