Murray State University announces new partnership initiatives with West Kentucky Community and Technical College
Murray State University announces new partnership initiatives with West Kentucky Community and Technical College
Aug 9, 2021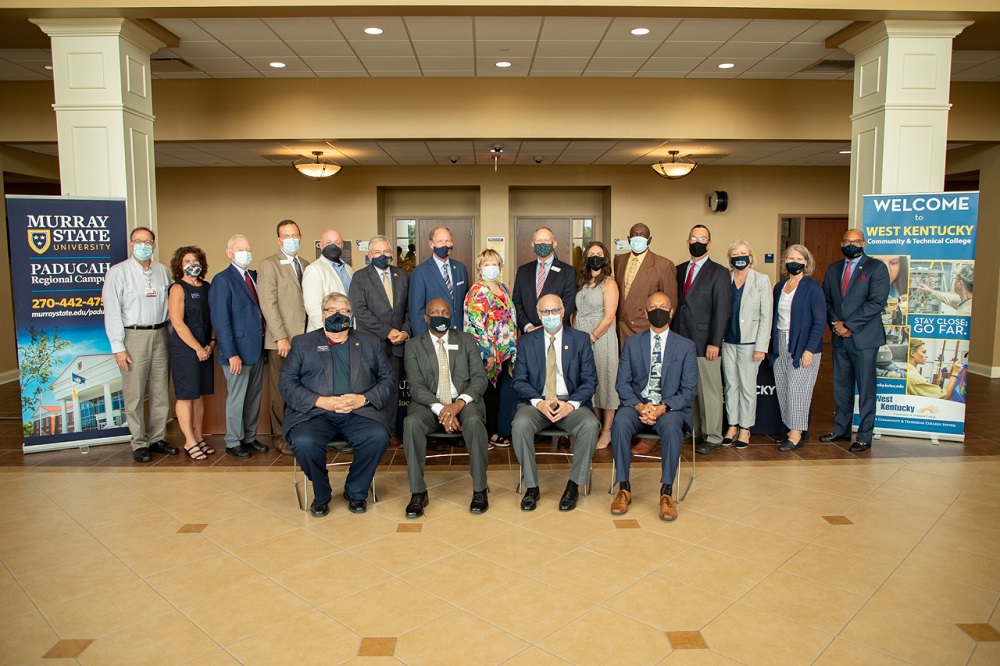 MURRAY, Ky. — Murray State University and West Kentucky Community and Technical College (WKCTC) have expanded their existing relationship by introducing two new partnership initiatives that will positively impact both current and future students.
The first announcement is the signing of a Memorandum of Understanding (MOU) between both institutions, which will provide assistance to eligible students who wish to transfer from an associate's degree program at WKCTC to a bachelor's degree program at Murray State's Paducah Regional Campus. Through WKCTC's Guarantee Program, eligible students will receive financial assistance for tuition and fees while enrolled at that institution. Once students transfer to Murray State to enroll in classes at its Paducah Regional Campus, new transfer students who are eligible will receive tuition assistance through the Murray State Promise initiative, which provides scholarship assistance for eligible first-time freshmen and new transfer students, who pay no tuition through this program.
Also included in the MOU is an agreement for Murray State to provide assistance to students who wish to reverse transfer credits earned at Murray State back to WKCTC in order to complete an associate's degree.
The second partnership announcement is the establishment of a 2+2 articulation agreement, which will provide students who have earned an associate's degree at WKCTC a seamless transfer process into Murray State's bachelor's degree program in Exercise Science. The Exercise Science program will be offered at Murray State's Paducah Regional Campus beginning with the Fall 2021 semester.
The field of Exercise Science is multidisciplinary and prepares students for a variety of exercise and wellness careers, including strength and conditioning, cardiac rehab and corporate wellness. The curriculum also provides a strong foundation for success in graduate coursework, including the Occupational Therapy program that is also housed at the Paducah Regional Campus. Murray State's Exercise Science program is accredited through the Commission on Accreditation of Allied Health Education Programs.
"We are very excited to partner with WKCTC again on this new Exercise Science program. This adds breadth and depth to our academic offerings, particularly in the health related fields. This degree opportunity will serve the region, and especially Paducah well for years to come," said Murray State Provost and Vice President for Academic Affairs Dr. Tim Todd.
"The School of Nursing and Health Professions and the Exercise Science Program are very excited to have this agreement in place with West Kentucky Community and Technical College. This partnership is a step to assist students who are interested in completing a bachelor's degree in exercise science. We have worked to create classroom and lab experiences at the Paducah Regional Campus which will allow students to stay in the Paducah region. We appreciate the support from MSU and WKCTC administrations, local support, and the Paducah Area Community Reuse Organization, PACRO," said Murray State Dean of the School of Nursing and Health Professions Dr. Dina Byers.
"We are excited to offer an additional education/career path for students in our region. This partnership will provide the opportunity for students to complete two years at WKCTC and a seamless transfer to MSU's baccalaureate Exercise Science Degree," said WKCTC Dean of Nursing and Allied Health Dr. Shari Gholson. "What a great complement to other health care related opportunities in our community!"
"The Exercise Science major is a wonderful addition to the list of degree programs offered at the Paducah Regional Campus. Not only is it an easy transition for students transferring from WKCTC to a four-year degree, but it leads to excellent career or graduate-level pathways like our Occupational Therapy program," said Murray State Executive Director Center for Adult and Regional Education Dan Lavit.
"We are very grateful to Dr. Reece for his leadership as well as many others at WKCTC, as we continue to collaborate and foster strategic initiatives. These important partnerships ultimately provide greater opportunities for students to further their education and career ambitions," said Murray State President Dr. Bob Jackson.
"The ongoing series of WKCTC/MSU agreements reflects our collaborative and intentional level of commitment to providing seamless student access and paths to success in higher education," said President/CEO of West Kentucky Community and Technical College Dr. Anton Reece.
Guests who attended the signing included state representatives Randy Bridges and Richard Heath, Paducah Mayor George Bray, city and county commissioners, university/college and community board members and representatives.