Murray State University invites community to A Taste of the Arts
Murray State University invites community to A Taste of the Arts
By Jennifer Cline | Oct 21, 2021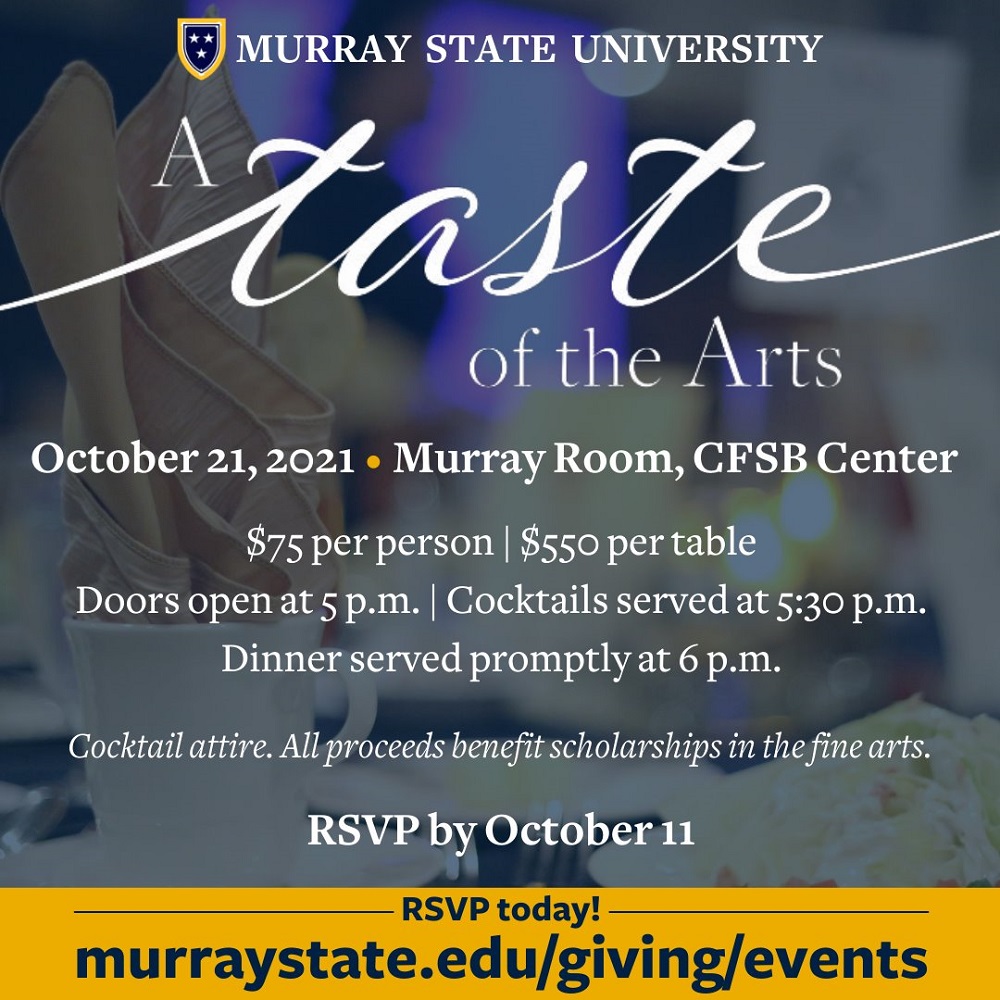 MURRAY, Ky. — The College of Humanities and Fine Arts at Murray State University invites the public to attend
their 12th Annual fundraising gala, A Taste of the Arts, on Thursday, October 21 beginning at 5:30 p.m.
in the Murray Room of the CFSB Center. The event is sponsored by FNB Bank and will be held in person.
A Taste of the Arts showcases the many talents of Murray State students in the Art & Design, Music, and Theatre Arts while providing fine dining and a live auction for attendees. The event gathers Murray State supporters and alumni along with community members to celebrate excellence in the fine arts at the University.
"This annual event means so much to our students in the areas of art & design, music and theatre arts. Not only is A Taste of the Arts the primary opportunity for us to raise funds for scholarships for students in the fine arts but it is also a chance for those same students to perform during the event and talk with attendees about their experiences at Murray State University," says David Balthrop, dean of the College of Humanities and Fine Arts. "This year is particularly special because our students will be able to perform for a live audience again, since we had to postpone last year due to the pandemic. Our students are greatly looking forward to the opportunity to show their work to others and to provide an exceptional experience for our gathered guests. This will be a fun and exciting evening for all involved!"
The College of Humanities and Fine Arts also annually awards the Outstanding Alumni in the Fine Arts during this gala, and this year's recipient is Mr. Scott Santoro, Class of 1975, a retired animator living in the Los Angeles area. Some of his 2D animation credits include The Black Cauldron, Who Framed Roger Rabbit?, Aladdin, The Road to El Dorado and Sinbad: Legend of the Seven Seas. He also served as supervisor on An American Tail: Fievel Goes West and the 2D effects supervisor on The Lion King and Spirit: Stallion of the Cimarron. He was also a story artist on Flushed Away, Bee Movie, Gnomeo and Juliet, Cloudy with a Chance of Meatballs 2, Smallfoot and other projects at Paramount Animation.
"We are excited to have Scott return to campus for the first time since he graduated," says JP Paul, director of development for the College of Humanities and Fine Arts and the Honors College at Murray State. "He has wonderful insights to share with our students about his time on campus and his journey through the industry. We look forward to Scott also sharing with our guests at A Taste of the Arts and adding to our shared community as Racers."
All proceeds benefit the Taste of the Arts scholarship fund, which directly supports students in the fine arts in their pursuit of a quality arts education. Individual tickets are $75 and full tables are $550. For those that cannot attend that would like to make a direct contribution, please contact JP Paul at 270-809-3940 or by email at jpaul@murraystate.edu.
To sponsor a table, request more information or to secure an individual RSVP, contact Carol Brunn by October 15 at 270-809-3023. Public health and safety measures through the Racer Safe and Healthy guidelines will be followed to help ensure a safe experience.