Murray State University student and presidential scholar earns an internship with Congressman James Comer in Washington, D.C.
Murray State University student and presidential scholar earns an internship with Congressman James Comer in Washington, D.C.
By Kaitlyn Black | Jul 21, 2021
Luke Wyatt, rising sophomore from Benton, Kentucky makes his way to the White House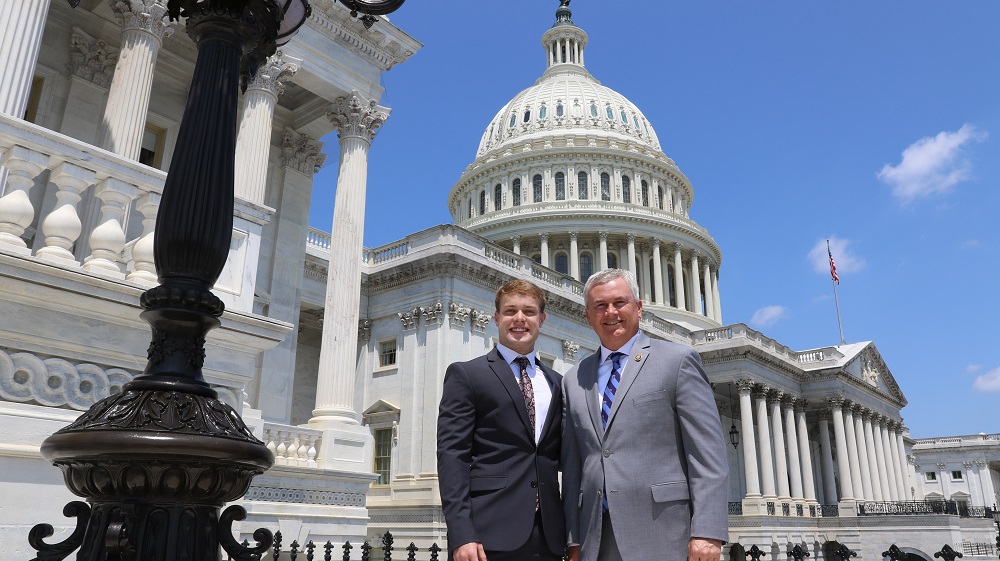 MURRAY, Ky. — A Murray State University student has gained valuable experience this summer through an impactful internship with United States Congressman James Comer in Washington, D.C. Luke Wyatt, a Political Science/Pre-Professional Legal Studies major from Benton, Kentucky, is very active and involved in many clubs and organizations at Murray State. He is the vice president of Model United Nations, a member of the Mock Trial Team, the Student Government Association (where he holds a chairman position), a Student Ambassador, Racer Nation Orientation Leader, member of the Franklin Residential College Council Executive Team, Honors Student Council, a Murray State Presidential Fellow, and has been recognized on the Dean's List multiple times with a 4.0 GPA. Wyatt was also selected to be a member of the National Society of Leadership and Success at Murray State.
During his time in Washington, D.C, Wyatt met people such as Senators Mitch McConnell, Rand Paul, Mitt Romney, Elizabeth Warren, Tim Scott, Chuck Schumer, Ted Cruz, Representative James Comer, Stephanie Murphy, Nancy Mace, Nancy Pelosi and Kevin McCarthy. Throughout Wyatt's internship he had several meetings with Senators Mitch McConnell, Mitt Romney and Rand Paul. He was also invited to attend several Senate hearings to observe the process of how the federal government functions.
"Luke always had a positive attitude and did a great job of assisting our Washington, D.C. office this summer during a busy time in Congress. He was an incredible asset to me and my staff and represents the best of upcoming talent in Western Kentucky," said United States Congressman James Comer, 1st Congressional District of Kentucky.
On Memorial Day, Wyatt spent the day at Arlington National Cemetery observing President Joe Biden and Vice President Kamala Harris laying the wreath at the tomb of the unknown soldiers. In an interview, Wyatt mentioned how exciting it was to see the motorcade of the President and Vice President going by as they were leaving.
"Another exciting moment was when Vice President Kamala Harris was on the Senate floor giving a speech for the 'S1 For the People Act', as I was leaving the Capitol. To me, these are such special opportunities you get to experience by interning at the United States Capitol building. I am so extremely proud of this opportunity that was given to me and all that Murray State University has to offer you as a student. The opportunities and experiences are endless through connections with Murray State University," said Wyatt.
"We are very proud of Luke Wyatt. He represented Murray State very well in Congressman Comer's office this summer and has a very bright future ahead of him. We also sincerely appreciate Congressman Comer providing internship opportunities for students like Luke. The Congressman and his excellent staff always take very good care of our student interns, whether they are working in Washington or within his district," said Executive Director of Governmental and Institutional Relations Jordan Smith.
"We are very proud of Luke and all of our students who are provided the opportunity to participate in life-changing internships. Experiential learning is vitally important to Murray State and our students as it provides invaluable career and academic possibilities," said President Dr. Bob Jackson.
"Dr. Seib, chair of the Department of Political Science and Sociology, has guided me to be successful in my classes and most importantly, preparing me for the LSAT exam. My goal, through the excellence that Murray State University has to offer, is to score well on my LSAT in order to attend a prestigious law school," said Wyatt.