WKMS to air Vintage Hitchcock radio play performed by Murray State University theatre arts students
WKMS to air Vintage Hitchcock radio play performed by Murray State University theatre arts students
By Carrie Jerrell | Oct 21, 2021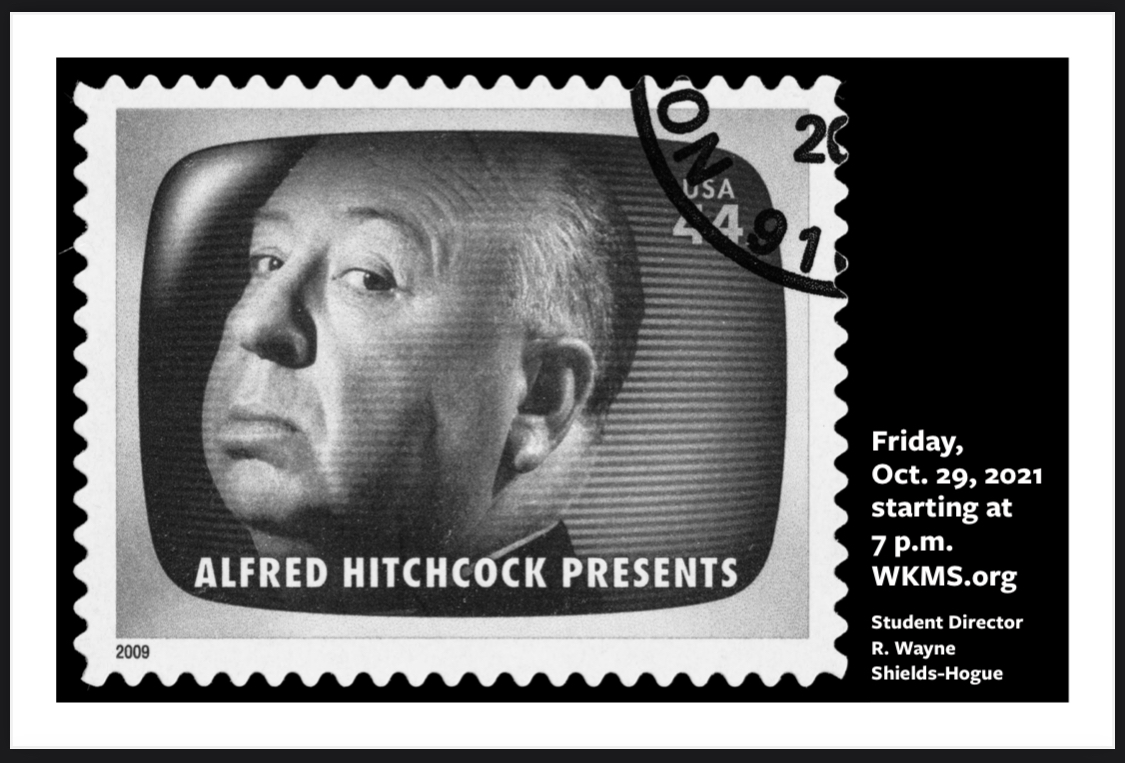 MURRAY, Ky. — WKMS will air Vintage Hitchcock: A Live Radio Play, written by Joe Landry and performed by students in the Murray State University theatre arts program, on Friday, October 29 at 7 p.m.
Spies, murder, love, and other trademarks of Alfred Hitchcock come to life in the style of a 1940s radio broadcast of the master of suspense's earlier films. Vintage Hitchcock: A Live Radio Play includes the triple feature of The Lodger, Sabotage and The 39 Steps. The show recreates a daring train chase, a serial killer's ominous presence, and a devastating explosion through the magic of live sound effects and musical underscoring. It even includes vintage commercials.
The student cast performed and recorded the play in Spring 2021. Director Wayne Shields-Hogue, a 2021 graduate of Murray State, said that acting for radio plays is much different than acting for the stage.
"You do not get to use your body as an expressive tool when communicating to the audience. You have to create more vocal choices without overwhelming the equipment that you are recording on, which can definitely be an issue. Voice acting for radio is finding that perfect balance of air flow and using your plosives," Shields-Hogue said.
Olivia Beach, a sophomore theatre major from Louisville, Kentucky, said that working in a new medium made the project one of the most interesting and fun that she'd been involved with.
"I had never worked with foley sounds before or even voice recording, and it was such an awesome experience to craft the characters I was playing with only voice and sounds. The show has a mysterious and fun vibe to it and I'm very excited for people to hear it," said Beach.
Tessa Northcutt, a senior English Education major from Calvert City, Kentucky, had always been interested in using different dialects and character voices. Acting in Vintage Hitchcock gave her the opportunity to use several in one show.
"Vintage Hitchcock was such a unique experience. I was able to portray roles I could never play on stage because all that mattered was my voice rather than my look or physical ability," said Northcutt.
Cast member and 2021 Murray State alumnus Logan Holt performed multiple roles in the play, which presented additional challenges.
"In a stage performance, you are used to having a single voice for each play and looking at other actors to make the play more engaging. However, with a radio show, you must only look ahead in front of your microphone, without looking at other actors, and try to make each voice for each character not sound like the same person," said Holt.
The experience of a radio play is very different for the audience as well as the actors, says Shields-Hogue. "For radio plays the audience gets to create the world of the play that they see while it is happening, unlike in theatre when you have designers to build the world for you."
Sebastian Winter, a senior theatre major from Mayfield, Kentucky, believes the enthusiasm of the actors comes through in the performance.
Said Winter, "Vintage Hitchcock was a production that honestly felt like an excuse to get together and have fun. Everyone in it was great to work with, and Wayne was an awesome director. The show itself is a blast ― three Hitchcock stories for the price of one. I hope everyone enjoys it!"
The full cast includes Olivia Beach, Davin Belt (Gilbertsville, Kentucky), Logan Holt, Alex Johnson (Belleville, Illinois), Grace Moberly (Chandler, Indiana), Tessa Northcutt, MacKenzie Slack (Swansea, Illinois), Sam Treece (Smiths Grove, Kentucky), and Sebastian Winter.
WKMS is Murray State's NPR Station. WKMS broadcasts a continuous, comprehensive mix of news and music, with stations including 91.3 WKMS-FM, WKMS HD-1, WKMS Classical HD-2, and WKMS Music HD-3, Murray; 90.9 WKMD, WKMD HD-1, WKMS Classical HD-2 and All Music HD-3, Madisonville; 89.5 WKMT, Fulton; WKMS Classical 92.5 Paducah, 88.9 Murray and 105.1 Madisonville; and WKMS Music 102.9 FM Madisonville. WKMS also streams all three of its News and Music channels online at wkms.org, a robust website offering playlists, regional news and an online contribution page.