Murray State University's Department of Music hosts Faculty Showcase for the Daniel Milam Excellence in Music Award
Murray State University's Department of Music hosts Faculty Showcase for the Daniel Milam Excellence in Music Award
By Carrie Jerrell | Sep 25, 2021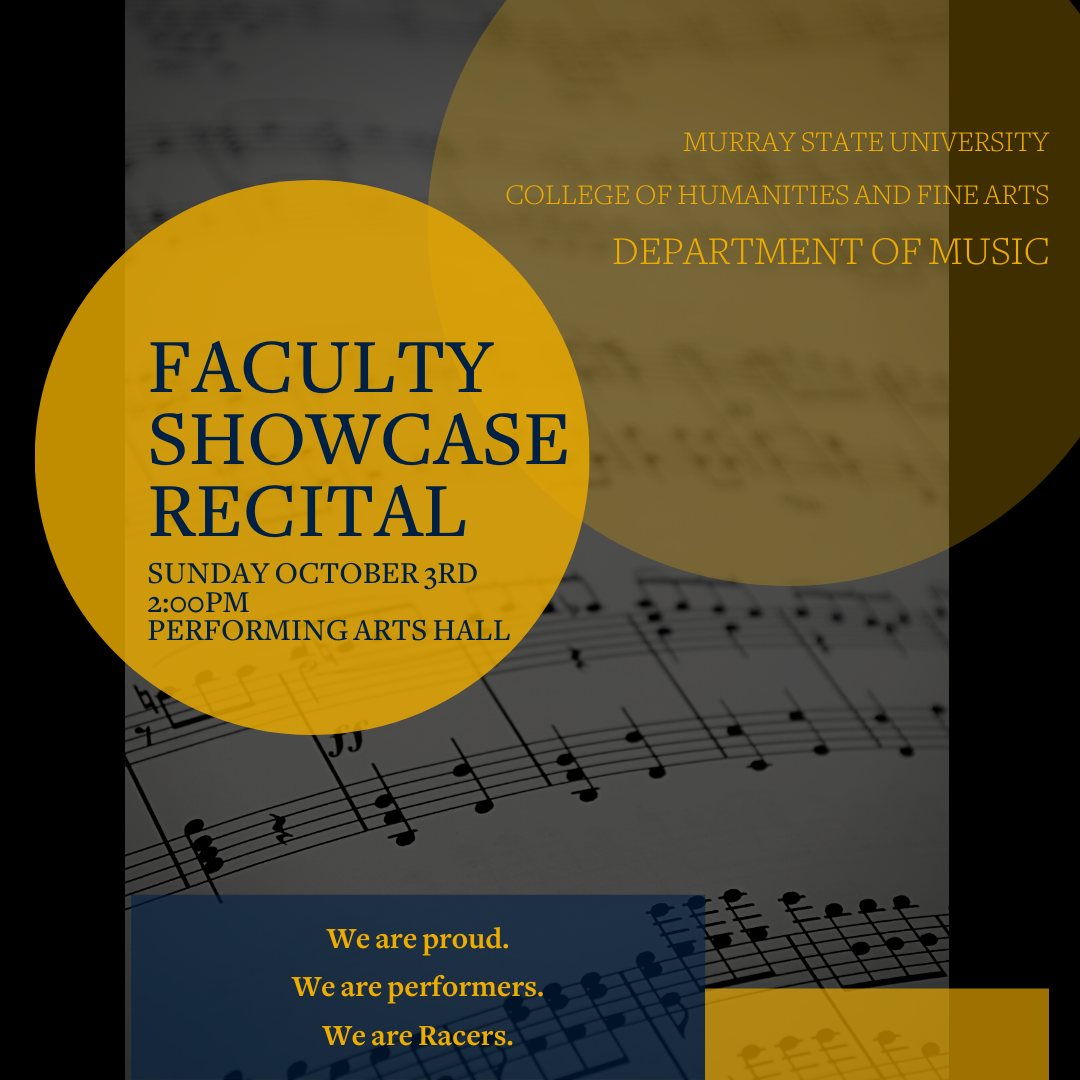 MURRAY, Ky. — Murray State University's Department of Music will present a Faculty Showcase recital on Sunday, October 3 at 2 p.m. in the Performing Arts Hall on the Murray State campus.
This year's Faculty Showcase will serve as a fundraiser for the Daniel Milam Excellence in Music Award. The showcase has been organized in lieu of the annual Fall Fanfare Concert while Lovett Auditorium undergoes renovation.
Milam, a music student at Murray State, died in an auto accident in 2013. He was 24 years old. A native of Memphis, Tennessee and graduate of Overton High School, Milam performed in choral ensembles on campus and was selected for leading roles in productions such as Dido and Aeneas and The Magic Flute. He was also an active member of Murray State's Phi Mu Alpha Sinfonia chapter, a fraternity for men in the music profession. In honor of that excellence and in remembrance of Milam, the Department of Music established the Daniel Milam Excellence in Music Award.
"The Daniel Milam Excellence in Music Award is a scholarship fund that helps music students pay for non-tuition-based expenses that they may not have planned for, such as purchasing music or paying a collaborative pianist they work with for performances and lessons," says Dr. Lucia Unrau, chair of the Department of Music. "Many of our students have benefited from Daniel Milam's legacy in this way. However, more students are experiencing an increased need for help with these types of costs. Our hope is that this faculty showcase will help replenish the fund."
Department of music faculty performing solo and chamber works in the showcase include Megan Boutin (Trombone), Stephanie Carlson (Oboe), Maribeth Crawford (Voice), Ashley Cumming (Horn), Christina D'Ambrosio (Piano), Tana Field (Voice), Todd French (Tuba), Matthew Gianforte (Piano), Christopher Mitchell (Voice), Amy McCann (Clarinet), Meeyoun Park (Piano), Sue Jean Park (Violin), Stephanie Rea (Flute) and Lucia Unrau (Piano).
Maribeth Crawford, associate professor of voice, is performing Norina's aria from the opera Don Pasquale by Donizetti. "As a teacher, I think it is important that students see us performing our craft," she says of the faculty's involvement in the showcase. "They need to know, and see, that we are also performers and that we put into practice what we teach."
Donations to the scholarship fund can be made online at http://bit.ly/msumusicexcellence. Parking for the event is free, but attendees are encouraged to register their vehicles through the event registration portal at murraystate.edu/parking.
Questions can be directed to the Department of Music at 270-809-4288.