Alumni
School of Nursing Career Network
School of Nursing and Health Professions Monthly Newsletter
Learn about all the exciting things that are happening in the School of Nursing and Health Professions.
Former Professor and Chair Honored

Dr. Ruth E. Cole, center, former professor and chair of Nursing at Murray State University is shown at a recent ceremony in her honor to formally announce an endowed professorship in her name in the Murray State School of Nursing and to dedicate the Dr. Ruth Cole Auditorium in Mason Hall on campus. Pictured with Dr. Cole are Dr. Marcie Hobbs, Dean of the School of Nursing and Dr. Randy Dunn, former Murray State President.
Grant Helps Fund Mentoring Program
Strategic Planning grant allow the Murray State School of Nursing to mentor students for NCLEX. Results from that program have been positive.
Watch the video about the mentoring program and its success
Congratulations Jenn Patel, BSN Alumni May 2017
There's an old saying that states, "If you love something, let it go. If it comes back to you, it's yours forever. If it doesn't, then it wasn't meant to be." For soon-to-be nursing graduate Jalpaben "Jenn" Patel, returning to Murray State University was destiny.
Alumni Presents at Sigma Theta Tau Conference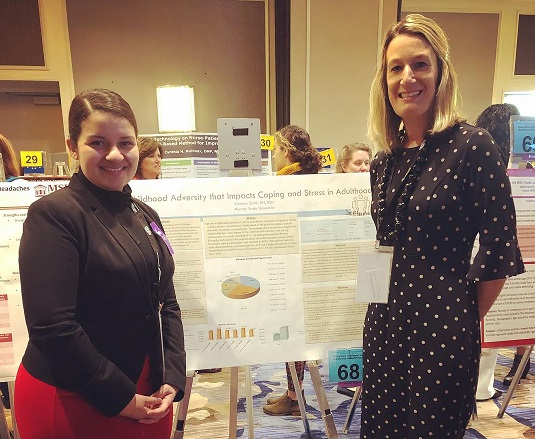 Victoria Smith presented her poster entitled "Childhood Adversity that Impacts Coping and Stress in Adulthood" at the Sigma Creating Healthy Work Environments conference in New Orleans in February. This was a research project she worked on as an undergraduate with faculty mentor Jessica Naber. Victoria was chosen as a Research Rising Star by the Sigma organization.