Online Master's in Occupational Safety and Health
100% Online Program
Ready to become a Racer? Apply Today
Take your career to the next level
The online Master of Science (MS) degree in occupational safety and health (OSH) with an emphasis in Safety Management will prepare individuals for careers in safety leadership. This program is designed for those already working in the field and is especially applicable for those who have a BS degree in occupational safety and health or a closely related degree. The program is accredited through the Applied and Natural Science Accreditation Commission of ABET (ANSAC/ABET).
Why choose Murray State?
The 100% online degree program is offered by Murray State's Department of Occupational Safety and Health and is equivalent to the on-campus program. Murray State graduates hold positions in various areas, including manufacturing, construction, insurance and petro/chemical industries, government and academia. We have over 40 years' experience preparing individuals to take their place in organizations as effective practicing professionals. The graduate degree provides a comprehensive, broad-based educational background designed to prepare academically sound graduates with practical experience for positions in the occupational safety, health and environmental professions.
What Can I Expect?
No trips to campus. No required virtual meeting times. There is no required on-campus time. Within the curriculum, there are no required synchronous online meetings. This degree was built with working professionals in mind.
You will go through the program with the same classmates. Students will go through the online program within a cohort, beginning the program with other classmates and then completing the program together.
Expect to finish in under two years. Students will enroll in two courses per semester for five semesters total. The degree consists of 30 credit hours.
Plan to start in the fall. A new cohort will start each August. The deadline to apply for the August cohort is June 30th.
Admission to the program
No GRE required.
Work experience may be considered for some classes.
Satisfy the undergraduate prerequisites.
Checklist for admission
You must meet the prerequisite undergraduate course requirements before applying to the master's degree. These are listed in Conditional Admissions below.

Review the Graduate Admission Checklist and check to see that you meet the minimum requirements for admission.

Submit an admission application online by creating a new account. Click on "Create Account" to get started. It is very important that you are admitted as an online student. On the application make sure "Your primary class location" on question 15 is marked as "Online." If you have questions, call Graduate Admissions at 270.809.3779.

The application will be reviewed for an admission status decision by Graduate Admissions and the Department of Occupational Safety and Health. You will be notified by email of the admission decision.
Unconditional and Conditional admission
Unconditional admission
Baccalaureate degree in occupational safety and health from Murray State University
Overall GPA of 3.00 or higher
Condititional admission
Conditional Admission status is granted to students with an undergraduate GPA of 2.75 or higher, regardless of undergraduate baccalaureate degree field of major. To change to Unconditional status, you must meet the university requirement of obtaining a 3.00 in the first nine hours of graduate work and additional criteria set forth by the Department of Occupational Safety and Health.
Students admitted from a different undergraduate field/discipline must complete the following course work in addition to the above GPA requirements. Undergraduate course work is required in biology, chemistry, mathematics and physics.
The following courses are the minimum accepted requirements for pursuing a master's degree in occupational safety and health. Applicable work experience, training and certifications may exempt individuals from some courses. This will be determined by the Department Graduate Admissions Committee on a case-by-case basis and will require submission of additional supporting documentation.
Biological Concepts and Lab (BIO 100 and BIO 101)
Introductory Chemistry (CHE 105)
Algebra and Trigonometry (MAT 130 or MAT 140 and 145 or 150 or 230)
Physics and Lab (PHY 125/126)
Statistics (STA 135/PSY 300)
Students must also complete 15 prerequisite credit hours in occupational safety and health and pass these courses with a grade of "C" or higher:
OSH 192 Introduction to Occupational Safety and Health (3)
OSH 353 Prevention of Musculoskeletal Disorders in the Workplace (3) OR OSH 453 Human Factors in Safety Engineering (3)
OSH 384 Construction Safety (3)
OSH 387 OSH Standards (3)
OSH 420 Fundamentals of Industrial Hygiene (3)
How much does it cost?
Our online students pay the same as our in-state students, no matter where you live. We pride ourselves on providing a high quality education at a competitive price.
Many scholarship opportunities are available to occupational safety and health students and range from general scholarships for any student who meets basic eligibility requirements to those sponsored by companies and individuals specifically targeted toward occupational safety and health students. Transfer scholarships may be available to first-time transfer students. View Murray State general scholarships and Occupational Safety and Health scholarships for scholarship opportunities.
Veteran Affairs assists veteran students with the transition from military to civilian/university life. Veteran Affairs educational assistance is available under six different programs, which include active duty and National Guard/Selected Reserve status. Contact the Veteran Affairs office at 270.809.6837.
Curriculum
The 30-hour curriculum is designed to provide the technical and professional knowledge required by individuals pursuing careers in occupational safety and health, focusing on management aspects of safety and occupational health.
The curriculum includes ten courses, each 3 hours, for a total of 30 credit hours. Students will enroll in two courses per semester for five semesters total. Below are the courses and the order they will be presented.
1st Fall
OSH 655 Legal Aspects of Safety and Health
OSH 621 Industrial Hygiene and Safety Program Development
1st Spring
OSH 640 Safety and Health Program Management and Training
OSH 637 Biostatistics and Probability
1st Summer
OSH 644* Cooperative Education/Internship
OSH 636 Transportation Safety
2nd Fall
OSH 650 Occupational Safety and Health Organizational Leadership and Management
OSH 689 Solid and Hazardous Waste Management
2nd Spring
OSH 656 Ergonomics and Biomechanics
OSH 657 Current Literature and Research in Safety and Health
*Tuition for OSH 644 will be charged based on residency.
In order to receive the degree, a candidate must earn a minimum grade point average of 3.00 on all graduate courses taken at Murray State University. Repeating a graduate course does not cancel a previous grade in the course.
A candidate may not repeat a course in which a previous grade of A or B was earned for credit.
A minimum grade of C is required to receive credit for a graduate course. A candidate is awarded one "quality deficit point" for each grade of C received, two points for each D and three points for each E. Upon receipt of four quality deficit points, a candidate is dropped from the program without opportunity for readmission except by special permission. (Also see Scholastic Probation in Academic Bulletin.)
A maximum of twelve semester hours of graduate credit taken at a regionally accredited institution with the approval of the academic advisor and collegiate graduate coordinator and/or dean may be transferred toward the fulfillment of core courses or electives, that a grade of B or better was earned and that a 3.00 grade point average is earned in Murray State graduate courses. Transfer courses must fall within the eight-year time limit allowed for completion of the master's degree.
Foundation courses may be completed at Murray State University or at any regionally accredited four-year institution or recognized foreign institution, before or after acceptance into the program. Only the 100- and 200-level foundation courses may be completed at a community or junior college.
A candidate who reapplies after a period of inactivity of 36 months will be subject to the degree requirements in effect at the time of reapplication.
Contact us to begin the 100% Online MS OSH program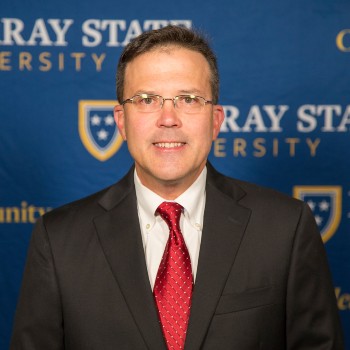 Dr. David Wilbanks
Online Graduate Program Coordinator/Assistant Professor
Department of Occupational Safety and Health
270.809.3630
150 Industry and Technology Center
---
Please be sure to review our frequently asked questions section below.
Frequently asked questions
The on campus MS degree in occupational safety and health has three options: safety management, industrial hygiene and environmental. The option offered online is safety management.
This 100% online degree is designed for working professionals already in the safety field and is especially applicable for those who have a BS degree in occupational safety and health (OSH) or a closely related degree. As a working professional, this ANSAC/ABET accredited degree will provide you with a competitive advantage to enhance your career and lead the way in protecting your workforce. Murray State OSH graduates hold positions in various areas, including government, construction, manufacturing, insurance and petro/chemical industries. Receive more than a degree - receive an education that advances your career!
Twelve hours can be transferred if the student is currently in a similar master's program. All transfer courses from another institution must have a grade of A or B. A grade of D does not count for graduation but is calculated in the GPA. The second grade does not replace the first. Both/all grades are used in the GPA calculation at the master's level.
We have designed this program to meet the needs of working safety and health professionals. Please realize that graduate courses are more rigorous and demanding than undergraduate courses. You will take two classes each semester completing the courses just under 24 months.
Students will work in cohorts. What this means is that each August a new class will start and those students will continue through the program together.
No. There are ten courses required with no electives necessary. A specific course will only be offered one semester per year.
No. There is no comprehensive examination. There is an extensive research project that is incorporated into one of the courses.
Yes. An internship is required as per accreditation requirements. For working safety professionals this requirement will be completed during your first summer and can be completed while doing your regular job and submitting specified documentation.
At a minimum, you must have a computer with reliable internet access (preferably broadband) and a webcam and microphone. View Racers Online for more helpful information.
Your advisor will be the OSH Online Graduate Program Coordinator, Dr. David Wilbanks. He can be reached at dwilbanks@murraystate.edu.
Master's programs are usually writing intensive with research papers required in many classes. As a professional, it is essential that your writing skills are excellent and the courses provide the foundation to enhance your writing skills. If your written department application and/or your submitted writing assignments indicate a lack of proficiency in writing ability, you will need to seek help and document that you are improving your writing.
Murray State on-campus resources: Racer Writing Center is in Murray State's Waterfield Library. Staffed by faculty and graduate students, the writing center gives students one-on-one instruction during directed appointments where students can receive guidance on how to improve their writing skills. They offer a grammar hotline at 1-877-900-0114.

A great writing/grammar resource is available at The Purdue OWL.

The University of Delaware has information on topics like commas and semicolons, apostrophes, etc.

Another resource is from the Capital Community College Foundation and includes PowerPoints, interactive exercises, etc.
Online courses can be much more convenient, but the courses are not designed to be self-paced. Due to semester requirements, courses have specific beginning and ending dates with assignments, projects, exams, etc. due as the course syllabus states.
We strongly discourage doing this, but we realize that life events can force such a move. If you have to drop a semester, you will have to pick up with your cohort the next semester and then complete the missing course with the next cohort when it is offered next (one year later).
To qualify to continue in the program after admission, you must have a 3.0 GPA in the first 9 hours of the program. Graduation from the master's program requires a 3.0 GPA in Murray State course work. There are 30 hours of course work required to graduate.