Psychological Center
Who We Are
The Murray State Psychological Center staff welcome you to our center with the hope that our services can be of help to you. The Center is staffed by graduate students in clinical psychology at Murray State. All therapists are closely supervised by licensed clinical psychologists in the Psychology Department here at Murray State University.
We provide a variety of counseling services to Murray State students, faculty, and staff as well as community members from the surrounding area. Our services include individual therapy for children and adults, couples and family therapy, and evaluations for learning disabilities and ADHD.
The Psychological Center, as a training unit within the larger Department of Psychology, also hosts periodic continuing education (CE) events for area mental health professionals.
Coronavirus (COVID-19) Information
The Psychological Center is following state guidelines regarding health and safety for in-person services, which currently includes wearing personal protective equipment (i.e., masks, face shields) under the "healthcare setting" exception of the most recent governor's order. Clients who do not believe that they can comply with this requirement should call the Center during regular business hours for alternative care options.
Our Clients Are Most Interested in Help With:
Adjusting to new situations
Depression
Managing stress
Anxiety, fear, nervousness
Poor anger control, aggressive behavior
Grief
Eating disorders
Hyperactivity and impulsivity
Relationship issues
Family problems
Learning, study problems
Autism Spectrum Disorder
Trauma recovery, as in situations of rape or abuse
Our Fall Semester Hours (August 23 - December 3, 2021)
Day
Hours of Operation
Monday
8 a.m. - 4 p.m.
Tuesday
8 a.m. - 6 p.m.
Wednesday
8 a.m. - 4 p.m.
Thursday
8 a.m. - 6 p.m.
Friday
8 a.m. - 4 p.m.
We are closed during University breaks in the regular school year. For information, call (270) 809-2504. If there is an emergency, call 911 or the 24-hour Crisis Hotline 1-800-592-3980 or the Suicide Prevention Lifeline 1-800-273-TALK (8255).
Inclement Weather Policy
The Psychological Center is closed for both in-person and telehealth appointments when Murray State University is closed or operating remotely due to inclement weather.
Initial Contacts
Initial paperwork is done on a walk-in basis during Center hours. These forms take approximately one to two hours to complete. A clinician will be available to answer your questions about the services and the forms you are asked to complete. Paperwork must be completed on site and cannot be mailed out. There is no charge for this initial meeting. We use this information to determine your concerns and which of our services would be appropriate for you. A clinician will call you to schedule your first appointment once your paperwork is complete.
Psychotherapy is not easily described in general statements. Psychotherapy is not like a medical doctor visit. Instead, it calls for an active effort on your part. In order for therapy to be successful, you will have to work on things both during your sessions and at home. Psychotherapy can have benefits and risks. Because therapy often involves discussing unpleasant aspects of your life, you may experience uncomfortable feelings such as sadness, guilt, anger, frustration, loneliness, and helplessness. On the other hand, psychotherapy has also been shown to have many benefits. Therapy often leads to better relationships, solutions to specific problems, and significant reductions in feelings of distress. However, there are no guarantees of what you will experience.
Your first few sessions will involve an evaluation of your needs. By the end of the evaluation, your clinician will usually be able to offer you some first impressions of what your therapy will include. If you decide to continue with therapy, you and your clinician will work to determine an appropriate treatment plan. You should evaluate this information in addition to your opinion of whether you feel comfortable working with your clinician. If you have questions, you can raise them at any time, either with your clinician or with the Center Director.
Once psychotherapy has begun, sessions are typically scheduled once a week for 50 minutes. You will be expected to pay for each session prior to the start of the session.
Concerns About Other Individuals
The Psychological Center is a resource for concerned professors, friends and family members who are seeking help for others. We are available to answer questions, provide referrals and otherwise support members of our community. If you are wondering what options for psychological assistance exist or want suggestions about broaching the topic of getting help with someone you know, you can call or stop by and ask to talk with our on-call clinician. You can also read more about warning signs of suicide and other serious mental health problems here.
If you would like to report concerns about other individuals on campus, particularly if you are concerned about the safety of the individual or others, please contact Murray State's Student Intervention Team using this link: Report Concerns. The team's purpose is to collect, track, and evaluate reports from all parts of campus concerning students who may pose a threat to their own safety and/or the safety of others. Students and faculty can do their part by reporting concerns on the Student Intervention Team website. Help us to promote a safe and supportive campus.
Confidentiality
Your discussions with your counselor, any paperwork you complete, and test results are treated confidentially by the Center. Your records are NOT part of your academic or administrative records. If you would like us to release any information to another person or agency, you must sign a written request permitting us to do so. No information will be transmitted to any other individual or agency without the express permission of the client, except as required by law.
Psychological Center staff adhere to the ethical principles and code of conduct for psychologists of the American Psychological Association, as well as the federal Health Insurance Portability and Accountability Act of 1996 (HIPAA) Privacy Rule, and the Family Educational Rights and Privacy Act (FERPA).
Therapy Fees
Murray State students, faculty, and staff can receive therapy services at no charge. Community members' charges are based on a sliding fee scale, ranging from $3 - $35 per session. Payments can be made with cash or check. We are unable to accept credit or debit card payments.
Assessment Fees
Murray State students, faculty, and staff pay $50 per assessment. Community members' fees are based on a sliding fee scale, ranging from $50 to $150 per assessment. Payments can be made with cash or check. We are unable to accept credit or debit card payments.
The availability of assessment appointments is limited, so if you don't come in the first few weeks of the semester you may be placed on a waiting list.

Our assessment process is comprehensive and will require multiple meetings with a clinician. Here is a guide orienting you to the process most assessments follow.
You should come to the Center to complete initial paperwork, which can be done without an appointment during any of our open hours. Please allow at least one hour as you will fill out several forms and a somewhat lengthy questionnaire.
Cases are assigned to clinicians once a week. When your case is assigned, the clinician will call to schedule your first meeting. Unless there is a waiting list, this will happen within a week of your completing the paperwork described in Step 1.
Intake Appointment - This is a 1 to 1 1/2 hour interview meeting with a Clinician during which many questions will be asked about your background and history. Any materials you have from previous assessments or mental health encounters would be extremely helpful. Please bring any such materials with you. Payment for the assessment is due on the day of this appointment.
Evaluation/Testing Appointments - At least two separate 2-hour meetings with the Clinician will be required to complete all of the testing. These meetings may take place over two consecutive weeks. Some assessments may require additional meetings. Please be sure to arrive on time for these appointments and arrange your schedule so you will be available for the full time allotted for that day's session. You will need to turn off your phone or pager during that time as interruptions can invalidate the results.
Report and Feedback - Within two weeks of the completion of the testing the Clinician will schedule a meeting with you to review the results of the evaluation. In addition, if you request it the Clinician will provide you with a written report detailing the results and any recommendations.
(*Please note that other service entities on campus or in the community may not be bound to protect the confidentiality of your report. Always discuss the legal limits of confidentiality and choose carefully those with whom you share copies of psychological reports or other sensitive information.)
Where We Are Located
We are located in Room 401 in Wells Hall on the Murray State University campus. Wells Hall faces North 16th Street and is located between Chestnut and Main Streets. Take the elevator to the 4th floor and turn left as you come off the elevator. Enter the door marked Psychological Center and come all the way down the corridor to the Reception Desk.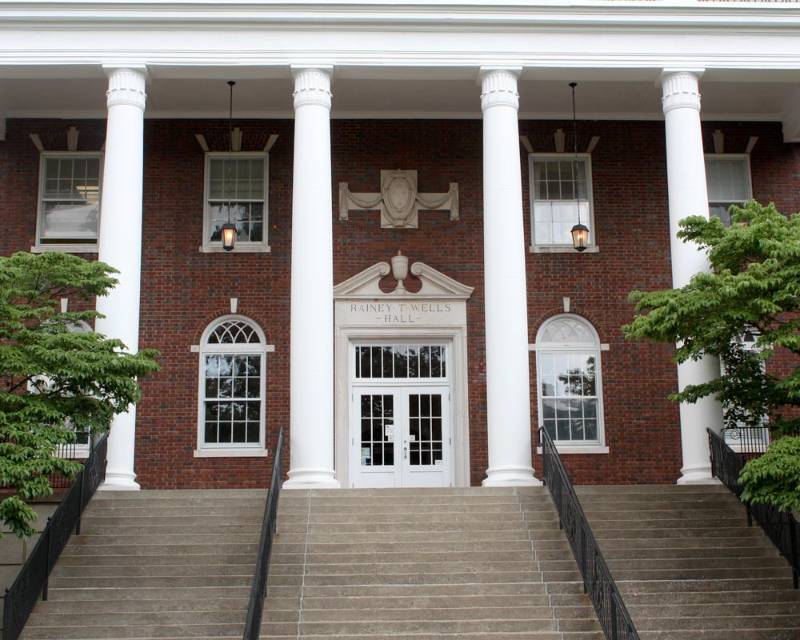 Wells Hall

4th floor of Wells Hall with Psychological Center in blue
Parking
You may register for a visitor parking permit by calling MSU Parking Services at 270.809.4812 and providing your license plate number and email address. Parking permits are electronic and linked to the license plate number on your vehicle, no paper tag needed.

Contact us:
Psychological Center
Murray State University
401 Wells Hall
Murray, KY 42071
270.809.2504
Fax: 270.809.2992
Supervisor: Laura Liljequist, Ph.D.
Administrative Assistant: Catie Bates
Because the Center is a training facility, we do not accept any court-related referrals.